Forget one-size-fits-all itineraries but remember your surfboard if you plan to book a trip with Thermal, the latest venture into the adventure travel market headed by longtime travel executive Drew Patterson.
The company, which has just come out of beta, is a marketplace for surfing trips hosted by "local legends turned surf guides."
Trips are guided both in and out of the water and can include lodging, transportation, local experiences and other services as provided by the guide, which may be an individual instructor or larger providers such as a surf camp. Locations currently offered on
the platform include Hawaii, Mexico, Costa Rica,
Ecuador, Barbados and Bali.
Travelers reserve trips directly with the guide, and Thermal takes a commission from each booking.
Subscribe to our newsletter below
The San Francisco-based company is headed by CEO and co-founder Patterson, a former executive at Starwood, Kayak, Jetsetter, Room 77 and Transparent.
"With Thermal, travelers discover uncrowded waves and are welcomed into these iconic surfing communities," Patterson said. "Guides care for travelers in and out of the water. As a result, travelers tell us they surfed like a local and were welcomed like a friend."
Travel experiences represented $253 billion in global gross ticket revenue in 2019, making it the third-largest sector of tourism after transportation and accommodation, Phocuswright research shows. The company's analysts predicted the sector would surpass 2019 levels by next year with gross bookings reaching $260 billion.
While Patterson concedes a love of surfing, it's the upside he sees for travel experiences in general, and adventure travel in particular, that's driving this launch.
"The aspiration and the vision for the business is as much what I see as the opportunity in adventure travel and multi-day trips as my personal passion for surfing," he said. "The travel industry has seen lots of innovation in different categories. Where we haven't really seen growth in change is around this space of adventure travel or multi-day tours. It hasn't kept pace with culture."
Patterson isn't alone in seeing a bright future for adventure travel. Online experiences marketplace GetYourGuide said while "baseline" experiences – things like attraction tickets and museum entries – have been growing in double digits year-over-year, adventure and nature travel options are growing at twice that rate.
"There are different products all over the world that are all part of this experience marketplace," said Emil Martinsek, the chief marketing officer for the Berlin-based company. "I think there's a lot of opportunity for how we help consumers discover that you can do this type of stuff."
Another travel startup serving the adventure market is WeSki, a self-service platform for planning and booking ski trips. The company won the People's Choice Award during the Launch competition at Phocuswright Europe 2023 in Barcelona. 
And Martinsek said authentic, personalized experiences are the most meaningful.
"So if I'm a surfing enthusiast or if I'm a history or archeology enthusiast, it's not just about riding a big bus to this one site [to] look at it, but [rather finding] what are the real experiences that unlock those types of archeological places that I can go to," Martinsek said. "What are the places where I can make sure I do catch the surf that I want?"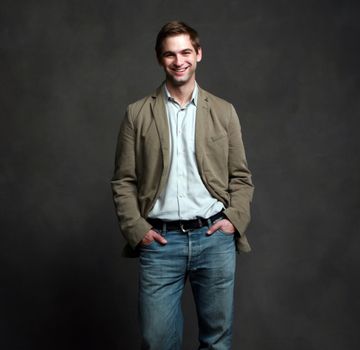 Photo Credit: Photo courtesy of Thermal
Drew Patterson
That type of experience is at the heart of what Thermal hopes to provide. For Patterson, knowledgeable local guides have been a constant in nearly all his favorite travel experiences, whether it be surfing with friends or hiking Mount Kilimanjaro with his wife.
"The things that personally have been motivating to me are connecting with local guides, folks who are deeply connected to their community and understand these kinds of passions," he said. "It's a 10x better trip. It's 10x better because you're finding uncrowded waves, because you're connecting with that community, because it feels authentic and of a place that isn't otherwise possible."
Patterson the serial travel entrepreneur cites academic research that he says shows a surf travel market between $15-30 billion while he talks of reaching hundreds of thousands of consumers. Patterson the surfer waxes almost poetic when he speaks of the sport's allure.
"I think we as a society are hungry for spaces and opportunities and activities that bring people together. Surfing does that," he said. "[On the water], no matter your job, your income, it's a place where people connect around a thing that they love. And that's a need and activity that I think is growing across society and culture that's not going away. I think there's a real hunger around that."