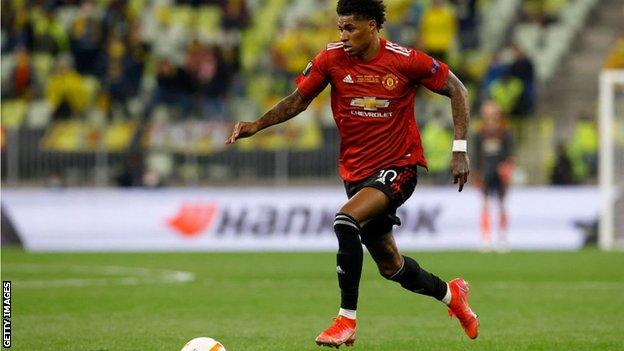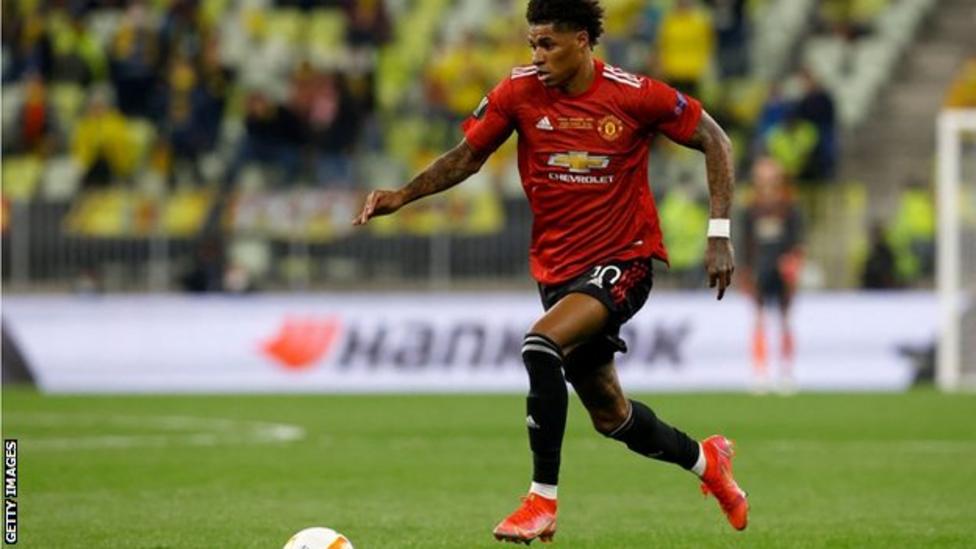 Manchester United forward Marcus Rashford said he received "at least 70 racial slurs" on social media following Wednesday's Europa League final loss to Villarreal.
United later tweeted to say their players had been subjected to "disgraceful racist abuse".
United side lost 11-10 on penalties after a 1-1 draw in Gdansk, Poland.
"At least 70 racial slurs on my social accounts counted so far," Rashford wrote on Twitter.
"For those working to make me feel any worse than I already do, good luck trying."
Troy Townsend, head of player engagement at Kick It Out, said: "The torrent of abuse targeted at Marcus Rashford and other Manchester United players following the Europa League Final last night was vile and completely unacceptable."
He added: "We know there's more work to be done to eradicate online abuse, and we will continue our dialogue with social media companies ensure the strongest possible action is taken.
"Online abuse has to stop, and those with power need to act now."
The Department for Education is looking into the matter in relation to the allegation a teacher was behind some of the racial abuse.
In another tweet, Rashford said he was "more outraged" that one of the abusers who sent him a direct message appeared to be a maths teacher, adding: "He teaches children. And knows that he can freely racially abuse without consequence."
It is understood the account has been deleted and the abuse will be reported to police by the club.
Greater Manchester Police say they are "aware of a number of racially aggravated social media posts" aimed at United players, which "originate from countries across the world as well as the UK".
"We take these reports very seriously and are working with our partners to ensure those responsible are identified," said assistant chief constable Chris Sykes. "Those who make these posts subject themselves, not just to criminal proceedings but to long-term implications to their personal and professional lives by making these comments."
A United spokesperson said: "Everyone at Manchester United is disgusted by the online hate and abuse aimed at Marcus and other players on social media.
"There is simply no excuse for it and we utterly condemn it.
"Manchester United has zero tolerance of any form of racism or discrimination and we encourage people to report it through manutd.com.
"We also urge social media platforms and regulatory authorities to strengthen measures to prevent this disgusting behaviour."
Facebook, which owns Instagram, called the abuse "abhorrent".
"We swiftly removed a number of comments and accounts for breaking our rules," a company spokesperson said.
"We're currently rolling out a new tool which, when turned on, will help prevent anyone seeing messages like this again. No single thing will fix this challenge overnight but we're committed to doing what we can to keep our community safe from abuse."
In April Instagram announced a tool to enable users to automatically filter out abusive messages from those they do not follow.
A Twitter spokesperson said: "We condemn racism in all its forms and do not tolerate this vile behaviour on Twitter.
"We use a combination of machine learning-based automation and human review to enforce our policies across the service.
"We have already removed a number of Tweets and permanently suspended accounts for violating our policies and will continue to take action when we identify any Tweets or accounts that violate our rules."
Speaking to BBC Radio 4 on football's social media boycott, England manager Gareth Southgate said: "That was the stance that was taken, but what's the follow up? And has it made a difference?
"I do think there's been progress over the last year. Social media is in general a poor reflection of what happens through society, depending on which outlet you're looking at. It's either representative, or representative of very few. But the reality is, if it wasn't social media, these situations are happening on our streets at certain times."
England forward Rashford has spoken previously about racist abuse he has received.
In January, he said he was subjected to "humanity and social media at its worst" following a 0-0 draw with Arsenal.
A number of players in English football, including several of Rashford's United team-mates, have been targeted by online discrimination in recent months.
A number of clubs, players, athletes and sporting bodies took part in a four-day boycott of social media in April to encourage companies to take a stronger stance against racist and sexist abuse.
This month United said it found a 350% increase in abuse directed towards their players, with 3,300 posts targeting them between September 2019 and February 2021.
The club set up an online reporting system, encouraging fans to flag up online abuse.