Humans and dogs have been companions for seemingly forever. But pet ownership has accelerated in recent years. Between the start of the COVID-19 pandemic and mid-2021, 1 in 5 U.S. households acquired a dog or cat, according to the American Society for the Prevention of Cruelty to Animals. That's roughly 23 million homes with a new furry friend. And it's translated to more four-legged travelers, experts say.
"You do see a lot of people wanting to make sure their animal is involved in the vacation," says Brandi Hunter Munden, vice president of public relations and communications at the American Kennel Club.
The good news: "Almost everywhere has really opened up to dogs, whether it's outdoor dining or more hotels that accommodate dogs," Hunter Munden says.
With that in mind, here are some pet-friendly places, activities and properties to consider for your next getaway.
1. Visit Carmel Valley Ranch in Carmel, California
Dogs can explore the extensive grounds of Carmel Valley Ranch. (Photo courtesy of Hyatt)
Why we chose it: High-end pet amenities
Located about 15 to 20 minutes inland from California's Pacific coast, humans may be drawn to the resort's views, golf courses, tennis courts and horses — not to mention the fact that it's bookable with World of Hyatt points.
But Carmel Valley Ranch is something of a destination for dogs, too. The steep $175 pet fee comes with an array of amenities, including a dog bed and bowls for food and water. And dogs have (leashed) access to the property's hundreds of acres, with miles of hiking trails. There's even a canine room service menu featuring beef bone marrow, a "secret salmon bowl" and a "butcher box."
2. Stay at Kimpton Marlowe Hotel in Cambridge, Massachusetts
Why we chose it: Practical touches for pets
Located in the Boston suburb of Cambridge, this property upholds Kimpton's reputation of being particularly pet-friendly. There are no pet fees and no weight or size restrictions — and water bowls are delivered to your room.
The Marlowe Hotel's concierge is available to recommend and set up grooming, pet-sitting and walking services. Plus, guests get access to dog-walking app Wag's premium service during their stay, which provides a 10% discount, waived booking fees and the ability to chat with a vet.
But you may prefer to walk the dog yourself. The hotel is located near the Charles River's walking path, featuring scenic views of the Boston skyline.
3. Check out Aloft Asheville Downtown in Asheville, North Carolina
Why we chose it: A chance to find your forever friend while traveling
While the Aloft in Asheville, North Carolina, is pet-friendly for guests bringing dogs, the property also helps those looking to adopt a new furry friend. The hotel partners with a local animal rescue on a pet adoption program. Guests can meet and bond with the hotel's featured pup, which spends time in an enclosure just off the main lobby.
Meanwhile, the property is walking distance from many of Asheville's famous breweries and restaurants — some of which have outdoor seating so you can bring your dog along.
4. Visit a national park and promote your dog to 'BARK Ranger'
Why we chose it: A self-guided outdoor adventure
There are hundreds of national parks across the country, and many of them are dog-friendly. If your dog is physically up to a hike or long walk, exploring together is a great option.
"Dogs love being outdoors," Hunter Munden says. "It's one of the best places to bring your dog."
But check the rules of the park before you go. Some areas may be off-limits to dogs.
Look for parks that encourage pet visits with photo opportunities or mementos for dogs to become an official "BARK Ranger." At Acadia National Park in Maine, for example, dogs that complete a set of activities and follow the program's principles (which make up the BARK acronym) can be formally sworn in, and they'll be eligible for a collar tag designating them as a BARK Ranger.
Another option is to visit some of the less wild places run by the National Park Service, like the monuments on the National Mall in Washington, D.C.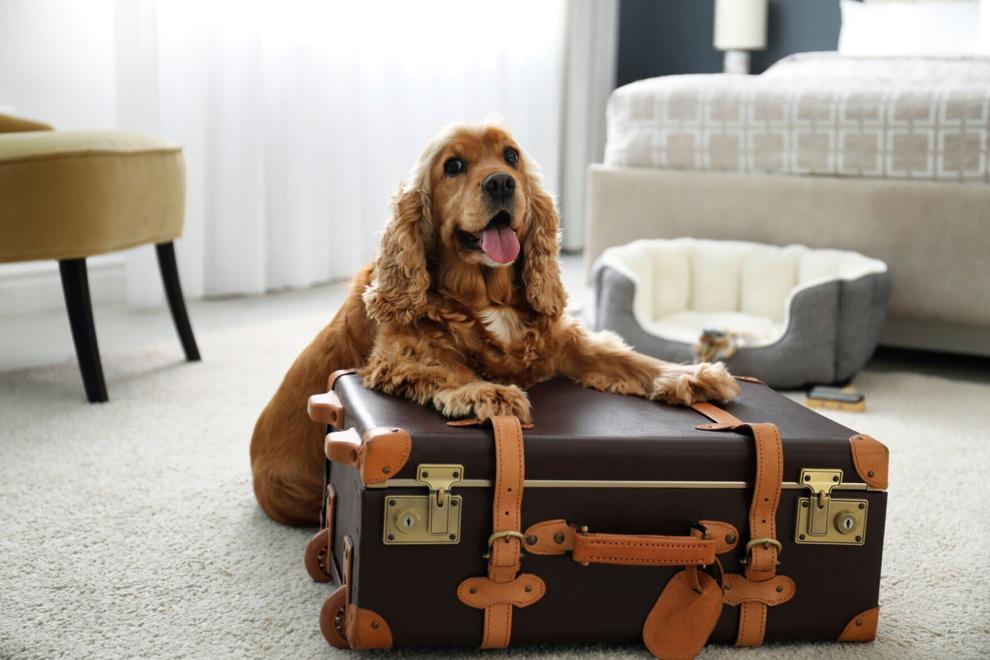 5. Spend a day at Dog Beach in San Diego
Why we chose it: A leash-free trip to the beach
Dog Beach, just outside San Diego, is one of the first official leash-free dog beaches in the U.S., and it makes for an exciting excursion for pups. This destination could be a way to give your furry friend some fun and attention, plus room to roam. You might even see a few dogs surfing there.
Just remember to monitor your pup's paws in the hot sand and bring fresh drinking water, Hunter Munden says.
6. Bring dogs along for a vineyard trip
Why we chose it: A relaxing environment for dogs and humans
There are plenty of winery-rich regions across the country, including California, Oregon, Washington, Virginia and Texas. Because wineries often have expansive outdoor space, they can be a great place to enjoy a stroll and a picnic with your pooch, assuming the winery allows pets.
Leashed dogs are allowed in outdoor spaces at Stinson Vineyards outside Charlottesville, Virginia. (Photo by Sean Cudahy)
Ultimately, Hunter Munden says a truly dog-friendly getaway is about more than simply bringing the dog along.
"You don't really want to leave your dog holed up in a hotel or Airbnb. That's no fun for them, and that can lead to destructive behavior," she says. "You want to make sure if you bring them, you're incorporating them."
Here's why some Airbnb rentals are so expensive—and tips to save on your next trip
Here's why some Airbnb rentals are so expensive—and tips to save on your next trip
How Airbnb prices vary across top tourist destinations
Most expensive Airbnb neighborhoods in New York, Los Angeles, and Chicago
The premium for personal space is $70: How less privacy can lead to more savings on Airbnb
Planning to swim or work out? Expect to pay nearly 50% more
The article 6 Dog-Friendly Vacation Ideas for Your Next Getaway originally appeared on NerdWallet.