Few TV series have been as successful or inspired more travel than Bravo's Below Deck and Captain Lee Rosbach is the face of the beloved show, having spent 10 seasons sailing viewers to some of the world's most beautiful destinations.
TravelPulse recently spoke with Rosbach to find out some of his favorite places, travel memories and must-haves.
What was your first experience that made you fall in love with the ocean and travel?
LR: Growing up in Michigan, I never even saw the ocean with my own eyes until my mid-30s when we (my wife and I) moved to Turks and Caicos.
We moved there to open a restaurant next door to a casino, but the casino fell through and I needed to make money. I responded to an ad I saw in a dive shop looking for a mate to help deliver a boat, with no experience necessary. I spent most of the trip seasick but I fell in love with the ocean then and never stopped. The rest as they say is history.
What are some of your dream vacation destinations?
LR: I loved traveling to Tahiti and Thailand on the show – but when I'm there, I'm busy working, so all the glorious, scenic spots you see on camera, I never get to experience that. I think I'm due for an exotic vacation soon. The Maldives, Seychelles and Galapagos are all on my bucket list.
My wife, Mary Anne doesn't really like to travel long distances, so that's always something to take into consideration. Turks and Caicos would be a dream vacation for us since we haven't been back since we lived there. It was like the wild, wild West back then.
What are some of your travel must-haves?
LR: If I'm traveling by myself, I always have pictures of my bride and the rest of my family, including our dogs. I also make sure to bring extra pairs of sunglasses and a tux, because you never know when you may need it. The one time I didn't, I missed out on a really great event because I didn't bring it and the event was formal.
A good selection of boots and tennis shoes which are all I wear these days and jeans. Love a great pair of jeans and a linen shirt. And with that, I'm pretty much good to go.
When on board, I always have Dramamine on hand – for both the guests and crew – in case they forget to pack it. In some cases, you don't realize you're susceptible to motion sickness and sea sickness until you're already on the sea. I used to get so disoriented once we were far enough out that the horizon line is just ocean, I would do my night watches with a bucket. I never want that to ruin a guest's experience, so they can always expect to have some when on my boats.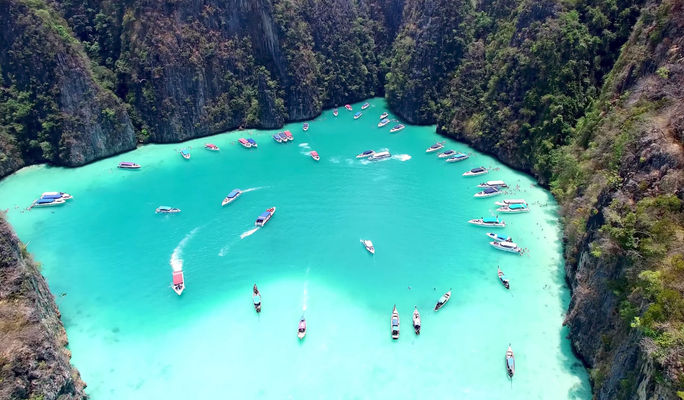 What's your favorite memory from the Below Deck experience?
LR: My favorite memory of Below Deck. Wow, that is really a tough one after 10 years because there have been so many. I think one of them was when we celebrated our 100th episode on Watch What Happens Live. Everyone was there and we had a really great time in the Bravo clubhouse.
But I guess just the fact that we gave birth to a very successful franchise that is still doing so well today and I'm very proud and privileged to have played a part in the whole process. It's very gratifying and humbling at the same time to have been a part of something that has achieved this degree of success.
Right now, travelers can participate in Dramamine's "Ditch the Drama" Sweepstakes, which will award three lucky winners with their dream vacation anywhere in the world.
The travel experts at Travelocity will assist in coordinating everything from airfare to accommodations and activities for the winners, who must be U.S. residents age 18 and older. Visit DramamineDitchtheDrama.com to complete the brief entry form now through September 4, 2023, for your chance to win.
Topics From This Article to Explore