By Annabel Rackham
Newsbeat reporter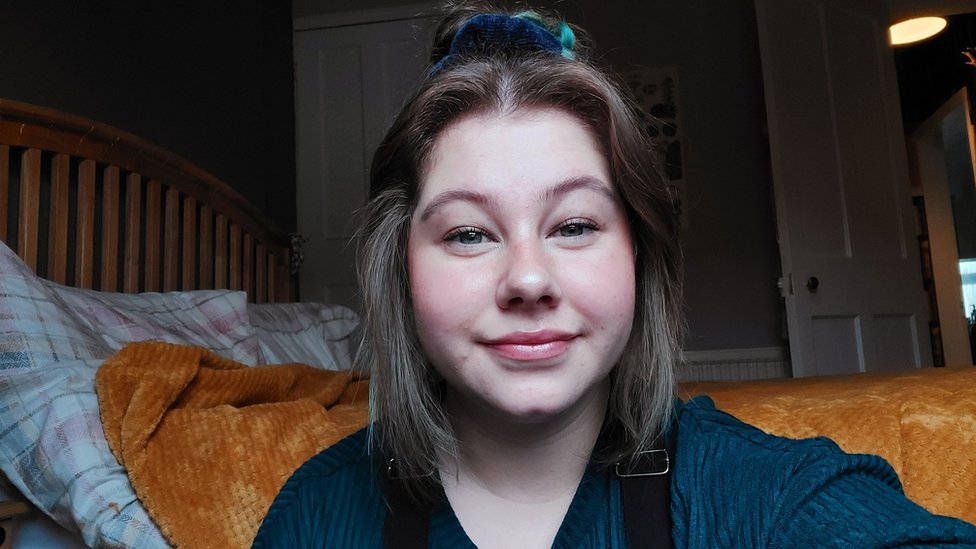 "People did take the first lockdown a lot more seriously – in this lockdown we're lucky if people are wearing masks."
Skye Henson is 23 and works in a supermarket in Lincoln and has worked throughout the pandemic.
She says now is definitely the toughest time to be working as people are no longer respecting rules like social distancing.
"A good 30% of the people that come into our shop don't wear masks and just outright don't think it's an issue," she tells Radio 1 Newsbeat.
"They don't consider us to be in any kind of danger, so for me I do think a lot of it is the public putting us at risk."
Stricter Covid supermarket rules considered in Wales

Morrisons set to ban shoppers refusing face masks
Are lockdown rules changing? and other questions
Her words come as the government has warned shoppers to follow the rules in supermarkets.
Skye says she's faced a lot of abuse from the public when trying to enforce mask-wearing too.
"He was coughing so I asked him to put on his mask and he said, 'You can't expect me to wear it, I can't breathe in it' and he was very nasty about it," she says.
'Please be more considerate'
She has a message for people visiting supermarkets.
"Even if you don't think you're personally at risk, there's people who us workers have at home that are.
"I can't see my family throughout this whole thing because they are high risk, so please be considerate of us.
"Also be respectful of us, we're just doing our job and we shouldn't have to face abuse in our workplace – we're not getting paid enough!"
Nearly 300 miles away in Edinburgh, Lucy Scyner has been having a similar experience during her supermarket shifts.
"Social distancing with customers has gone out the window," she says.
"During Christmas it was absolutely mental with people coming in and reaching over each other, reaching over you, they're up in your face and you want to be as polite as possible and ask people to step back.
"I personally feel anxious about going in – our store has done everything they can to make us safe but it's when customers are in that you feel unsafe."
'I don't think my job is being appreciated'
The 18-year-old balances her job with college and says people not sticking to the rules makes her life a lot more stressful.
"I was working on Friday and I had a customer come right up in my face who wasn't wearing a mask," she says.
"I don't think my job is being appreciated enough – I know that a lot of people in supermarkets are young and people like me and are also students. Our work is being overlooked."
Lucy wants shoppers to start taking their store visits more seriously.
"Treat it the way we treated it at the start of the pandemic where people were being a lot more careful with what they were doing.
"People are forgetting how dangerous it actually is. Everybody's scared so if we all work together and we all wear masks and wash our hands we can end it sooner."
Supermarkets are reacting to the concerns of their workers, with Morrisons now saying they will ban shoppers who refuse to wear a mask when they don't have a medical exemption.
Paddy Lillis, from union USDAW, which represents shop workers, says "people are being verbally abused, having things thrown at them and spit on – it's downright nasty."
"We've written to supermarkets saying they've got to reinforce the message that social distancing, the numbers [of people] in stores, and face coverings needs to be strictly reinforced."
He says he's also contacted the governments in England, Scotland, Wales and Northern Ireland to see if shop rules can be enforced by law too.
Liv works at a supermarket in Ipswich and had a different view on whether people should wear masks when she spoke to Newsbeat back in October.
"I do think masks give people a sense of security and a little bit of extra protection but I wouldn't say it bothers me whether people wear them or not," she said.
"I know the government says it's compulsory in some places but on the whole I do think it's a personal choice."
'Just mind your business'
The 28-year-old also thinks people who are exempt get a backlash if they're not wearing them.
"If you see someone not wearing a mask, just mind your business. As long as you're two metres away from them, I don't see how it affects you."
Liv's supermarket doesn't order people to wear masks because customers could have an underlying health condition they don't want to disclose.
The British Retail Consortium, which represents supermarkets, says shops are meeting their responsibilities in encouraging mask wearing.
It says they're communicating the rules through things like signs, in-store announcements and other reminders.
But more general rules across the UK now say face masks are compulsory in shops.
'At the start we didn't need them'
Liv's store has brought in a marshal who "politely" asks people without masks if they'd like to wear one. She says she feels safe at work and says social distancing rules are being followed.
The advice from the World Health Organisation is that masks should be worn in public places. But for Liv, there's not enough evidence they work.
"I've worked through the whole pandemic in a supermarket. At the start we were told we didn't need to wear them, so it's just a bit far-fetched for me now."
Masks became mandatory inside shops in the summer – after the first lockdown.
Scotland was the first nation to require masks in shops in early July, followed by England later that month.
They became mandatory in Northern Ireland in August and in Wales in September 2020.
Liv does have one request though when it comes to mask wearing.
"What annoys me the most is when people are wearing masks but don't wear them properly so it's not over their nose," she says.
"You're either going to wear it or you're not going to wear it."
Follow Newsbeat on Instagram, Facebook, Twitter and YouTube.
Listen to Newsbeat live at 12:45 and 17:45 weekdays – or listen back here.