Elsewhere in entertainment, events and the arts:
FUN
For the third year, Lyon College is combining its annual Arkansas Scottish Festival — the 43rd edition this year — with homecoming to create ScotsFest, Friday-Sunday on its campus, 2300 Highland Road, Batesville.
This year's festival will feature a vintage swap meet, a comedy show featuring "America's Got Talent" alumnus Cam Bertrand, a free rocket-building workshop and performances by the Piper Jones Band and Celtic musician Misty Posey, in addition to the traditional Scots bagpiping, competitions and clan exhibitions.
The festival opens at noon Friday, with a food truck fair, vendors and Scottish clan exhibitions. Featured entertainers in the Ozark Beer Co. entertainment tent include third-generation Arkansas musician Garrett Duncan and his wife, Ashton, at 4 p.m.; Central Arkansas country rock band Drasco at 6 p.m.; and bluegrass band The Gravel Yard at 8 p.m.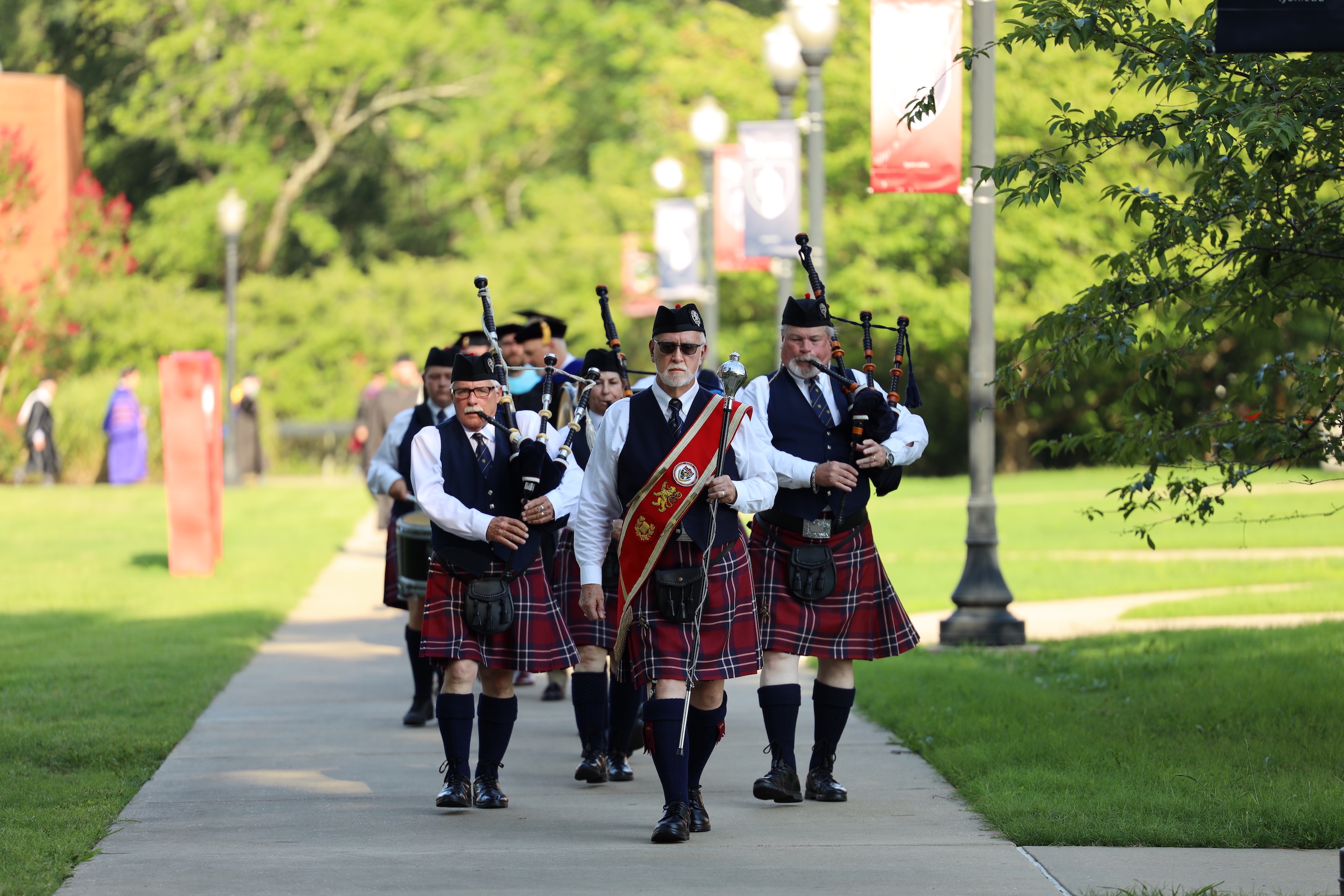 The Lyon College Pipe Band performs during ScotsFest on the college's Batesville campus. (Special to the Democrat-Gazette)
  
Saturday activities get underway at 8 a.m., including historical re-enactments by MacLachlan's Jacobite Highlanders and Colonel Munro's 37th Regiment of Foot, a Highland heavy athletics competition, Scottish clan reunions, sheep dog demonstrations, rocket demonstrations, pipe band exhibitions, Highland dancing, a British car show, the Li'l Highlanders Fun Zone and entertainment throughout the day featuring Celtic singer Posey. The vintage swap meet, 9 a.m.-4 p.m. in the Student Recreation Center's Becknell Gymnasium, showcases toys, sports memorabilia, fashion, crafts, collectibles, jewelry and artwork and culture. Admission is $3; proceeds benefit Lyon College student organizations. Celtic performers the Piper Jones Band will perform in the Ozark Beer Co. entertainment tent, 11 a.m.-4 p.m.
There will be a band and clan march-past followed by opening ceremonies at noon with a mass pipe band concert in the Couch Garden. Afternoon and evening special events include a dog show, sheep dog demonstrations, and a feast and ceilidh. Bertrand performs at 9 p.m.; admission is free.
Sunday activities, starting at 8 a.m., include historical re-enactments, sheep dog demonstrations, Highland dancing and a Kirkin' o' the Tartan worship service at 11 a.m. in the entertainment tent. The bonniest knees competition starts at 1 p.m., followed by the Kilted Fun Run for adults, students and children in which participants don kilts and take a leisurely stroll or run through Batesville. Event sponsor is White River Health; registration is $25, $10 for students and children, via alumni.lyon.edu/events/scots-fest/tickets or by emailing [email protected].
The festival closes at 4 p.m. General festival admission is free. Co-presenter is Experience Independence. See the full schedule at arscottishfest.com.
MUSIC
UAMS concert
Members of the Arkansas Symphony will perform for a "Dr. Ruth Marie Allen Concert Series" concert 4:30 p.m. Wednesday, in the lobby gallery at the University of Arkansas for Medical Sciences, 4301 W. Markham St., Little Rock. The orchestra's concertmasters, Drew Irvin and Kiril Laskarov, will join the orchestra's Rockefeller Quartet (Trisha McGovern Freeney and Linnaea Brophy, violins; Katherine Reynolds, viola; and Jacob Wunsch, cello) for the "Vivace" movement of the Concerto for Two Violins in d minor, BWV 1043, by J.S. Bach. The orchestra's Quapaw Quartet (Charlotte Crosmer and Laura Pokorszynski, violins; Timothy MacDuff, viola; and Travis Scharer, cello) will play "Five Folksongs in Counterpoint" by Florence Price and the String Quartet in D major, op.50, No. 6, "The Frog," by Franz Joseph Haydn. Admission is free; parking is available for a fee in UAMS' Parking Deck 1.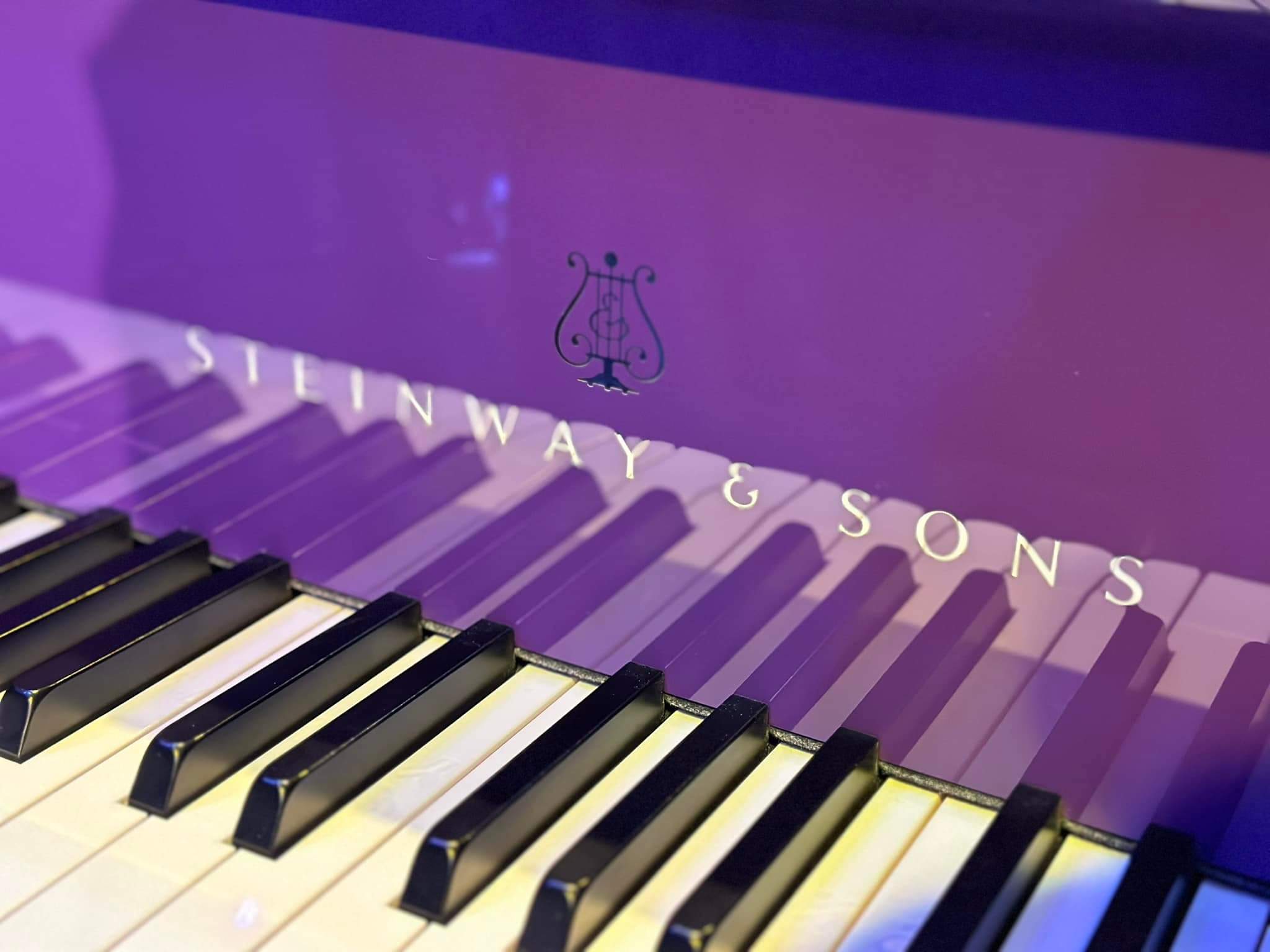 A Steinway Model B grand, finished in college colors, is among the recent Steinway piano acquisitions by the University of Central Arkansas in Conway. (Special to the Democrat-Gazette)
  
UCA Steinways
The University of Central Arkansas has acquired 13 new Steinway and Steinway-designed pianos, including two concert grand Steinway Spirio high-resolution player pianos, for its new Windgate Center for the Fine and Performing Arts. It also "significantly advances the institution's progress toward becoming an All-Steinway School, a goal that has been discussed at UCA since 1997," according to a news release. (All-Steinway Schools pledge that at least 90% of their piano collections be from Steinway & Sons. Approximately 230 colleges, universities and conservatories worldwide bear that designation.)
The two Spirio grand pianos are a Steinway Model D, which is in the center's 450-seat concert hall, and a Model B, a special "Pops" piano finished in purple, UCA's color. Eleven new Steinway-designed Boston upright pianos go into the Windgate Center's teaching studios and practice rooms.
BENEFIT
'(V)Amp Out Alz'
"(V)Amp Out Alz," a benefit for Alzheimer's Arkansas, features a live rock 'n' roll concert atmosphere (The Dirty Meanies perform) with an added Halloween theme, plus a silent auction and Corks and Keg Raffle, 7 p.m. Saturday at the Argenta Community Theater, 405 Main St, North Little Rock. Doors open at 6:30. Costumes are optional. Tickets are $30 in advance, $40 at the door, $75 for reserved seating (subject to availability, must be bought in advance). All proceeds fund the organization's educational outreach and support services for caregivers of Arkansas families dealing with Alzheimer's and other forms of dementia. Visit AlzArk.org/amp-out-alz.
ART & EXHIBITS
'Voices and Votes'
"Voices and Votes: Democracy in America," a national traveling exhibition featuring historical and contemporary photos, video, interactive games, information and historical objects including campaign souvenirs, voter memorabilia and protest materials, opens with a 5-7 p.m. reception Friday at the Arts & Science Center for Southeast Arkansas, 701 S. Main St., Pine Bluff. The exhibition is part of the Museum on Main Street, a collaboration between the Smithsonian Institution and State Humanities Councils nationwide, and is based on an exhibition by the National Museum of American History. It'll be on display through Dec. 8.
The reception will also open the ASC Permanent Collection Exhibition, works "themed around local culture, people, and heritage of the Delta region," according to a news release. That exhibition remains up through March 18.
Gallery hours are 10 a.m.-5 p.m. Tuesday-Friday, 10 a.m.-4 p.m. Saturday. Admission is free. Call (870) 536-3375 or visit asc701.org.