Travelers are flocking to the great outdoors, but when they seek lodging near national parks and other nature-focused U.S. destinations, options beyond the campsite can be somewhat scarce.
"National parks are booming, accommodation options are limited, with demand exceeding supply, especially in-park," said Kasey Morrissey, head of global product for travel companies Austin Adventures and Active Adventures.
That is changing. In recent years, a new breed of lodging is proliferating in and around national parks, Morrissey said, such as the debut of AutoCamp Hospitality Group's FieldStation Moab in Utah, which she called a prime example.
"Boutique hotels that cater to the modern-day explorer are popping up left and right," Morrissey said.
FieldStation is among a growing number of players seeking to offer outdoor enthusiasts a product that falls in what one player called the "white space" between roadside motels and five-star lodges.
"We've seen a real surge of interest in stays near outdoor adventure locations," said Matthew Mering, executive vice president of hospitality at Waterton, a Chicago-based real estate investment and property management company.
"But these markets are really undersupplied and very bifurcated. You'll usually have a few 'trophy' luxury properties and then typically a lot of economy and mom-and-pop properties, and then there's a missing middle."
Waterton is among several companies trying to fill that gap with midrange, lifestyle hotel brands. 
Glamping, however, this is not. 
Outbound Hotels, the brand Waterton unveiled this year, offers a mix of cabin, room and suite accommodations along with a wide range of amenities, from in-room coffee to outdoor equipment rentals. The properties have on-site food and beverage venues and an array of community-oriented programs, including complimentary campfire s'mores, morning yoga and karaoke nights. The company intends to help travelers "reconnect with nature" but also locates each property close enough to a town to access local culture.
Mering said the Outbound model has more in common with a boutique, lifestyle property than with a glamping site.
"The lifestyle segment really hasn't been brought to these markets, so we saw a real opportunity to take [a page] from the lifestyle hotel playbook and apply it in these iconic outdoor markets," he said.
Outbound has so far opened two conversion projects: the Virginian Lodge in Wyoming's Jackson Hole, Wyo., and the Outbound Mammoth in Mammoth Lakes, Calif. Rates start at around $150 per night, and both hotels pay travel advisor commission.
Additional Outbounds are slated for Stowe, Vt., in mid-2024 and California's Yosemite National Park in the first quarter of 2025. Waterton is also eyeing expansion into markets including Asheville, N.C., which offers proximity to Great Smoky Mountains National Park, and the Oregon coast. 
Another upstart that has already carved out a solid foothold in elevated outdoor hospitality is Loge Camps. Launched in 2017, it operates seven properties across the Northwest and Southwest U.S., including the Loge Alta Crystal, near Crystal Mountain and Mount Rainier in Washington state, and the Loge Mt. Shasta in California.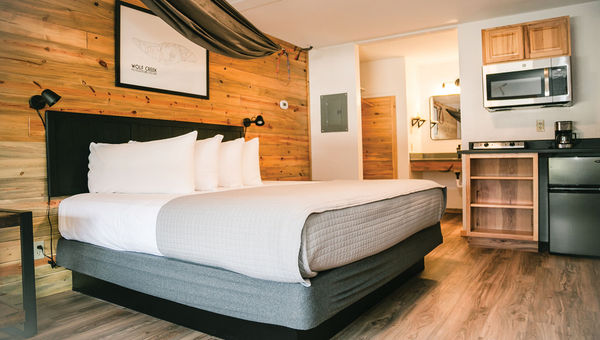 A guest room at the Loge Wolf Creek in Southern Colorado. Photo Credit: Loge Camps
The brand, which claims to be "inspired by the outdoor travel culture of the '70s," was created with the outdoor adventure-focused guest in mind. 
"You shouldn't come to Loge if you're planning to just be hanging out in your room," said CEO Cale Genenbacher. "We're trying to get people onto the trail, out on the slopes or around a fire with others. We kind of aspire to bring together the community of hostels, the comfort of hotels and the vibe of camping."
While some Loge Camps feature campsites, the bulk of the brand's accommodations are traditional hotel rooms and cabins. Chief among its signature amenities is complimentary gear, with guests able to borrow mountain bikes, snowshoes, sleds and hiking packs as well as in-room equipment such as headlamps, coolers and hammocks. 
Programming designed to appeal to both guests and locals, such as game nights, movie nights and live music, is also a priority for the brand, as are partnerships with local tour operators offering guided activities and experiences. 
"If you're a guest, you don't have to figure out where you have to go to meet the guide or where you have to get the gear," Genenbacher said. "We're a turnkey experience."
Rates at Loge start at around $125 to $200 per night, and the brand works with advisors on a case-by-case basis. Loge has plans for five East Coast properties to open by the first half of next year, in Lenox, Mass.; Palenville, N.Y.; Southport, Maine; Vermont's Mount Snow; and Asheville. These projects join an extensive pipeline that includes plans for Loge Camps in and near destinations like Glacier National Park in Montana; Taos, N.M.; and St. George, Utah. 
Meanwhile, on the horizon is the debut of yet another outdoors-focused brand: Field & Stream Lodge Co. 
The brainchild of private investment firm Starwood Capital Group and real estate and hospitality group Adventurous Journeys Capital Partners (AJ Capital), Field & Stream Lodge Co. was unveiled earlier this year as a concept "aiming to create modern and affordable lifestyle lodging." Like its competitors, the flag is targeting U.S. markets close to "authentic natural experiences," including national parks, beaches, mountain and ski towns. 
With the first Field & Stream Lodge Co. location yet to be announced, Starwood and AJ Capital say they plan to roll out an initial 20 to 25 hotels across the country. 
While a strategy of rapid growth would seem to fit the current demand, Waterton's Mering acknowledged that entry into rural, nature-focused destinations has its challenges. 
"These are difficult markets to execute in, and it's tough to operate properties out here," Mering said. "There's not a deep labor pool, and it's very difficult to renovate in these markets and bring contractors and subcontractors in from other markets. We've learned a ton of lessons playing in this space, and while I think a lot of people are going to potentially try to jump in, this is a pretty unique niche, and you need a specific skill set."