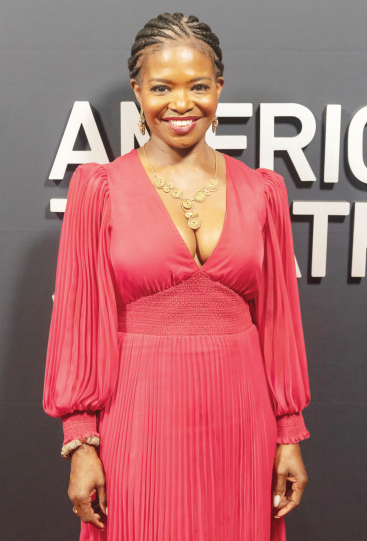 NEW YORK — Nearly 40 years after her Broadway debut, LaChanze flipped the script by reinventing herself as one of the most sought-after theater producers in New York. Her name is attached to some of this year's most buzzed-about shows: "Here Lies Love," "Kimberly Akimbo" and "Jaja's African Hair Braiding."
In June, the Tony-winning actress added two additional trophies to her mantle for producing "Topdog/Underdog" and "Kimberly Akimbo," which won best revival of a play and best musical, respectively.
"I'm still flying high like I still won it yesterday," LaChanze told The Daily News. She admitted that the win for Kenny Leon's revival of Suzan-Lori Parks' Black family tragedy took her by surprise.
"I'll be honest, for 'Kimberly,' I was feeling real positive," she confessed. "'Topdog,' though, that was surprising because of 'The Piano Lesson,' which I was so sure was going to win. Just the history of 'Piano Lesson' made me think it might take it for revival. But with our production, the voters seemed to love it."
LaChanze, who became the president of Black Theatre United in 2022, sees her position as a producer as an opportunity to "diversify" the business beyond appearing on the bill. "I want to equal the playing field a little bit," she shared.
"I want to make sure that people see me at the table so that when it's time to make deals and all of that, I can speak with authority on behalf of people that look like me, and know what the numbers are."
She added, "It's important to me that people see that we are in leadership roles."
Chasing EGOT status
Days after she became a Tony-winning producer, Theater Mania published an article about the "phenomenon" of celebrities gaining producer credits on Broadway shows. Jennifer Hudson ("A Strange Loop"), John Legend ("Jitney"), Mariah Carey ("Some Like It Hot") and "Real Housewives of Atlanta" star Kandi Burruss ("The Piano Lesson"), were scrutinized for what the outlet described as "a cheater's shortcut for EGOT status."
While LaChanze, 61, is mentioned in a favorable light in the piece, she raises an eyebrow at its connotations, especially when most of the producers discussed in it are Black.
"Well, it's interesting that now is the time that this conversation is happening when it's been happening for decades," she told The News. "And now that the demographic has shifted a bit with a variety of us sitting at the table, I think now people are paying attention because the system isn't working the way it used to, you know what I mean?"
LaChanze credits theater industry power broker David Stone, lead producer of "Wicked" among other Broadway hits, for opening her up to a new world.
"He is my mentor," she shared. "He literally, through COVID, sat me down once a week and taught me how to be an independent producer … he taught me everything.
"[David] spends so much time telling people that I'm a real producer. He gets so angry because people think I'm just lending my name but I'm raising money. I'm out here calling people, sitting in marketing meetings," she explained. "And then, you know, there's no money involved. For me at this level, it takes a good five years before producers really earn something after you've had a few hits."
LaChanze's next big behindthe-scenes venture is the premiere of Jocelyn Bioh's latest play, "Jaja's African Hair Braiding," which also has Taraji P. Henson attached as a producer. The show opens on Oct. 3 at Samuel J. Friedman Theatre.
"It's a little bit of a passion project for me because of Jocelyn," she said of the award winning Ghanaian-American. "And when a Black woman shows up, and she's making her Broadway debut, and she's making a splash based on a culture that Black women have experienced for decades, for centuries, and how we beautify ourselves, I need to be at that table…where decisions are being made."