The Big Picture
Leah Harvey discusses her love for time travel in science fiction and how the show explores the unknown future.
She explains the process of capturing her character's emotional loss and determination to move forward.
The dynamic between her character and her mother is explored, highlighting the clash between visions of the past and future and the decisions they make in the present.
This interview was conducted before the ongoing SAG-AFTRA & WGA strikes. If you're still reeling from the season finale of Apple TV+'s science fiction gem of a show Foundation, you're not alone. The character who was perhaps most impacted by the events of this season was Leah Harvey's Salvor Hardin. That's why we're sharing our conversation with the actor about time travel, the poetic echoes of the series, and a secret cameo you might have missed.
COLLIDER: The first question I've been asking folks because this show is about foundational knowledge informing a future, is there something in science fiction, be it a series or a film or a novel, that was foundational to you personally?
LEAH HARVEY: Yeah, I think so. There are some great things about time travel. Anything with time travel in it, I'm there. I'm hooked. I'm in. Count me in. So there are a lot of films that I used to watch and books, actually, that I read where I really related to that. I think that's because we don't know what's gonna happen in the future, and that's a really interesting question for me, which funny enough, this show actually really talks about a lot.
I was gonna say your character, in terms of time travel, you've left behind everything you've ever known and everyone you've ever loved. How do you go about capturing that kind of emotional loss and disconnect, but also the determination that drives you to keep moving forward?
HARVEY: It's such a huge thing, isn't it? Considering the fact that somebody has potentially left behind everything that they ever thought to be their lives, their reality, what existed. It's something that we, as people…Bad things happen all the time – we lose people, we have to move, circumstances change – but we do keep going. It's finding out in the scenes and in the story what is it that keeps Salvor going? What is the thing that will keep her going forward rather than the thing keeping her trapped in the past? And we find moments where Salvor is focused on the past or focused on the future or in the now, but in all those moments, it's all very specific. It's very specific what she's thinking and what's driving her forward. I guess that's how I navigate it.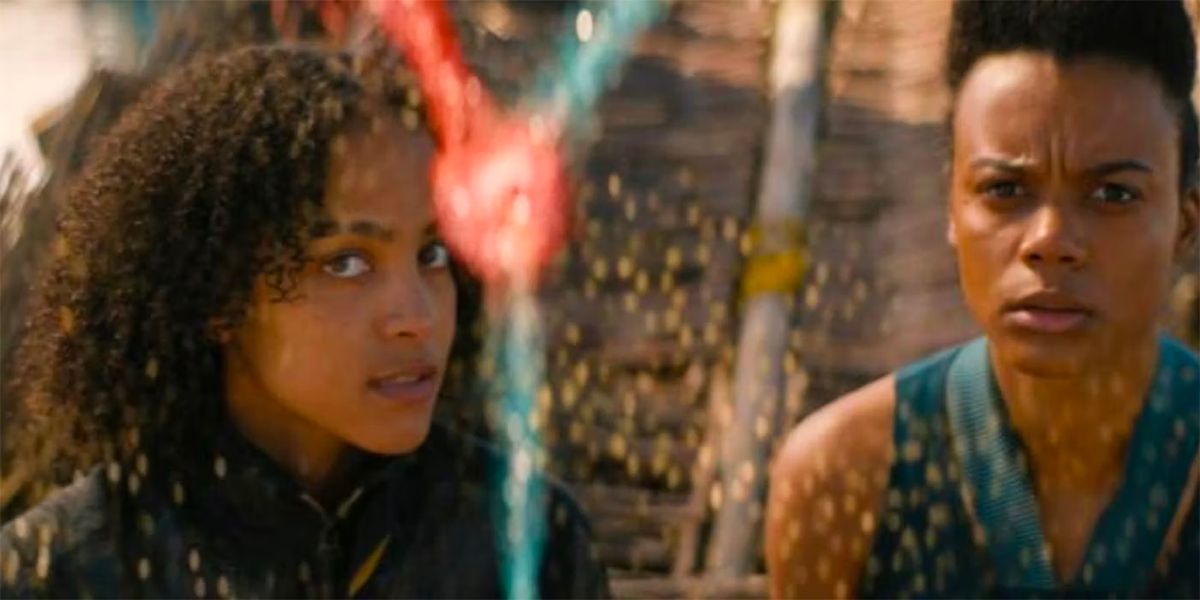 There's something very poetic then about your character meeting her mother and both of you having this ability of sight to see things that no one else can see, but you're looking in different directions, one to the past and one to the future. What were the conversations you all were having in the dynamic that is really the heart of this second season?
HARVEY: Yeah, that's a really great question because they're like opposites. Their abilities are really opposite, but there's also this point in the middle where they meet, which is the now. A vision of the future and a vision of the past ultimately affects how you're going to behave right now, what decisions you're gonna make, so there's a lot of grappling with the information that they know and then going, "Okay, which direction are we going to go in now?" Especially when you've got things like psychohistory, and you have a plan already there. You've got something that's saying where it's gonna go, and you're like, "Hm, I don't know." [Laughs] It's so complicated, but it's just about knowing what direction they want to go in and kind of going with that.
Talking about psychohistory, I've been thinking about this a lot, and I talked to some of the other folks about this season and the idea of false prophets and Hari [Jared Harris] having this plan that he's told everyone, but then characters like yours giving so much of themselves to something they don't really know if it's going to be their salvation anymore, if it may be that they've given everything for something that might not work well. Without giving anything away, obviously, what is it that your perspective is on the question that's kind of being asked about false prophets and trusting a plan in some sense?
HARVEY: We all kind of want to trust in a plan essentially, don't we? We'd all love to know what the plan is, but I think that's the thing. For me, it's less about the prophet or the false prophet, and it's more about the people listening, the people who are affected by this person, or who listen or who don't, and what decision they make. And that's where I think the good meat is. That's where the juicy stuff lies, is who's deciding to follow and why? And why, maybe, do they not believe in it? There's something that's explored in this season, the idea of everybody kind of following something and then going, "Wait," and actually starting to question it. With everyone – Salvor, Gaal [Lou Llobell], lots of people start questioning things, which is great, and it's so good.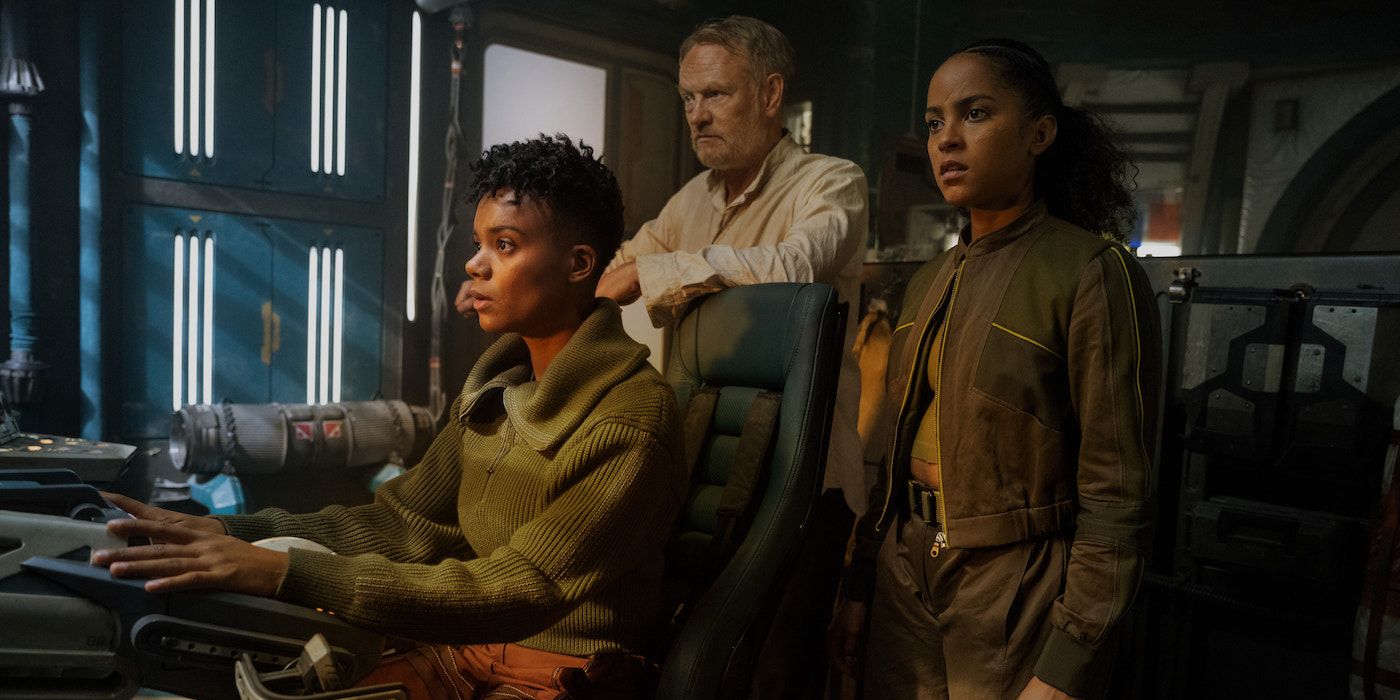 When I talked with Lou, one of the scenes that she really liked was the fruit scene. I was wondering if you could kind of talk me through what your experience was like at that scene because there are these terrifying moments of adventure and danger, but then there are also these intimate moments between the two of you as well.
HARVEY: Yeah, that's the thing. We've got such a huge scale of a show, but then we're able to go and focus in on one tiny part of one relationship between these two people. That scene is a really lovely moment where we see them connect as two people. It's like you say the thing that you've been wanting to say the whole time, but no one said it. It's really touching, and as an actor, it's a beautiful kind of scene to do, especially when you're off doing stunts and fighting and all these things, as well, that you get to then bring it down and go, "Oh, fruit. Thank you." It's really sweet, and obviously, other things, as well, happen in the scene, but yeah, it's a moment of connection. It's really vulnerable, and it's a beautiful moment, and I agree, I think it's a great one.
I like what you said about making the unspoken spoken, all built upon the interactions you've had.
HARVEY: It's like, why haven't they acknowledged this yet? Then they do, and it's nice.
Absolutely. Is there something you've taken away from this experience or feel like you haven't gotten a chance to talk about yet that you think people should know about this show and where it's going?
HARVEY: What I'd love to talk about is the community that creates the show – the team who create the sets, the builders, the people who work behind the camera, the people who save each take onto a file, they're all so important. We're a big community that make a show and everyone's welcome and it's all lovely. I'll tell you one thing, in this show, my brother was with me when I was filming, my little baby brother, and he was a really big support for me generally, but he also ended up being in the show, so that's an exclusive for you is that my baby brother is in the show. See if you can spot him. [Laughs]
What is his part in the show?
HARVEY: I can't really say because it will spoil it, but he's there! He's lovely, and it's nice to be able to share it with my family and with my friends. But it's one big community, and they really help, and brought him in, and it was sweet.
All episodes of Foundation are now streaming on Apple TV+.