'Chief Twit' takes control

Musk completes his $44bn (£38.1bn) takeover of Twitter, immediately firing a number of the company's top executives and tweeting "the bird is freed".
Before officially taking charge of the company, Musk changed his Twitter profile to read "Chief Twit" and turned up to Twitter HQ in San Francisco carrying a sink, saying: "Let that sink in!"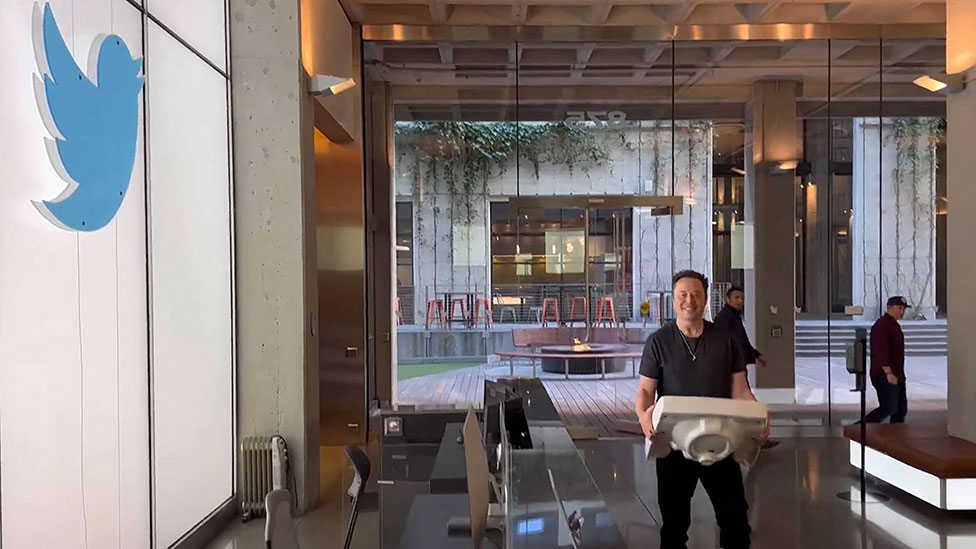 Platform battles 'trolling campaign'

After a surge in tweets containing racist language, Twitter's head of trust and safety says: "Hateful conduct has no place here." Yoel Roth says the company is taking action against users "involved in this trolling campaign" to make Twitter safe and welcoming for everyone.
Musk shares inaccurate story

Musk tweets an article containing a number of inaccuracies about an attack on the husband of US House of Representatives Speaker Nancy Pelosi by a hammer-wielding intruder. The site has a history of publishing inaccurate stories and Musk later deletes the tweet after a backlash.
Trump return dismissed – for now

With just over a week to go before the US midterm elections, Musk responds to questions about whether he will reinstate former President Donald Trump's account on Twitter by tweeting: "If I had a dollar for every time someone asked me if Trump is coming back on this platform, Twitter would be minting money!"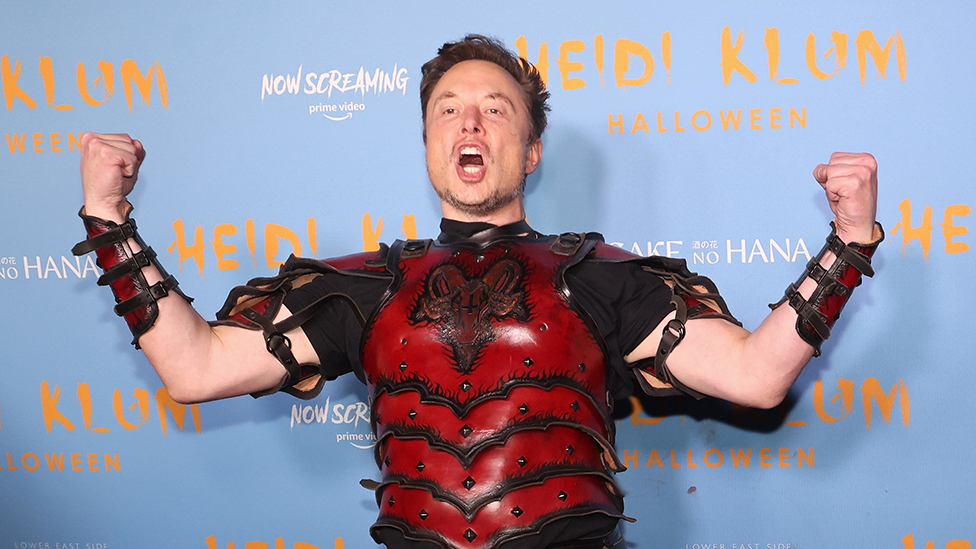 Later that day, Musk attended a halloween party in New York and posed for photographs wearing a "Devil's champion" costume.
Criticism over subscription service

Following reports that Twitter will begin charging users to have verified accounts, Musk responds to criticism from author Stephen King by saying: "We need to pay the bills somehow!".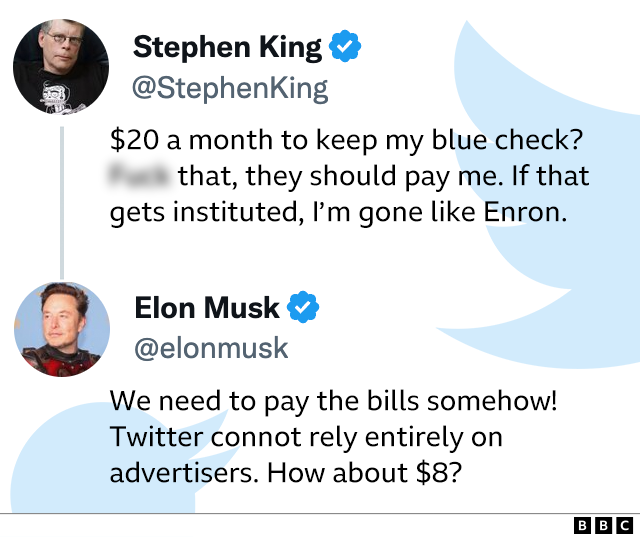 Musk moves to cut staff numbers

Employees at the company begin receiving emails entitled "Your Role at Twitter" informing them whether they have lost their jobs. Responding to news about the layoffs, Musk says "unfortunately there is no choice when the company is losing over $4M/day".
Yoel Roth, the head of trust and safety, said 50% of the company's nearly 8,000 employees had been laid off but sought to reassure users and advertisers that the platform's moderation capacity remained intact.
Twitter founder breaks silence

Twitter co-founder and ex-CEO Jack Dorsey breaks his silence over the Musk takeover to apologise to staff who have lost their jobs, saying: "I own the responsibility for why everyone is in this situation: I grew the company size too quickly."
Crackdown on parody accounts

Musk announces that Twitter accounts impersonating people without being clearly labelled a parody will be permanently suspended – a change to the previous process when accounts were given a warning first.
A number of accounts that changed their name to "Elon Musk" and mocked the billionaire had already been suspended or placed behind a warning sign.
Warnings about Twitter's survival

In his first email to Twitter staff, Musk warns that the "economic picture ahead is dire" and adds: "Without significant subscription revenue, there is a good chance Twitter will not survive the upcoming economic downturn."
Meanwhile, after the launch of the $8-a-month Twitter Blue subscription, which gives paying users a blue tick, a slew of parody accounts that appear to be verified emerge, including a fake George W Bush account that tweets: "I miss killing Iraqis". Within days, the service is paused.
Key staff leave company

More high-profile staff quit, including head of trust and safety Yoel Roth and chief security officer Lea Kissner.
Musk cuts down on contractors

Reports in US media say thousands of contractors who had been working for Twitter have had their contracts terminated. Technology news site Platformer says as many as 80% of its 5,500 contractor workforce were laid off in the move but the company made no official announcement.
Staff told: Be hardcore or leave

In a late-night email to all Twitter staff, Musk says employees must commit to a "hardcore" culture of working "long hours at high intensity" or leave the company.
Company offices abruptly closed

In a surprise announcement, Twitter says its company offices will be closed temporarily. The move comes amid reports that large numbers of Twitter staff had resigned.
Responding to fears the platform was about to shut down due to losing key staff, Musk tweeted: "The best people are staying, so I'm not super worried."
Twitter Blue relaunched

The paid-for verification feature Twitter Blue is relaunched. It is still $8 per month – but Twitter cranks it up to $11 for those using the app on Apple devices. Musk says he resents the commission fee Apple charges on in-app purchases.
Suspensions for location 'doxxing'

Musk says he is taking legal action against the holder of the @ElonJet Twitter account that tracks his private jet, claiming it put his son at risk.
He also suspends the accounts of reporters for the New York Times, CNN and the Washington Post, among others, saying they had shared his location.
After condemnation from the UN, a threat of sanctions from the European Union, and a Twitter poll, Musk lifts the suspension for the journalists' accounts, saying "the people have spoken". The @ElonJet account remains suspended.
Twitter users vote for Musk to step down

Twitter users voted in favour of Musk stepping down as its chief executive after he ran a poll on his future, promising he would "abide by the results".
Millions voted, with a final total of 57.5% saying "yes".
\n window.vjConfigObject = window.vjConfigObject || {};\n window.vjConfigObject['vjeastasia-800-timeline_on_slack-newsspec-35503'] = {\"js\":true,\"output\":{\"wrapper\":\"embed\"},\"name\":\"vjeastasia-800-timeline_on_slack\",\"version\":\"1.0.202212191157\",\"urlToOutputDir\":\"https://news.files.bbci.co.uk/include/vjeastasia/800-timeline_on_slack\",\"assetsPath\":\"https://news.files.bbci.co.uk/include/vjeastasia/800-timeline_on_slack/assets/newsspec-35503-project-assets\",\"includeName\":\"newsspec-35503\",\"language\":\"english\",\"languageCode\":\"en\",\"loremText\":[\"Lorem ipsum dolor sit amet, consectetur adipiscing elit. Integer a purus eu nisl porta aliquam. Morbi pharetra aliquet dolor a cursus. In auctor dolor a felis feugiat ultrices. Phasellus sagittis aliquet mattis. Etiam turpis neque, auctor a pulvinar a, vestibulum consequat ante. Morbi ut dui eget sapien vulputate viverra. Curabitur luctus malesuada nunc.\",\"Nullam gravida erat ut porttitor sollicitudin. Aliquam feugiat odio rutrum arcu tincidunt vehicula. Donec nec dolor rhoncus, consectetur metus eget, consectetur enim. Duis euismod, arcu non efficitur porta, nibh eros viverra risus, ac gravida lorem ex in dui. Morbi pulvinar varius erat, quis facilisis ligula mollis vel. Nulla efficitur augue quam, ac aliquet mi ornare vitae. In ornare nisl eget tortor aliquam consectetur id nec lorem. Pellentesque massa dolor, placerat ac risus a, aliquam rhoncus nulla.\",\"Ut et suscipit enim. Nam aliquam porttitor sapien elementum mollis. In quis turpis ante. Morbi et ex aliquam, ornare neque sit amet, porttitor est. Quisque eleifend consequat turpis. Curabitur ultrices luctus quam, et dapibus quam bibendum non. Praesent facilisis augue magna, eu volutpat nibh gravida et. Cras pulvinar, ligula vel consectetur molestie, lorem eros euismod arcu, sed condimentum leo metus efficitur ante. Duis eu diam semper, hendrerit est porta, tincidunt odio. Maecenas sagittis justo lacus, ac varius est dictum sit amet. Nam vitae turpis dignissim, tincidunt felis sit amet, dignissim sapien. Integer et iaculis ex. Sed rhoncus elit vitae massa facilisis venenatis.\",\"Curabitur lorem ligula, aliquet id lorem ut, molestie consequat sem. Donec sit amet lacus sagittis, gravida nunc a, volutpat elit. Nullam elementum, leo sed gravida euismod, enim leo venenatis dolor, eget consequat nisi nisl vel tortor. Ut hendrerit non justo nec porttitor. Aenean et dolor laoreet augue vulputate commodo ac ut turpis. Morbi luctus lacinia felis at pellentesque. Interdum et malesuada fames ac ante ipsum primis in faucibus. Nullam tristique faucibus mauris, sed volutpat ante consequat nec. Proin fermentum vehicula tortor, sed bibendum lectus volutpat ac. Cras dignissim elit id aliquam consectetur.\"],\"metaCSP\":\"default-src 'none';script-src 'unsafe-inline' 'self' *.local.bbc.co.uk:* news.files.bbci.co.uk news.test.files.bbci.co.uk assets.wearehearken.com cdn.syndication.twimg.com connect.facebook.net emp.bbci.co.uk ems.wearehearken.com modules.wearehearken.com mybbcanalytics.files.bbci.co.uk nav.files.bbci.co.uk news.files.bbci.co.uk news.test.files.bbci.co.uk platform.twitter.com public.flourish.studio static.bbc.co.uk static.bbci.co.uk static.files.bbci.co.uk static.chartbeat.com static2.chartbeat.com www.bbc.co.uk www.instagram.com www.ons.gov.uk gnwebassets.api.bbc.com www.googleanalytics.com static.files.bbci.co.uk static.test.files.bbci.co.uk;img-src 'self' c.files.bbci.co.uk data: https://a1.api.bbc.co.uk i.ytimg.com ichef.bbci.co.uk logws1363.atihost.net logws1363.ati-host.net news.bbcimg.co.uk news.files.bbci.co.uk news.test.files.bbci.co.uk newsimg.bbc.co.uk pbs.twimg.com ping.chartbeat.net platform.twitter.com r.bbci.co.uk syndication.twitter.com ton.twimg.com www.googleanalytics.com static.files.bbci.co.uk;font-src gel.files.bbci.co.uk static.bbci.co.uk static.files.bbci.co.uk news.files.bbci.co.uk news.test.files.bbci.co.uk wsdownloads.files.bbci.co.uk;style-src 'self' 'unsafe-inline' *.local.bbc.co.uk:* cdn.riddle.com flo.uri.sh news.files.bbci.co.uk news.test.files.bbci.co.uk platform.twitter.com static.bbc.co.uk static.bbci.co.uk static.files.bbci.co.uk ton.twimg.com www.riddle.com;frame-src 'self' bbc001.carto.com bbc003.carto.com bbc-maps.carto.com cdn.riddle.com chartbeat.com emp.bbc.co.uk emp.bbc.com flo.uri.sh news.files.bbci.co.uk news.test.files.bbci.co.uk static.files.bbci.co.uk static.test.files.bbci.co.uk personaltaxcalculator2.deloittecloud.co.uk platform.twitter.com public.flourish.studio static2.chartbeat.com syndication.twitter.com web.facebook.com www.bbc.co.uk www.facebook.com www.instagram.com www.ons.gov.uk www.riddle.com www.youtube.com;object-src 'none';worker-src 'self' blob:;manifest-src static.files.bbci.co.uk;connect-src 'self' wss://*.local.bbc.co.uk:* https://*.local.bbc.co.uk:* https://mybbc-analytics.files.bbci.co.uk cookieoven.api.bbc.co.uk cookieoven.api.bbc.com ems.wearehearken.com https://a1.api.bbc.co.uk locator-service.api.bbci.co.uk logws1363.atihost.net logws1363.ati-host.net modules.wearehearken.com mybbcanalytics.files.bbci.co.uk news.files.bbci.co.uk news.test.files.bbci.co.uk platform.twitter.com search.api.bbci.co.uk search.api.bbci.com static.files.bbci.co.uk static.test.files.bbci.co.uk www.bbc.co.uk www.bbc.com www.googleanalytics.com idcta.api.bbc.co.uk;child-src blob:;base-uri 'none';form-action 'self' platform.twitter.com syndication.twitter.com;upgrade-insecure-requests\",\"textDirection\":\"ltr\",\"serviceName\":\"news\",\"serviceNameNative\":\"News\",\"AtiSiteStringTest\":\"news_ps_test\",\"AtiSiteStringLive\":\"news_ps\",\"AtiSiteStringExtraUkTest\":\"gnl_news_test\",\"AtiSiteStringExtraUkLive\":\"gnl_news\",\"AtiProducerString\":\"news\",\"vocab\":{\"image_copyright\":\". by\",\"image_caption\":\".\",\"see_more\":\"Show more\",\"timeline_1-header\":\"Timeline: Musk's turbulent Twitter takeover\",\"timeline_1-leadin\":\"\",\"timeline__element_2-header\":\"'Chief Twit' takes control\",\"timeline__element_2-date\":\"27 October 2022\",\"text_3-value\":\"Musk completes his $44bn (£38.1bn) takeover of Twitter, immediately firing a number of the company's top executives and tweeting \\\"the bird is freed\\\".\",\"text_4-value\":\"Before officially taking charge of the company, Musk changed his Twitter profile to read \\\"Chief Twit\\\" and turned up to Twitter HQ in San Francisco carrying a sink, saying: \\\"Let that sink in!\\\"\",\"figure_5-caption\":\"\",\"figure_5-attribution\":\"\",\"figure_5-src\":\"https://c.files.bbci.co.uk/172AA/production/_127609849_crop_gettyimages-1244262469.jpg\",\"timeline__element_6-header\":\"Platform battles 'trolling campaign'\",\"timeline__element_6-date\":\"29 October\",\"text_7-value\":\"After a surge in tweets containing racist language, Twitter's head of trust and safety says: \\\"Hateful conduct has no place here.\\\" Yoel Roth says the company is taking action against users \\\"involved in this trolling campaign\\\" to make Twitter safe and welcoming for everyone.\",\"timeline__element_8-header\":\"Musk shares inaccurate story\",\"timeline__element_8-date\":\"30 October\",\"text_9-value\":\"Musk tweets an article containing a number of inaccuracies about an attack on the husband of US House of Representatives Speaker Nancy Pelosi by a hammer-wielding intruder. The site has a history of publishing inaccurate stories and Musk later deletes the tweet after a backlash.\",\"timeline__element_10-header\":\"Trump return dismissed – for now\",\"timeline__element_10-date\":\"31 October\",\"text_11-value\":\"With just over a week to go before the US midterm elections, Musk responds to questions about whether he will reinstate former President Donald Trump's account on Twitter by tweeting: \\\"If I had a dollar for every time someone asked me if Trump is coming back on this platform, Twitter would be minting money!\\\"\",\"figure_12-caption\":\"\",\"figure_12-attribution\":\".\",\"figure_12-src\":\"https://c.files.bbci.co.uk/86B7/production/_127678443_crop_gettyimages-1438048810.jpg\",\"text_13-value\":\"Later that day, Musk attended a halloween party in New York and posed for photographs wearing a \\\"Devil's champion\\\" costume.\",\"timeline__element_14-header\":\"Criticism over subscription service\",\"timeline__element_14-date\":\"1 November\",\"text_15-value\":\"Following reports that Twitter will begin charging users to have verified accounts, Musk responds to criticism from author Stephen King by saying: \\\"We need to pay the bills somehow!\\\".\",\"figure_16-caption\":\"\",\"figure_16-attribution\":\"\",\"figure_16-src\":\"https://c.files.bbci.co.uk/1702/production/_127609850_elon_king_twitter_640-nc.png\",\"timeline__element_17-header\":\"Musk moves to cut staff numbers\",\"timeline__element_17-date\":\"4 November\",\"text_18-value\":\"Employees at the company begin receiving emails entitled \\\"Your Role at Twitter\\\" informing them whether they have lost their jobs. Responding to news about the layoffs, Musk says \\\"unfortunately there is no choice when the company is losing over $4M/day\\\".\",\"text_19-value\":\"Yoel Roth, the head of trust and safety, said 50% of the company's nearly 8,000 employees had been laid off but sought to reassure users and advertisers that the platform's moderation capacity remained intact.\",\"timeline__element_20-header\":\"Twitter founder breaks silence\",\"timeline__element_20-date\":\"5 November\",\"text_21-value\":\"Twitter co-founder and ex-CEO Jack Dorsey breaks his silence over the Musk takeover to apologise to staff who have lost their jobs, saying: \\\"I own the responsibility for why everyone is in this situation: I grew the company size too quickly.\\\"\",\"timeline__element_22-header\":\"Crackdown on parody accounts\",\"timeline__element_22-date\":\"6 November\",\"text_23-value\":\"Musk announces that Twitter accounts impersonating people without being clearly labelled a parody will be permanently suspended – a change to the previous process when accounts were given a warning first.\",\"text_24-value\":\"A number of accounts that changed their name to \\\"Elon Musk\\\" and mocked the billionaire had already been suspended or placed behind a warning sign.\",\"timeline__element_25-header\":\"Warnings about Twitter's survival\",\"timeline__element_25-date\":\"9 November\",\"text_26-value\":\"In his first email to Twitter staff, Musk warns that the \\\"economic picture ahead is dire\\\" and adds: \\\"Without significant subscription revenue, there is a good chance Twitter will not survive the upcoming economic downturn.\\\"\",\"text_27-value\":\"Meanwhile, after the launch of the $8-a-month Twitter Blue subscription, which gives paying users a blue tick, a slew of parody accounts that appear to be verified emerge, including a fake George W Bush account that tweets: \\\"I miss killing Iraqis\\\". Within days, the service is paused.\",\"timeline__element_28-header\":\"Key staff leave company\",\"timeline__element_28-date\":\"10 November\",\"text_29-value\":\"More high-profile staff quit, including head of trust and safety Yoel Roth and chief security officer Lea Kissner.\",\"timeline__element_30-header\":\"Musk cuts down on contractors\",\"timeline__element_30-date\":\"12 November\",\"text_31-value\":\"Reports in US media say thousands of contractors who had been working for Twitter have had their contracts terminated. Technology news site Platformer says as many as 80% of its 5,500 contractor workforce were laid off in the move but the company made no official announcement.\",\"timeline__element_32-header\":\"Staff told: Be hardcore or leave\",\"timeline__element_32-date\":\"16 November\",\"text_33-value\":\"In a late-night email to all Twitter staff, Musk says employees must commit to a \\\"hardcore\\\" culture of working \\\"long hours at high intensity\\\" or leave the company.\",\"timeline__element_34-header\":\"Company offices abruptly closed\",\"timeline__element_34-date\":\"17 November\",\"text_35-value\":\"In a surprise announcement, Twitter says its company offices will be closed temporarily. The move comes amid reports that large numbers of Twitter staff had resigned.\",\"text_36-value\":\"Responding to fears the platform was about to shut down due to losing key staff, Musk tweeted: \\\"The best people are staying, so I'm not super worried.\\\"\",\"timeline__element_37-header\":\"Twitter Blue relaunched\",\"timeline__element_37-date\":\"\u003cstrong>12 December\u003c/strong>\",\"text_38-value\":\"The paid-for verification feature Twitter Blue is relaunched. It is still $8 per month – but Twitter cranks it up to $11 for those using the app on Apple devices. Musk says he resents the commission fee Apple charges on in-app purchases.\",\"timeline__element_39-header\":\"Suspensions for location 'doxxing'\",\"timeline__element_39-date\":\"15 December\",\"text_40-value\":\"Musk says he is taking legal action against the holder of the @ElonJet Twitter account that tracks his private jet, claiming it put his son at risk.\",\"text_41-value\":\"He also suspends the accounts of reporters for the New York Times, CNN and the Washington Post, among others, saying they had shared his location.\",\"text_42-value\":\"After condemnation from the UN, a threat of sanctions from the European Union, and a Twitter poll, Musk lifts the suspension for the journalists' accounts, saying \\\"the people have spoken\\\". The @ElonJet account remains suspended.\",\"timeline__element_43-header\":\"Twitter users vote for Musk to step down\",\"timeline__element_43-date\":\"18 December\",\"text_44-value\":\"Twitter users voted in favour of Musk stepping down as its chief executive after he ran a poll on his future, promising he would \\\"abide by the results\\\".\",\"text_45-value\":\"Millions voted, with a final total of 57.5% saying \\\"yes\\\".\"},\"outputs\":[{\"wrapper\":\"embed\"},{\"wrapper\":\"core\"},{\"wrapper\":\"envelope\"},{\"wrapper\":\"amp\"},{\"wrapper\":\"news-app\"},{\"wrapper\":\"syndication\",\"photoCaption\":\"\",\"photoURL\":\"\",\"hyperlinkCallToAction\":\"Click here to see the BBC interactive\"},{\"wrapper\":\"facebook\",\"height\":960,\"withMargins\":\"yes\"},{\"wrapper\":\"applenews\",\"photoCaption\":\"\",\"photoURL\":\"\",\"hyperlinkCallToAction\":\"Click or tap here to see interactive content\"}],\"autoFixLintingErrors\":false,\"polyfill\":false,\"dynamicImports\":false,\"reactProject\":false,\"failFast\":false,\"includePath\":{\"responsive\":true,\"newsapps\":true,\"app-image\":\"https://placehold.it/640×360\",\"app-clickable\":true,\"amp-clickable\":true,\"amp-image-height\":360,\"amp-image-width\":640,\"amp-image\":\"https://placehold.it/640×360\",\"app-image-alt-text\":\"Click or tap here to see interactive content\"},\"languages\":[\"english\"],\"destinationSection\":{\"english\":\"uk\"},\"uncompressedAppBudget\":\"(1024 * 1000) * 0.5\",\"meta\":{\"title\":{\"english\":\"\"},\"images\":[{\"thumbnail\":\"\"}],\"hasBeenDeployed\":false,\"publication_date\":null,\"publication_date_iso\":null,\"last_modified\":null,\"last_modified_iso\":null,\"data_last_modified\":null,\"data_last_modified_iso\":null,\"keywords\":[\"vj\",\"visual-journalism\",\"visualjournalism\",\"visual journalism\"],\"locations\":{\"regions\":[]}},\"defaultPort\":1031,\"usedPort\":1031,\"generateForMozart\":true,\"shadowDom\":true,\"projectNamespace\":\"vjeastasia-800-timeline_on_slack\",\"outputDir\":\"include/vjeastasia/800-timeline_on_slack\",\"optimiseImagesOnEveryBuild\":false,\"includes\":{\"app\":{\"uuid\":\"06c42180-dddb-4c6a-9ca2-d0deefca9b19\"},\"newsspec-35503\":{\"uuid\":\"4583a3d3-9d1e-451f-9420-6a50b00b973b\"},\"vjeastasia-1345\":{\"uuid\":\"7676649e-ce71-4385-bb61-ccb1bc285f45\"},\"vjeastasia-1346\":{\"uuid\":\"8e67ca45-b12b-46a2-8845-fde62ecdbd61\"},\"vjeastasia-1348\":{\"uuid\":\"315534d2-7f69-4e20-bb45-9ca719fc9183\"},\"vjeastasia-677\":{\"uuid\":\"89be3ab7-fb51-498b-87d0-e9a58153cb68\"},\"vjeurope-730\":{\"uuid\":\"9817bff5-982c-427f-8ab3-81783ada6eda\"}},\"pathToWrapperAssets\":\"https://news.files.bbci.co.uk/include/vjeastasia/800-timeline_on_slack/assets/embed\",\"pathToInclude\":\"https://news.files.bbci.co.uk/include/vjeastasia/800-timeline_on_slack/english/newsspec-35503/embed\",\"pathToWrapperAssetsToInclude\":\"https://news.files.bbci.co.uk/include/vjeastasia/800-timeline_on_slack/english/newsspec-35503/embed\"};\n\u003c/script>\n\u003clink rel=\"stylesheet\" href=\"https://news.files.bbci.co.uk/include/vjeastasia/800-timeline_on_slack/assets/embed/css/inline.css??v=1.0.202212191157.202212191157\">\n\u003cdiv id=\"responsive-embed-vjeastasia-800-timeline_on_slack-newsspec-35503\" class=\"bbc-news-vj-embed-wrapper\">\n \u003cdiv id=\"responsive-embed-vjeastasia-800-timeline_on_slack-newsspec-35503-core-content\">\n \u003cdiv class=\"gel-wrap\">\n \u003cdiv class=\"gel-layout\">\n \u003cdiv class=\"gel-layout__item gel-1/1\">\n \n \u003cdiv class=\"timeline__container \">\n \u003ch2 class=\"timeline__main-header\">Timeline: Musk's turbulent Twitter takeover\u003c/h2>\n \u003cdiv class=\"timeline__content\">\n \u003cdiv class=\"timeline__sideline timeline__sideline–bg\">\u003c/div>\n \n \u003cdiv class=\"timeline\">\n \u003cdiv class=\"timeline__indicator\">\n \u003c/div>\n \u003ch3 class=\"timeline__header\">\n 'Chief Twit' takes control\n \u003c/h3>\n \u003cp class=\"timeline__date\">\n \u003ctime>27 October 2022\u003c/time>\n \u003c/p>\n \n \u003cp>Musk completes his $44bn (£38.1bn) takeover of Twitter, immediately firing a number of the company's top executives and tweeting \"the bird is freed\".\u003c/p>\n \n \n \n \u003cp>Before officially taking charge of the company, Musk changed his Twitter profile to read \"Chief Twit\" and turned up to Twitter HQ in San Francisco carrying a sink, saying: \"Let that sink in!\"\u003c/p>\n \n \n \n \u003cfigure class=\"figure\">\n \u003cpicture>\n \u003cimg class=\"figure__img\"\n src=\"https://c.files.bbci.co.uk/172AA/production/_127609849_crop_gettyimages-1244262469.jpg??v=1.0.202212191157.202212191157\"\n alt=\"\" />\n \u003c/picture>\n \u003cfigcaption class=\"figure__figcaption gel-brevier\" style=\"padding: 0;\">\n \u003c/figcaption>\n \u003c/figure>\n \n \n \u003c/div>\n \n \u003cdiv class=\"timeline\">\n \u003cdiv class=\"timeline__indicator\">\n \u003c/div>\n \u003ch3 class=\"timeline__header\">\n Platform battles 'trolling campaign'\n \u003c/h3>\n \u003cp class=\"timeline__date\">\n \u003ctime>29 October\u003c/time>\n \u003c/p>\n \n \u003cp>After a surge in tweets containing racist language, Twitter's head of trust and safety says: \"Hateful conduct has no place here.\" Yoel Roth says the company is taking action against users \"involved in this trolling campaign\" to make Twitter safe and welcoming for everyone.\u003c/p>\n \n \n \u003c/div>\n \n \u003cdiv class=\"timeline\">\n \u003cdiv class=\"timeline__indicator\">\n \u003c/div>\n \u003ch3 class=\"timeline__header\">\n Musk shares inaccurate story\n \u003c/h3>\n \u003cp class=\"timeline__date\">\n \u003ctime>30 October\u003c/time>\n \u003c/p>\n \n \u003cp>Musk tweets an article containing a number of inaccuracies about an attack on the husband of US House of Representatives Speaker Nancy Pelosi by a hammer-wielding intruder. The site has a history of publishing inaccurate stories and Musk later deletes the tweet after a backlash.\u003c/p>\n \n \n \u003c/div>\n \n \u003cdiv class=\"timeline\">\n \u003cdiv class=\"timeline__indicator\">\n \u003c/div>\n \u003ch3 class=\"timeline__header\">\n Trump return dismissed – for now\n \u003c/h3>\n \u003cp class=\"timeline__date\">\n \u003ctime>31 October\u003c/time>\n \u003c/p>\n \n \u003cp>With just over a week to go before the US midterm elections, Musk responds to questions about whether he will reinstate former President Donald Trump's account on Twitter by tweeting: \"If I had a dollar for every time someone asked me if Trump is coming back on this platform, Twitter would be minting money!\"\u003c/p>\n \n \n \n \u003cfigure class=\"figure\">\n \u003cpicture>\n \u003cimg class=\"figure__img\"\n src=\"https://c.files.bbci.co.uk/86B7/production/_127678443_crop_gettyimages-1438048810.jpg??v=1.0.202212191157.202212191157\"\n alt=\"\" />\n \u003c/picture>\n \u003cfigcaption class=\"figure__figcaption gel-brevier\" style=\"padding: 0;\">\n \u003cspan class=\"figure__attribution\">\n \u003cspan class=\"off-screen\">. by\u003c/span> .\n \u003c/span>\n \u003c/figcaption>\n \u003c/figure>\n \n \n \n \u003cp>Later that day, Musk attended a halloween party in New York and posed for photographs wearing a \"Devil's champion\" costume.\u003c/p>\n \n \n \u003c/div>\n \n \u003cdiv class=\"timeline\">\n \u003cdiv class=\"timeline__indicator\">\n \u003c/div>\n \u003ch3 class=\"timeline__header\">\n Criticism over subscription service\n \u003c/h3>\n \u003cp class=\"timeline__date\">\n \u003ctime>1 November\u003c/time>\n \u003c/p>\n \n \u003cp>Following reports that Twitter will begin charging users to have verified accounts, Musk responds to criticism from author Stephen King by saying: \"We need to pay the bills somehow!\".\u003c/p>\n \n \n \n \u003cfigure class=\"figure\">\n \u003cpicture>\n \u003cimg class=\"figure__img\"\n src=\"https://c.files.bbci.co.uk/1702/production/_127609850_elon_king_twitter_640-nc.png??v=1.0.202212191157.202212191157\"\n alt=\"\" />\n \u003c/picture>\n \u003cfigcaption class=\"figure__figcaption gel-brevier\" style=\"padding: 0;\">\n \u003c/figcaption>\n \u003c/figure>\n \n \n \u003c/div>\n \n \u003cdiv class=\"timeline\">\n \u003cdiv class=\"timeline__indicator\">\n \u003c/div>\n \u003ch3 class=\"timeline__header\">\n Musk moves to cut staff numbers\n \u003c/h3>\n \u003cp class=\"timeline__date\">\n \u003ctime>4 November\u003c/time>\n \u003c/p>\n \n \u003cp>Employees at the company begin receiving emails entitled \"Your Role at Twitter\" informing them whether they have lost their jobs. Responding to news about the layoffs, Musk says \"unfortunately there is no choice when the company is losing over $4M/day\".\u003c/p>\n \n \n \n \u003cp>Yoel Roth, the head of trust and safety, said 50% of the company's nearly 8,000 employees had been laid off but sought to reassure users and advertisers that the platform's moderation capacity remained intact.\u003c/p>\n \n \n \u003c/div>\n \n \u003cdiv class=\"timeline\">\n \u003cdiv class=\"timeline__indicator\">\n \u003c/div>\n \u003ch3 class=\"timeline__header\">\n Twitter founder breaks silence\n \u003c/h3>\n \u003cp class=\"timeline__date\">\n \u003ctime>5 November\u003c/time>\n \u003c/p>\n \n \u003cp>Twitter co-founder and ex-CEO Jack Dorsey breaks his silence over the Musk takeover to apologise to staff who have lost their jobs, saying: \"I own the responsibility for why everyone is in this situation: I grew the company size too quickly.\"\u003c/p>\n \n \n \u003c/div>\n \n \u003cdiv class=\"timeline\">\n \u003cdiv class=\"timeline__indicator\">\n \u003c/div>\n \u003ch3 class=\"timeline__header\">\n Crackdown on parody accounts\n \u003c/h3>\n \u003cp class=\"timeline__date\">\n \u003ctime>6 November\u003c/time>\n \u003c/p>\n \n \u003cp>Musk announces that Twitter accounts impersonating people without being clearly labelled a parody will be permanently suspended – a change to the previous process when accounts were given a warning first.\u003c/p>\n \n \n \n \u003cp>A number of accounts that changed their name to \"Elon Musk\" and mocked the billionaire had already been suspended or placed behind a warning sign.\u003c/p>\n \n \n \u003c/div>\n \n \u003cdiv class=\"timeline\">\n \u003cdiv class=\"timeline__indicator\">\n \u003c/div>\n \u003ch3 class=\"timeline__header\">\n Warnings about Twitter's survival\n \u003c/h3>\n \u003cp class=\"timeline__date\">\n \u003ctime>9 November\u003c/time>\n \u003c/p>\n \n \u003cp>In his first email to Twitter staff, Musk warns that the \"economic picture ahead is dire\" and adds: \"Without significant subscription revenue, there is a good chance Twitter will not survive the upcoming economic downturn.\"\u003c/p>\n \n \n \n \u003cp>Meanwhile, after the launch of the $8-a-month Twitter Blue subscription, which gives paying users a blue tick, a slew of parody accounts that appear to be verified emerge, including a fake George W Bush account that tweets: \"I miss killing Iraqis\". Within days, the service is paused.\u003c/p>\n \n \n \u003c/div>\n \n \u003cdiv class=\"timeline\">\n \u003cdiv class=\"timeline__indicator\">\n \u003c/div>\n \u003ch3 class=\"timeline__header\">\n Key staff leave company\n \u003c/h3>\n \u003cp class=\"timeline__date\">\n \u003ctime>10 November\u003c/time>\n \u003c/p>\n \n \u003cp>More high-profile staff quit, including head of trust and safety Yoel Roth and chief security officer Lea Kissner.\u003c/p>\n \n \n \u003c/div>\n \n \u003cdiv class=\"timeline\">\n \u003cdiv class=\"timeline__indicator\">\n \u003c/div>\n \u003ch3 class=\"timeline__header\">\n Musk cuts down on contractors\n \u003c/h3>\n \u003cp class=\"timeline__date\">\n \u003ctime>12 November\u003c/time>\n \u003c/p>\n \n \u003cp>Reports in US media say thousands of contractors who had been working for Twitter have had their contracts terminated. Technology news site Platformer says as many as 80% of its 5,500 contractor workforce were laid off in the move but the company made no official announcement.\u003c/p>\n \n \n \u003c/div>\n \n \u003cdiv class=\"timeline\">\n \u003cdiv class=\"timeline__indicator\">\n \u003c/div>\n \u003ch3 class=\"timeline__header\">\n Staff told: Be hardcore or leave\n \u003c/h3>\n \u003cp class=\"timeline__date\">\n \u003ctime>16 November\u003c/time>\n \u003c/p>\n \n \u003cp>In a late-night email to all Twitter staff, Musk says employees must commit to a \"hardcore\" culture of working \"long hours at high intensity\" or leave the company.\u003c/p>\n \n \n \u003c/div>\n \n \u003cdiv class=\"timeline\">\n \u003cdiv class=\"timeline__indicator\">\n \u003c/div>\n \u003ch3 class=\"timeline__header\">\n Company offices abruptly closed\n \u003c/h3>\n \u003cp class=\"timeline__date\">\n \u003ctime>17 November\u003c/time>\n \u003c/p>\n \n \u003cp>In a surprise announcement, Twitter says its company offices will be closed temporarily. The move comes amid reports that large numbers of Twitter staff had resigned.\u003c/p>\n \n \n \n \u003cp>Responding to fears the platform was about to shut down due to losing key staff, Musk tweeted: \"The best people are staying, so I'm not super worried.\"\u003c/p>\n \n \n \u003c/div>\n \n \u003cdiv class=\"timeline\">\n \u003cdiv class=\"timeline__indicator\">\n \u003c/div>\n \u003ch3 class=\"timeline__header\">\n Twitter Blue relaunched\n \u003c/h3>\n \u003cp class=\"timeline__date\">\n \u003ctime>\u003cstrong>12 December\u003c/strong>\u003c/time>\n \u003c/p>\n \n \u003cp>The paid-for verification feature Twitter Blue is relaunched. It is still $8 per month – but Twitter cranks it up to $11 for those using the app on Apple devices. Musk says he resents the commission fee Apple charges on in-app purchases.\u003c/p>\n \n \n \u003c/div>\n \n \u003cdiv class=\"timeline\">\n \u003cdiv class=\"timeline__indicator\">\n \u003c/div>\n \u003ch3 class=\"timeline__header\">\n Suspensions for location 'doxxing'\n \u003c/h3>\n \u003cp class=\"timeline__date\">\n \u003ctime>15 December\u003c/time>\n \u003c/p>\n \n \u003cp>Musk says he is taking legal action against the holder of the @ElonJet Twitter account that tracks his private jet, claiming it put his son at risk.\u003c/p>\n \n \n \n \u003cp>He also suspends the accounts of reporters for the New York Times, CNN and the Washington Post, among others, saying they had shared his location.\u003c/p>\n \n \n \n \u003cp>After condemnation from the UN, a threat of sanctions from the European Union, and a Twitter poll, Musk lifts the suspension for the journalists' accounts, saying \"the people have spoken\". The @ElonJet account remains suspended.\u003c/p>\n \n \n \u003c/div>\n \n \u003cdiv class=\"timeline\">\n \u003cdiv class=\"timeline__indicator\">\n \u003c/div>\n \u003ch3 class=\"timeline__header\">\n Twitter users vote for Musk to step down\n \u003c/h3>\n \u003cp class=\"timeline__date\">\n \u003ctime>18 December\u003c/time>\n \u003c/p>\n \n \u003cp>Twitter users voted in favour of Musk stepping down as its chief executive after he ran a poll on his future, promising he would \"abide by the results\".\u003c/p>\n \n \n \n \u003cp>Millions voted, with a final total of 57.5% saying \"yes\".\u003c/p>\n \n \n \u003c/div>\n \u003c/div>\n \u003cdiv class=\"timeline__drawer hidden\">\n \u003cbutton class=\"timeline__button timeline__button–reveal\">\n Show more\n \u003c/button>\n \u003c/div>\n \u003c/div>\n \u003c/div>\n \u003c/div>\n \u003c/div>\n \u003c/div>\n\u003c/div>\n\u003cstyle id=\"responsive-embed-vjeastasia-800-timeline_on_slack-newsspec-35503-inline-css\">\n @-moz-keyframes gel-spin{0%{-moz-transform:rotate(0deg)}100%{-moz-transform:rotate(360deg)}}@-webkit-keyframes gel-spin{0%{-webkit-transform:rotate(0deg)}100%{-webkit-transform:rotate(360deg)}}@-ms-keyframes gel-spin{0%{-ms-transform:rotate(0deg)}100%{-ms-transform:rotate(360deg)}}@keyframes gel-spin{0%{transform:rotate(0deg)}100%{transform:rotate(360deg)}}.bbc-news-visual-journalism-loading-spinner{display:block;margin:8px auto;width:32px;height:32px;max-width:32px;fill:#323232;-webkit-animation-name:gel-spin;-webkit-animation-duration:1s;-webkit-animation-iteration-count:infinite;-webkit-animation-timing-function:linear;-moz-animation-name:gel-spin;-moz-animation-duration:1s;-moz-animation-iteration-count:infinite;-moz-animation-timing-function:linear;animation-name:gel-spin;animation-duration:1s;animation-iteration-count:infinite;animation-timing-function:linear}\n@font-face{font-display:swap;font-family:\"ReithSans\";src:url(\"https://gel.files.bbci.co.uk/r2.512/BBCReithSans_W_Rg.woff2\") format(\"woff2\"),url(\"https://gel.files.bbci.co.uk/r2.512/BBCReithSans_W_Rg.woff\") format(\"woff\")}@font-face{font-display:swap;font-family:\"ReithSans\";font-style:italic;src:url(\"https://gel.files.bbci.co.uk/r2.512/BBCReithSans_W_It.woff2\") format(\"woff2\"),url(\"https://gel.files.bbci.co.uk/r2.512/BBCReithSans_W_It.woff\") format(\"woff\")}@font-face{font-display:swap;font-family:\"ReithSans\";font-weight:bold;src:url(\"https://gel.files.bbci.co.uk/r2.512/BBCReithSans_W_Bd.woff2\") format(\"woff2\"),url(\"https://gel.files.bbci.co.uk/r2.512/BBCReithSans_W_Bd.woff\") format(\"woff\")}@font-face{font-display:swap;font-family:\"ReithSans\";font-style:italic;font-weight:bold;src:url(\"https://gel.files.bbci.co.uk/r2.512/BBCReithSans_W_BdIt.woff2\") format(\"woff2\"),url(\"https://gel.files.bbci.co.uk/r2.512/BBCReithSans_W_BdIt.woff\") format(\"woff\")}@font-face{font-display:swap;font-family:\"ReithSans\";font-weight:300;src:url(\"https://gel.files.bbci.co.uk/r2.512/BBCReithSans_W_Lt.woff2\") format(\"woff2\"),url(\"https://gel.files.bbci.co.uk/r2.512/BBCReithSans_W_Lt.woff\") format(\"woff\")}@font-face{font-display:swap;font-family:\"ReithSans\";font-style:italic;font-weight:300;src:url(\"https://gel.files.bbci.co.uk/r2.512/BBCReithSans_W_LtIt.woff2\") format(\"woff2\"),url(\"https://gel.files.bbci.co.uk/r2.512/BBCReithSans_W_LtIt.woff\") format(\"woff\")}@font-face{font-display:swap;font-family:\"ReithSans\";font-weight:500;src:url(\"https://gel.files.bbci.co.uk/r2.512/BBCReithSans_W_Md.woff2\") format(\"woff2\"),url(\"https://gel.files.bbci.co.uk/r2.512/BBCReithSans_W_Md.woff\") format(\"woff\")}@font-face{font-display:swap;font-family:\"ReithSans\";font-style:italic;font-weight:500;src:url(\"https://gel.files.bbci.co.uk/r2.512/BBCReithSans_W_MdIt.woff2\") format(\"woff2\"),url(\"https://gel.files.bbci.co.uk/r2.512/BBCReithSans_W_MdIt.woff\") format(\"woff\")}@font-face{font-display:swap;font-family:\"ReithSans\";font-weight:800;src:url(\"https://gel.files.bbci.co.uk/r2.512/BBCReithSans_W_ExBd.woff2\") format(\"woff2\"),url(\"https://gel.files.bbci.co.uk/r2.512/BBCReithSans_W_ExBd.woff\") format(\"woff\")}@font-face{font-display:swap;font-family:\"ReithSans\";font-style:italic;font-weight:800;src:url(\"https://gel.files.bbci.co.uk/r2.512/BBCReithSans_W_ExBdIt.woff2\") format(\"woff2\"),url(\"https://gel.files.bbci.co.uk/r2.512/BBCReithSans_W_ExBdIt.woff\") format(\"woff\")}@font-face{font-display:swap;font-family:\"ReithSerif\";src:url(\"https://gel.files.bbci.co.uk/r2.512/BBCReithSerif_W_Rg.woff2\") format(\"woff2\"),url(\"https://gel.files.bbci.co.uk/r2.512/BBCReithSerif_W_Rg.woff\") format(\"woff\")}@font-face{font-display:swap;font-family:\"ReithSerif\";font-style:italic;src:url(\"https://gel.files.bbci.co.uk/r2.512/BBCReithSerif_W_It.woff2\") format(\"woff2\"),url(\"https://gel.files.bbci.co.uk/r2.512/BBCReithSerif_W_It.woff\") format(\"woff\")}@font-face{font-display:swap;font-family:\"ReithSerif\";font-weight:bold;src:url(\"https://gel.files.bbci.co.uk/r2.512/BBCReithSerif_W_Bd.woff2\") format(\"woff2\"),url(\"https://gel.files.bbci.co.uk/r2.512/BBCReithSerif_W_Bd.woff\") format(\"woff\")}@font-face{font-display:swap;font-family:\"ReithSerif\";font-style:italic;font-weight:bold;src:url(\"https://gel.files.bbci.co.uk/r2.512/BBCReithSerif_W_BdIt.woff2\") format(\"woff2\"),url(\"https://gel.files.bbci.co.uk/r2.512/BBCReithSerif_W_BdIt.woff\") format(\"woff\")}@font-face{font-display:swap;font-family:\"ReithSerif\";font-weight:300;src:url(\"https://gel.files.bbci.co.uk/r2.512/BBCReithSerif_W_Lt.woff2\") format(\"woff2\"),url(\"https://gel.files.bbci.co.uk/r2.512/BBCReithSerif_W_Lt.woff\") format(\"woff\")}@font-face{font-display:swap;font-family:\"ReithSerif\";font-style:italic;font-weight:300;src:url(\"https://gel.files.bbci.co.uk/r2.512/BBCReithSerif_W_LtIt.woff2\") format(\"woff2\"),url(\"https://gel.files.bbci.co.uk/r2.512/BBCReithSerif_W_LtIt.woff\") format(\"woff\")}@font-face{font-display:swap;font-family:\"ReithSerif\";font-weight:500;src:url(\"https://gel.files.bbci.co.uk/r2.512/BBCReithSerif_W_Md.woff2\") format(\"woff2\"),url(\"https://gel.files.bbci.co.uk/r2.512/BBCReithSerif_W_Md.woff\") format(\"woff\")}@font-face{font-display:swap;font-family:\"ReithSerif\";font-style:italic;font-weight:500;src:url(\"https://gel.files.bbci.co.uk/r2.512/BBCReithSerif_W_MdIt.woff2\") format(\"woff2\"),url(\"https://gel.files.bbci.co.uk/r2.512/BBCReithSerif_W_MdIt.woff\") format(\"woff\")}@font-face{font-display:swap;font-family:\"ReithSerif\";font-weight:800;src:url(\"https://gel.files.bbci.co.uk/r2.512/BBCReithSerif_W_ExBd.woff2\") format(\"woff2\"),url(\"https://gel.files.bbci.co.uk/r2.512/BBCReithSerif_W_ExBd.woff\") format(\"woff\")}@font-face{font-display:swap;font-family:\"ReithSerif\";font-style:italic;font-weight:800;src:url(\"https://gel.files.bbci.co.uk/r2.512/BBCReithSerif_W_ExBdIt.woff2\") format(\"woff2\"),url(\"https://gel.files.bbci.co.uk/r2.512/BBCReithSerif_W_ExBdIt.woff\") format(\"woff\")}\n\n\u003c/style>\n\n\u003cscript>\n (function(){\n\nfunction cutsTheMustard() {\n return (\n document.implementation.hasFeature('http://www.w3.org/TR/SVG11/feature#BasicStructure', '1.1') &&\n 'querySelector' in document &&\n 'localStorage' in window &&\n 'addEventListener' in window &&\n 'MutationObserver' in window // not supported in IE9 & IE10\n );\n}\n\n if (cutsTheMustard()) {\n function initEmbed() {\n require(['https://news.files.bbci.co.uk/include/vjeastasia/800-timeline_on_slack/assets/embed/js/embed-init.js??v=1.0.202212191157.202212191157'], function (initFullFatApplication) {\n initFullFatApplication(vjConfigObject['vjeastasia-800-timeline_on_slack-newsspec-35503']);\n });\n }\n\n if (typeof require === 'undefined') {\n var headTag = document.getElementsByTagName('head')[0],\n requireTag = document.createElement('script');\n requireTag.type="text/javascript";\n requireTag.src="https://news.files.bbci.co.uk/include/vjassets/js/vendor/require-2.1.20b.min.js";\n requireTag.onload = initEmbed;\n headTag.appendChild(requireTag);\n } else {\n initEmbed();\n }\n\n }\n else if (window.require) {\n require(['istats-1'], function (istats) {\n istats.log('browser does not cut the mustard', 'newsspec-nonuser');\n });\n } })();\n\u003c/script>\n"}},{"type":"text","model":{"blocks":[{"type":"paragraph","model":{"text":"Musk's electric car firm has fallen sharply in value, with some saying his obsession with Twitter is destroying the brand.","blocks":[{"type":"fragment","model":{"text":"Musk's electric car firm has fallen sharply in value, with some saying his obsession with Twitter is destroying the brand.","attributes":[]}}]}}]}},{"type":"text","model":{"blocks":[{"type":"paragraph","model":{"text":"He received the backing of several investors to help get his purchase of the site over the line.","blocks":[{"type":"fragment","model":{"text":"He received the backing of several investors to help get his purchase of the site over the line.","attributes":[]}}]}}]}},{"type":"text","model":{"blocks":[{"type":"paragraph","model":{"text":"In May, it was reported the backers included massive firms such as Fidelity, which is known for managing retirement accounts, and Sequoia Capital, which has backed other technology firms Apple, Google and Airbnb.","blocks":[{"type":"urlLink","model":{"text":"In May, it was reported","locator":"https://www.bbc.co.uk/news/business-61337622″,"blocks":[{"type":"fragment","model":{"text":"In May, it was reported","attributes":[]}}]}},{"type":"fragment","model":{"text":" the backers included massive firms such as Fidelity, which is known for managing retirement accounts, and Sequoia Capital, which has backed other technology firms Apple, Google and Airbnb.","attributes":[]}}]}}]}},{"type":"text","model":{"blocks":[{"type":"paragraph","model":{"text":"Others are thought to include Binance chief founder Changpeng Zhao, Oracle co-founder and Mr Musk's friend, Larry Ellison, sovereign wealth fund Qatar Holding and Saudi Arabian investor Prince Alwaleed bin Talal.","blocks":[{"type":"fragment","model":{"text":"Others are thought to include Binance chief founder Changpeng Zhao, Oracle co-founder and Mr Musk's friend, Larry Ellison, sovereign wealth fund Qatar Holding and Saudi Arabian investor Prince Alwaleed bin Talal.","attributes":[]}}]}}]}},{"type":"text","model":{"blocks":[{"type":"paragraph","model":{"text":"Mr Musk also announced on Twitter that major policy changes would be voted on in the future. ","blocks":[{"type":"fragment","model":{"text":"Mr Musk also announced on Twitter that major policy changes would be voted on in the future. ","attributes":[]}}]}}]}},{"type":"text","model":{"blocks":[{"type":"paragraph","model":{"text":"On Sunday, Twitter said it would shut down accounts solely designed to promote other social media platforms, however, the web page detailing the policy appears to no longer exist.","blocks":[{"type":"fragment","model":{"text":"On Sunday, Twitter said it would shut down accounts solely designed to promote other social media platforms, however, the web page detailing the policy appears to no longer exist.","attributes":[]}}]}}]}},{"type":"image","model":{"image":{"alt":"line","copyright":null,"height":2,"width":624,"src":"https://ichef.bbci.co.uk/news/624/cpsprodpb/1FCD/production/_105914180_line976-nc.png","srcSet":"https://ichef.bbci.co.uk/news/240/cpsprodpb/1FCD/production/_105914180_line976-nc.png.webp 240w, https://ichef.bbci.co.uk/news/320/cpsprodpb/1FCD/production/_105914180_line976-nc.png.webp 320w, https://ichef.bbci.co.uk/news/480/cpsprodpb/1FCD/production/_105914180_line976-nc.png.webp 480w, https://ichef.bbci.co.uk/news/624/cpsprodpb/1FCD/production/_105914180_line976-nc.png.webp 624w, https://ichef.bbci.co.uk/news/800/cpsprodpb/1FCD/production/_105914180_line976-nc.png.webp 800w, https://ichef.bbci.co.uk/news/976/cpsprodpb/1FCD/production/_105914180_line976-nc.png.webp 976w","mimeType":"image/webp","fallbackSrcSets":[{"mimeType":"image/png","srcSet":"https://ichef.bbci.co.uk/news/240/cpsprodpb/1FCD/production/_105914180_line976-nc.png 240w, https://ichef.bbci.co.uk/news/320/cpsprodpb/1FCD/production/_105914180_line976-nc.png 320w, https://ichef.bbci.co.uk/news/480/cpsprodpb/1FCD/production/_105914180_line976-nc.png 480w, https://ichef.bbci.co.uk/news/624/cpsprodpb/1FCD/production/_105914180_line976-nc.png 624w, https://ichef.bbci.co.uk/news/800/cpsprodpb/1FCD/production/_105914180_line976-nc.png 800w, https://ichef.bbci.co.uk/news/976/cpsprodpb/1FCD/production/_105914180_line976-nc.png 976w"}]}}},{"type":"subheadline","model":{"blocks":[{"type":"text","model":{"blocks":[{"type":"paragraph","model":{"text":"You may also be interested in:","blocks":[{"type":"fragment","model":{"text":"You may also be interested in:","attributes":[]}}]}}]}}],"level":2,"fontScale":"headlineSmall","id":"You-may-also-be-interested-in","isFocusable":true}},{"type":"video","model":{"caption":{"type":"text","model":{"blocks":[{"type":"paragraph","model":{"text":"WATCH: Ros Atkins On… Elon Musk and Twitter","blocks":[{"type":"fragment","model":{"text":"WATCH: Ros Atkins On… Elon Musk and Twitter","attributes":[]}}]}}]}},"media":{"__typename":"ElementsMediaPlayer","items":[{"id":"p0dfc9n1″,"title":"Ros Atkins On… Elon Musk and Twitter","holdingImageUrl":"https://ichef.bbci.co.uk/images/ic/$recipe/p0dfctgt.jpg","kind":"programme","isEmbeddingAllowed":true,"isAdvertisingAllowed":true}]}}},{"type":"links","model":{"blocks":[{"type":"link","model":{"headline":"Twitter reinstates banned journalists' accounts","image":{"alt":"Elon Musk's side profile in front of a Twitter logo","copyright":"Reuters","height":561.4380000000001,"width":999,"src":"https://ichef.bbci.co.uk/news/999/cpsprodpb/16C4F/production/_128036239_2a6b33668d777b258fa13c208cd8b1169362ffd30_0_4000_25101000x628.jpg","srcSet":"https://ichef.bbci.co.uk/news/240/cpsprodpb/16C4F/production/_128036239_2a6b33668d777b258fa13c208cd8b1169362ffd30_0_4000_25101000x628.jpg.webp 240w, https://ichef.bbci.co.uk/news/320/cpsprodpb/16C4F/production/_128036239_2a6b33668d777b258fa13c208cd8b1169362ffd30_0_4000_25101000x628.jpg.webp 320w, https://ichef.bbci.co.uk/news/480/cpsprodpb/16C4F/production/_128036239_2a6b33668d777b258fa13c208cd8b1169362ffd30_0_4000_25101000x628.jpg.webp 480w, https://ichef.bbci.co.uk/news/624/cpsprodpb/16C4F/production/_128036239_2a6b33668d777b258fa13c208cd8b1169362ffd30_0_4000_25101000x628.jpg.webp 624w, https://ichef.bbci.co.uk/news/800/cpsprodpb/16C4F/production/_128036239_2a6b33668d777b258fa13c208cd8b1169362ffd30_0_4000_25101000x628.jpg.webp 800w, https://ichef.bbci.co.uk/news/976/cpsprodpb/16C4F/production/_128036239_2a6b33668d777b258fa13c208cd8b1169362ffd30_0_4000_25101000x628.jpg.webp 976w","mimeType":"image/webp","fallbackSrcSets":[{"mimeType":"image/jpeg","srcSet":"https://ichef.bbci.co.uk/news/240/cpsprodpb/16C4F/production/_128036239_2a6b33668d777b258fa13c208cd8b1169362ffd30_0_4000_25101000x628.jpg 240w, https://ichef.bbci.co.uk/news/320/cpsprodpb/16C4F/production/_128036239_2a6b33668d777b258fa13c208cd8b1169362ffd30_0_4000_25101000x628.jpg 320w, https://ichef.bbci.co.uk/news/480/cpsprodpb/16C4F/production/_128036239_2a6b33668d777b258fa13c208cd8b1169362ffd30_0_4000_25101000x628.jpg 480w, https://ichef.bbci.co.uk/news/624/cpsprodpb/16C4F/production/_128036239_2a6b33668d777b258fa13c208cd8b1169362ffd30_0_4000_25101000x628.jpg 624w, https://ichef.bbci.co.uk/news/800/cpsprodpb/16C4F/production/_128036239_2a6b33668d777b258fa13c208cd8b1169362ffd30_0_4000_25101000x628.jpg 800w, https://ichef.bbci.co.uk/news/976/cpsprodpb/16C4F/production/_128036239_2a6b33668d777b258fa13c208cd8b1169362ffd30_0_4000_25101000x628.jpg 976w"}]},"metadataStripItems":[{"text":"2 days ago"}],"url":"/news/business-64010202″,"service":"news"}},{"type":"link","model":{"headline":"Twitter condemned by UN and EU over reporters' ban","image":{"alt":"Twitter owner Elon Musk","copyright":".","height":549,"width":976,"src":"https://ichef.bbci.co.uk/news/976/cpsprodpb/C3AC/production/_128029005_musknew.png","srcSet":"https://ichef.bbci.co.uk/news/240/cpsprodpb/C3AC/production/_128029005_musknew.png.webp 240w, https://ichef.bbci.co.uk/news/320/cpsprodpb/C3AC/production/_128029005_musknew.png.webp 320w, https://ichef.bbci.co.uk/news/480/cpsprodpb/C3AC/production/_128029005_musknew.png.webp 480w, https://ichef.bbci.co.uk/news/624/cpsprodpb/C3AC/production/_128029005_musknew.png.webp 624w, https://ichef.bbci.co.uk/news/800/cpsprodpb/C3AC/production/_128029005_musknew.png.webp 800w, https://ichef.bbci.co.uk/news/976/cpsprodpb/C3AC/production/_128029005_musknew.png.webp 976w","mimeType":"image/webp","fallbackSrcSets":[{"mimeType":"image/png","srcSet":"https://ichef.bbci.co.uk/news/240/cpsprodpb/C3AC/production/_128029005_musknew.png 240w, https://ichef.bbci.co.uk/news/320/cpsprodpb/C3AC/production/_128029005_musknew.png 320w, https://ichef.bbci.co.uk/news/480/cpsprodpb/C3AC/production/_128029005_musknew.png 480w, https://ichef.bbci.co.uk/news/624/cpsprodpb/C3AC/production/_128029005_musknew.png 624w, https://ichef.bbci.co.uk/news/800/cpsprodpb/C3AC/production/_128029005_musknew.png 800w, https://ichef.bbci.co.uk/news/976/cpsprodpb/C3AC/production/_128029005_musknew.png 976w"}]},"metadataStripItems":[{"text":"2 days ago"}],"url":"/news/world-us-canada-63996061″,"service":"news"}},{"type":"link","model":{"headline":"Twitter blocks users from sharing links to rival","image":{"alt":"Twitter and Mastodon logos","copyright":".","height":549,"width":976,"src":"https://ichef.bbci.co.uk/news/976/cpsprodpb/B18C/production/_128025454_gettyimages-1244728141.jpg","srcSet":"https://ichef.bbci.co.uk/news/240/cpsprodpb/B18C/production/_128025454_gettyimages-1244728141.jpg.webp 240w, https://ichef.bbci.co.uk/news/320/cpsprodpb/B18C/production/_128025454_gettyimages-1244728141.jpg.webp 320w, https://ichef.bbci.co.uk/news/480/cpsprodpb/B18C/production/_128025454_gettyimages-1244728141.jpg.webp 480w, https://ichef.bbci.co.uk/news/624/cpsprodpb/B18C/production/_128025454_gettyimages-1244728141.jpg.webp 624w, https://ichef.bbci.co.uk/news/800/cpsprodpb/B18C/production/_128025454_gettyimages-1244728141.jpg.webp 800w, https://ichef.bbci.co.uk/news/976/cpsprodpb/B18C/production/_128025454_gettyimages-1244728141.jpg.webp 976w","mimeType":"image/webp","fallbackSrcSets":[{"mimeType":"image/jpeg","srcSet":"https://ichef.bbci.co.uk/news/240/cpsprodpb/B18C/production/_128025454_gettyimages-1244728141.jpg 240w, https://ichef.bbci.co.uk/news/320/cpsprodpb/B18C/production/_128025454_gettyimages-1244728141.jpg 320w, https://ichef.bbci.co.uk/news/480/cpsprodpb/B18C/production/_128025454_gettyimages-1244728141.jpg 480w, https://ichef.bbci.co.uk/news/624/cpsprodpb/B18C/production/_128025454_gettyimages-1244728141.jpg 624w, https://ichef.bbci.co.uk/news/800/cpsprodpb/B18C/production/_128025454_gettyimages-1244728141.jpg 800w, https://ichef.bbci.co.uk/news/976/cpsprodpb/B18C/production/_128025454_gettyimages-1244728141.jpg 976w"}]},"metadataStripItems":[{"text":"3 days ago"}],"url":"/news/technology-63999452″,"service":"news"}}],"isAfterContent":true,"title":"More on this story"}}]}},"contributor":{"title":"By Michael Race & Zoe Kleinman","subtitle":"Business reporter & Technology editor, BBC News"},"relatedUrls":[],"topics":[{"title":"Companies","url":"/news/topics/c0repyjnd84t","isEvent":false},{"title":"Elon Musk","url":"/news/topics/c302m85q53mt","isEvent":false},{"title":"Twitter","url":"/news/topics/cmj34zmwx51t","isEvent":false}]},"importance":"PRIMARY","isPersonalised":false,"hasFetcher":true},"onward-journeys?analyticsDataSource=CPS&columnsByBreakpoint=%7B%22base%22%3A1%2C%22medium%22%3A3%2C%22large%22%3A1%7D&country=us&dataType=contentSummaries&enableDotcomAds=false&id=topStories&isUk=false&language=en-GB&limit=3&promoSize=small&region=us&sectionHeader=%7B%22text%22%3A%22Top%20Stories%22%7D&service=news&showTimestamp=true&urn=urn%3Abbc%3Acps%3Acurie%3Aasset%3Afe1db322-b0c1-4558-801e-eaad4c10b042″:{"name":"onward-journeys","props":{"analyticsDataSource":"CPS","columnsByBreakpoint":{"base":1,"medium":3,"large":1},"dataType":"contentSummaries","isUk":false,"id":"topStories","limit":3,"promoSize":"small","region":"us","sectionHeader":{"text":"Top Stories"},"service":"news","showTimestamp":true,"urn":"urn:bbc:cps:curie:asset:fe1db322-b0c1-4558-801e-eaad4c10b042″,"enableDotcomAds":false,"country":"us","language":"en-GB"},"data":{"promos":[{"headline":"Five killed in horrendous Toronto shooting – police","isLive":false,"metadataStripItems":[{"label":"Published","text":"11 minutes ago"}],"tracking":{"container":"cps_topStories_urn:bbc:cps:curie:asset:fe1db322-b0c1-4558-801e-eaad4c10b042″,"label":"Five killed in horrendous Toronto shooting – police","url":"https://www.bbc.co.uk/news/world-us-canada-64024023″,"source":"news","metadata":{"PAR":"cps_topStories_urn:bbc:cps:curie:asset:fe1db322-b0c1-4558-801e-eaad4c10b042::1″,"CHD":"promo::1″,"EXT":0},"group":{"name":"CPS Top Stories","type":"promo group","item_count":3,"resource_id":"urn:bbc:cps:curie:asset:fe1db322-b0c1-4558-801e-eaad4c10b042″},"item":{"type":"promo","link":"https://www.bbc.co.uk/news/world-us-canada-64024023″,"text":"Five killed in horrendous Toronto shooting – police","media_type":"article","attribution":"news","position":1,"resource_id":"urn:bbc:cps:curie:asset:6224caa4-72db-4ffa-8548-8cdfe34a0760″}},"url":"https://www.bbc.co.uk/news/world-us-canada-64024023″,"service":"news"},{"headline":"Twitter users vote in favour of Musk stepping down","isLive":false,"metadataStripItems":[{"label":"Published","text":"1 hour ago"}],"tracking":{"container":"cps_topStories_urn:bbc:cps:curie:asset:fe1db322-b0c1-4558-801e-eaad4c10b042″,"label":"Twitter users vote in favour of Musk stepping down","url":"https://www.bbc.co.uk/news/business-your-money-64021412″,"source":"news","metadata":{"PAR":"cps_topStories_urn:bbc:cps:curie:asset:fe1db322-b0c1-4558-801e-eaad4c10b042::1″,"CHD":"promo::2″,"EXT":0},"group":{"name":"CPS Top Stories","type":"promo group","item_count":3,"resource_id":"urn:bbc:cps:curie:asset:fe1db322-b0c1-4558-801e-eaad4c10b042″},"item":{"type":"promo","link":"https://www.bbc.co.uk/news/business-your-money-64021412″,"text":"Twitter users vote in favour of Musk stepping down","media_type":"article","attribution":"news","position":2,"resource_id":"urn:bbc:cps:curie:asset:fb29e22d-7c73-48c4-ae45-5f0aa7a6a2cd"}},"url":"https://www.bbc.co.uk/news/business-your-money-64021412″,"service":"news"},{"headline":"Thai warship capsizes leaving 31 sailors missing","isLive":false,"metadataStripItems":[{"label":"Published","text":"1 hour ago"}],"tracking":{"container":"cps_topStories_urn:bbc:cps:curie:asset:fe1db322-b0c1-4558-801e-eaad4c10b042″,"label":"Thai warship capsizes leaving 31 sailors missing","url":"https://www.bbc.co.uk/news/world-asia-64023249″,"source":"news","metadata":{"PAR":"cps_topStories_urn:bbc:cps:curie:asset:fe1db322-b0c1-4558-801e-eaad4c10b042::1″,"CHD":"promo::3″,"EXT":0},"group":{"name":"CPS Top Stories","type":"promo group","item_count":3,"resource_id":"urn:bbc:cps:curie:asset:fe1db322-b0c1-4558-801e-eaad4c10b042″},"item":{"type":"promo","link":"https://www.bbc.co.uk/news/world-asia-64023249″,"text":"Thai warship capsizes leaving 31 sailors missing","media_type":"article","attribution":"news","position":3,"resource_id":"urn:bbc:cps:curie:asset:88442284-e712-411e-8799-e06fbea21810″}},"url":"https://www.bbc.co.uk/news/world-asia-64023249″,"service":"news"}],"sectionHeader":"Top Stories"},"importance":"SECONDARY","isPersonalised":false,"hasFetcher":true},"onward-journeys?analyticsDataSource=CPS&columnsByBreakpoint=%7B%22base%22%3A2%2C%22medium%22%3A3%2C%22large%22%3A1%7D&country=us&dataType=onwardJourneys&enableDotcomAds=false&id=features&insertAdSlotAtIndex=3&isUk=false&language=en-GB&limit=9&region=us&section=%2Fnews%2Fbusiness&sectionHeader=%7B%22text%22%3A%22Features%22%7D&service=news&showImage=true&showLoadingState=false":{"name":"onward-journeys","props":{"analyticsDataSource":"CPS","columnsByBreakpoint":{"base":2,"medium":3,"large":1},"dataType":"onwardJourneys","isUk":false,"id":"features","insertAdSlotAtIndex":3,"limit":9,"region":"us","section":"/news/business","sectionHeader":{"text":"Features"},"service":"news","showImage":true,"showLoadingState":false,"enableDotcomAds":false,"country":"us","language":"en-GB"},"data":{"promos":[{"headline":"'Now hard to argue against Messi being football's greatest'","image":{"alt":"Lionel Messi kisses World Cup trophy","height":216,"width":385,"src":"https://ichef.bbci.co.uk/news/385/cpsprodpb/182BD/production/_128050099_gettyimages.jpg"},"tracking":{"container":"cps_features","label":"'Now hard to argue against Messi being football's greatest'","url":"/sport/football/64021057″,"source":"sport","metadata":{"PAR":"cps_features::1″,"CHD":"promo::1″,"EXT":0},"group":{"name":"CPS Features","type":"promo group","item_count":9},"item":{"type":"promo","link":"/sport/football/64021057″,"text":"'Now hard to argue against Messi being football's greatest'","media_type":"article","attribution":"sport","position":1}},"metadataStripItems":[],"url":"/sport/football/64021057″,"service":"sport"},{"headline":"Elation in Argentina, sorrow in France – fans react","image":{"alt":"An Argentina football fan celebrates in El Calafate, Argentina","height":216,"width":385,"src":"https://ichef.bbci.co.uk/news/385/cpsprodpb/121BE/production/_128047147_gettyimages-1450128608.jpg"},"tracking":{"container":"cps_features","label":"Elation in Argentina, sorrow in France – fans react","url":"/news/world-64018472″,"source":"news","metadata":{"PAR":"cps_features::1″,"CHD":"promo::2″,"EXT":0},"group":{"name":"CPS Features","type":"promo group","item_count":9},"item":{"type":"promo","link":"/news/world-64018472″,"text":"Elation in Argentina, sorrow in France – fans react","media_type":"article","attribution":"news","position":2}},"metadataStripItems":[],"url":"/news/world-64018472″,"service":"news"},{"headline":"The agonising wait to identify the dead in Ukraine","image":{"alt":"Volodymyr Vakulenko's mother","height":216,"width":385,"src":"https://ichef.bbci.co.uk/news/385/cpsprodpb/1381F/production/_128030997_poet'smum.jpg"},"tracking":{"container":"cps_features","label":"The agonising wait to identify the dead in Ukraine","url":"/news/world-europe-63987512″,"source":"news","metadata":{"PAR":"cps_features::1″,"CHD":"promo::3″,"EXT":0},"group":{"name":"CPS Features","type":"promo group","item_count":9},"item":{"type":"promo","link":"/news/world-europe-63987512″,"text":"The agonising wait to identify the dead in Ukraine","media_type":"article","attribution":"news","position":3}},"metadataStripItems":[],"url":"/news/world-europe-63987512″,"service":"news"},{"headline":"Saying sorry for slavery leaves Dutch divided","image":{"alt":"A statue of Dutch Lieutenant and admiral of the West India Company is covered in paint","height":216,"width":385,"src":"https://ichef.bbci.co.uk/news/385/cpsprodpb/15FA7/production/_128032009_gettyimages-1219471194-3.jpg"},"tracking":{"container":"cps_features","label":"Saying sorry for slavery leaves Dutch divided","url":"/news/world-europe-63993283″,"source":"news","metadata":{"PAR":"cps_features::1″,"CHD":"promo::4″,"EXT":0},"group":{"name":"CPS Features","type":"promo group","item_count":9},"item":{"type":"promo","link":"/news/world-europe-63993283″,"text":"Saying sorry for slavery leaves Dutch divided","media_type":"article","attribution":"news","position":4}},"metadataStripItems":[],"url":"/news/world-europe-63993283″,"service":"news"},{"headline":"'I quit my job rather than go back to the office'","image":{"alt":"Christian Hansel","height":216,"width":385,"src":"https://ichef.bbci.co.uk/news/385/cpsprodpb/7711/production/_128018403_mediaitem127980932.jpg"},"tracking":{"container":"cps_features","label":"'I quit my job rather than go back to the office'","url":"/news/business-63944632″,"source":"news","metadata":{"PAR":"cps_features::1″,"CHD":"promo::5″,"EXT":0},"group":{"name":"CPS Features","type":"promo group","item_count":9},"item":{"type":"promo","link":"/news/business-63944632″,"text":"'I quit my job rather than go back to the office'","media_type":"article","attribution":"news","position":5}},"metadataStripItems":[],"url":"/news/business-63944632″,"service":"news"},{"headline":"'Polar-bear capital' warms too fast for the bears","image":{"alt":"Polar bears in Churchill (c) PBI/BJ Kirschhoffer","height":216,"width":385,"src":"https://ichef.bbci.co.uk/news/385/cpsprodpb/9475/production/_128050083_mediaitem127629844.jpg"},"tracking":{"container":"cps_features","label":"'Polar-bear capital' warms too fast for the bears","url":"/news/science-environment-63603489″,"source":"news","metadata":{"PAR":"cps_features::1″,"CHD":"promo::6″,"EXT":0},"group":{"name":"CPS Features","type":"promo group","item_count":9},"item":{"type":"promo","link":"/news/science-environment-63603489″,"text":"'Polar-bear capital' warms too fast for the bears","media_type":"article","attribution":"news","position":6}},"metadataStripItems":[],"url":"/news/science-environment-63603489″,"service":"news"},{"headline":"Argentina win 2022 World Cup final – in pictures","image":{"alt":"Messi is lifted by his team-mates, holding the World Cup","height":216,"width":385,"src":"https://ichef.bbci.co.uk/news/385/cpsprodpb/12DDA/production/_128047277_gettyimages-1245711678-1.jpg"},"tracking":{"container":"cps_features","label":"Argentina win 2022 World Cup final – in pictures","url":"/sport/football/64020038″,"source":"sport","metadata":{"PAR":"cps_features::1″,"CHD":"promo::7″,"EXT":0},"group":{"name":"CPS Features","type":"promo group","item_count":9},"item":{"type":"promo","link":"/sport/football/64020038″,"text":"Argentina win 2022 World Cup final – in pictures","media_type":"article","attribution":"sport","position":7}},"metadataStripItems":[],"url":"/sport/football/64020038″,"service":"sport"},{"headline":"Hat-trick to heartbreak – Mbappe denied biggest prize","image":{"alt":"Kylian Mbappe walks past the World Cup trophy","height":216,"width":385,"src":"https://ichef.bbci.co.uk/news/385/cpsprodpb/377D/production/_128050241_gettyimages.jpg"},"tracking":{"container":"cps_features","label":"Hat-trick to heartbreak – Mbappe denied biggest prize","url":"/sport/football/64019239″,"source":"sport","metadata":{"PAR":"cps_features::1″,"CHD":"promo::8″,"EXT":0},"group":{"name":"CPS Features","type":"promo group","item_count":9},"item":{"type":"promo","link":"/sport/football/64019239″,"text":"Hat-trick to heartbreak – Mbappe denied biggest prize","media_type":"article","attribution":"sport","position":8}},"metadataStripItems":[],"url":"/sport/football/64019239″,"service":"sport"},{"headline":"The forgotten women at the heart of the Bible John mystery","image":{"alt":"(L-R) Patricia Docker, Helen Puttock and Jemima MacDonald","height":216,"width":385,"src":"https://ichef.bbci.co.uk/news/385/cpsprodpb/9925/production/_128050293_index_new_image-nc.png"},"tracking":{"container":"cps_features","label":"The forgotten women at the heart of the Bible John mystery","url":"/news/uk-scotland-glasgow-west-63916850″,"source":"news","metadata":{"PAR":"cps_features::1″,"CHD":"promo::9″,"EXT":0},"group":{"name":"CPS Features","type":"promo group","item_count":9},"item":{"type":"promo","link":"/news/uk-scotland-glasgow-west-63916850″,"text":"The forgotten women at the heart of the Bible John mystery","media_type":"article","attribution":"news","position":9}},"metadataStripItems":[],"url":"/news/uk-scotland-glasgow-west-63916850″,"service":"news"}],"sectionHeader":"Features"},"importance":"SECONDARY","isPersonalised":false,"hasFetcher":true},"onward-journeys?analyticsDataSource=CPS&columnsByBreakpoint=%7B%22base%22%3A2%2C%22medium%22%3A3%2C%22large%22%3A1%7D&country=us&dataType=contentSummaries&enableDotcomAds=false&id=elsewhere&isUk=false&language=en-GB&limit=4&region=us&sectionHeader=%7B%22text%22%3A%22Elsewhere%20on%20the%20BBC%22%7D&service=news&showDescription=true&showImage=true&showLoadingState=false&urn=urn%3Abbc%3Acps%3Acurie%3Aasset%3A6b29b3bc-3068-4fa0-88aa-86174f0b5249″:{"name":"onward-journeys","props":{"analyticsDataSource":"CPS","columnsByBreakpoint":{"base":2,"medium":3,"large":1},"dataType":"contentSummaries","isUk":false,"id":"elsewhere","limit":4,"region":"us","sectionHeader":{"text":"Elsewhere on the BBC"},"service":"news","showDescription":true,"showImage":true,"showLoadingState":false,"urn":"urn:bbc:cps:curie:asset:6b29b3bc-3068-4fa0-88aa-86174f0b5249″,"enableDotcomAds":false,"country":"us","language":"en-GB"},"data":{"promos":[{"headline":"The dark side of a children's classic","image":{"alt":"wooden figure","src":"https://ichef.bbci.co.uk/live-experience/cps/480/cpsprodpb/7FC8/production/_128021723_thedarksideofachildren'sclassic.jpg","height":216,"width":385},"isLive":false,"tracking":{"container":"cps_elsewhere_urn:bbc:cps:curie:asset:6b29b3bc-3068-4fa0-88aa-86174f0b5249″,"label":"The dark side of a children's classic","url":"https://www.bbc.com/culture/article/20221207-pinocchio-the-scariest-childrens-story-ever-written","source":"culture","metadata":{"PAR":"cps_elsewhere_urn:bbc:cps:curie:asset:6b29b3bc-3068-4fa0-88aa-86174f0b5249::1″,"CHD":"promo::1″,"EXT":0},"group":{"name":"CPS Elsewhere on the BBC","type":"promo group","item_count":3,"resource_id":"urn:bbc:cps:curie:asset:6b29b3bc-3068-4fa0-88aa-86174f0b5249″},"item":{"type":"promo","link":"https://www.bbc.com/culture/article/20221207-pinocchio-the-scariest-childrens-story-ever-written","text":"The dark side of a children's classic","media_type":"link","attribution":"culture","position":1,"resource_id":"urn:bbc:cps:curie:asset:6b29b3bc-3068-4fa0-88aa-86174f0b5249:1″}},"url":"https://www.bbc.com/culture/article/20221207-pinocchio-the-scariest-childrens-story-ever-written","service":"bbc"},{"headline":"Asia's most beautiful train route?","image":{"alt":"train on elevated bridge","src":"https://ichef.bbci.co.uk/live-experience/cps/480/cpsprodpb/0E80/production/_128021730_asiamostbeautifultrain.jpg","height":216,"width":385},"isLive":false,"tracking":{"container":"cps_elsewhere_urn:bbc:cps:curie:asset:6b29b3bc-3068-4fa0-88aa-86174f0b5249″,"label":"Asia's most beautiful train route?","url":"https://www.bbc.com/travel/article/20221208-sri-lankas-most-beautiful-train-journey","source":"travel","metadata":{"PAR":"cps_elsewhere_urn:bbc:cps:curie:asset:6b29b3bc-3068-4fa0-88aa-86174f0b5249::1″,"CHD":"promo::2″,"EXT":0},"group":{"name":"CPS Elsewhere on the BBC","type":"promo group","item_count":3,"resource_id":"urn:bbc:cps:curie:asset:6b29b3bc-3068-4fa0-88aa-86174f0b5249″},"item":{"type":"promo","link":"https://www.bbc.com/travel/article/20221208-sri-lankas-most-beautiful-train-journey","text":"Asia's most beautiful train route?","media_type":"link","attribution":"travel","position":2,"resource_id":"urn:bbc:cps:curie:asset:6b29b3bc-3068-4fa0-88aa-86174f0b5249:2″}},"url":"https://www.bbc.com/travel/article/20221208-sri-lankas-most-beautiful-train-journey","service":"bbc"},{"headline":"The diseases soaring post-lockdown","image":{"alt":"child in hospital","src":"https://ichef.bbci.co.uk/live-experience/cps/480/cpsprodpb/152B8/production/_128021768_thediseasessoaringpost-lockdown.jpg","height":216,"width":385},"isLive":false,"tracking":{"container":"cps_elsewhere_urn:bbc:cps:curie:asset:6b29b3bc-3068-4fa0-88aa-86174f0b5249″,"label":"The diseases soaring post-lockdown","url":"https://www.bbc.com/future/article/20221206-why-are-some-childhood-illnesses-spiking","source":"future","metadata":{"PAR":"cps_elsewhere_urn:bbc:cps:curie:asset:6b29b3bc-3068-4fa0-88aa-86174f0b5249::1″,"CHD":"promo::3″,"EXT":0},"group":{"name":"CPS Elsewhere on the BBC","type":"promo group","item_count":3,"resource_id":"urn:bbc:cps:curie:asset:6b29b3bc-3068-4fa0-88aa-86174f0b5249″},"item":{"type":"promo","link":"https://www.bbc.com/future/article/20221206-why-are-some-childhood-illnesses-spiking","text":"The diseases soaring post-lockdown","media_type":"link","attribution":"future","position":3,"resource_id":"urn:bbc:cps:curie:asset:6b29b3bc-3068-4fa0-88aa-86174f0b5249:3″}},"url":"https://www.bbc.com/future/article/20221206-why-are-some-childhood-illnesses-spiking","service":"bbc"}],"sectionHeader":"Elsewhere on the BBC"},"importance":"SECONDARY","isPersonalised":false,"hasFetcher":true},"onward-journeys?analyticsDataSource=CPS&columnsByBreakpoint=%7B%22medium%22%3A2%2C%22large%22%3A1%7D&dataType=onwardJourneys&edition=us&enableDotcomAds=false&expiresInMs=3600000&id=mostRead&isRanking=true&isUk=false&language=en-GB&sectionHeader=%7B%22text%22%3A%22Most%20Read%22%7D&service=news":{"name":"onward-journeys","props":{"analyticsDataSource":"CPS","columnsByBreakpoint":{"medium":2,"large":1},"dataType":"onwardJourneys","edition":"us","expiresInMs":3600000,"isUk":false,"id":"mostRead","isRanking":true,"sectionHeader":{"text":"Most Read"},"service":"news","enableDotcomAds":false,"language":"en-GB"},"data":{"promos":[{"headline":"Five killed in horrendous Toronto shooting – police","tracking":{"container":"cps_mostRead","label":"Five killed in horrendous Toronto shooting – police","url":"/news/world-us-canada-64024023″,"source":"news","metadata":{"PAR":"cps_mostRead::1″,"CHD":"promo::1″,"EXT":0},"group":{"name":"CPS Most Read","type":"promo group","item_count":10},"item":{"type":"promo","link":"/news/world-us-canada-64024023″,"text":"Five killed in horrendous Toronto shooting – police","media_type":"article","attribution":"news","position":1}},"metadataStripItems":[],"rank":1,"url":"/news/world-us-canada-64024023″,"service":"news"},{"headline":"Twitter users vote in favour of Musk stepping down","tracking":{"container":"cps_mostRead","label":"Twitter users vote in favour of Musk stepping down","url":"/news/business-your-money-64021412″,"source":"news","metadata":{"PAR":"cps_mostRead::1″,"CHD":"promo::2″,"EXT":0},"group":{"name":"CPS Most Read","type":"promo group","item_count":10},"item":{"type":"promo","link":"/news/business-your-money-64021412″,"text":"Twitter users vote in favour of Musk stepping down","media_type":"article","attribution":"news","position":2}},"metadataStripItems":[],"rank":2,"url":"/news/business-your-money-64021412″,"service":"news"},{"headline":"Dozens injured from turbulence on Hawaii flight","tracking":{"container":"cps_mostRead","label":"Dozens injured from turbulence on Hawaii flight","url":"/news/world-us-canada-64024021″,"source":"news","metadata":{"PAR":"cps_mostRead::1″,"CHD":"promo::3″,"EXT":0},"group":{"name":"CPS Most Read","type":"promo group","item_count":10},"item":{"type":"promo","link":"/news/world-us-canada-64024021″,"text":"Dozens injured from turbulence on Hawaii flight","media_type":"article","attribution":"news","position":3}},"metadataStripItems":[],"rank":3,"url":"/news/world-us-canada-64024021″,"service":"news"},{"headline":"Thai warship capsizes leaving 31 sailors missing","tracking":{"container":"cps_mostRead","label":"Thai warship capsizes leaving 31 sailors missing","url":"/news/world-asia-64023249″,"source":"news","metadata":{"PAR":"cps_mostRead::1″,"CHD":"promo::4″,"EXT":0},"group":{"name":"CPS Most Read","type":"promo group","item_count":10},"item":{"type":"promo","link":"/news/world-asia-64023249″,"text":"Thai warship capsizes leaving 31 sailors missing","media_type":"article","attribution":"news","position":4}},"metadataStripItems":[],"rank":4,"url":"/news/world-asia-64023249″,"service":"news"},{"headline":"Nations reach landmark deal to protect nature","tracking":{"container":"cps_mostRead","label":"Nations reach landmark deal to protect nature","url":"/news/science-environment-64019324″,"source":"news","metadata":{"PAR":"cps_mostRead::1″,"CHD":"promo::5″,"EXT":0},"group":{"name":"CPS Most Read","type":"promo group","item_count":10},"item":{"type":"promo","link":"/news/science-environment-64019324″,"text":"Nations reach landmark deal to protect nature","media_type":"article","attribution":"news","position":5}},"metadataStripItems":[],"rank":5,"url":"/news/science-environment-64019324″,"service":"news"},{"headline":"Overnight strikes hit Kyiv as Putin visits Belarus","tracking":{"container":"cps_mostRead","label":"Overnight strikes hit Kyiv as Putin visits Belarus","url":"/news/world-europe-64024992″,"source":"news","metadata":{"PAR":"cps_mostRead::1″,"CHD":"promo::6″,"EXT":0},"group":{"name":"CPS Most Read","type":"promo group","item_count":10},"item":{"type":"promo","link":"/news/world-europe-64024992″,"text":"Overnight strikes hit Kyiv as Putin visits Belarus","media_type":"article","attribution":"news","position":6}},"metadataStripItems":[],"rank":6,"url":"/news/world-europe-64024992″,"service":"news"},{"headline":"Black Americans' complex response to Harry and Meghan","tracking":{"container":"cps_mostRead","label":"Black Americans' complex response to Harry and Meghan","url":"/news/world-us-canada-64009156″,"source":"news","metadata":{"PAR":"cps_mostRead::1″,"CHD":"promo::7″,"EXT":0},"group":{"name":"CPS Most Read","type":"promo group","item_count":10},"item":{"type":"promo","link":"/news/world-us-canada-64009156″,"text":"Black Americans' complex response to Harry and Meghan","media_type":"article","attribution":"news","position":7}},"metadataStripItems":[],"rank":7,"url":"/news/world-us-canada-64009156″,"service":"news"},{"headline":"Saying sorry for slavery leaves Dutch divided","tracking":{"container":"cps_mostRead","label":"Saying sorry for slavery leaves Dutch divided","url":"/news/world-europe-63993283″,"source":"news","metadata":{"PAR":"cps_mostRead::1″,"CHD":"promo::8″,"EXT":0},"group":{"name":"CPS Most Read","type":"promo group","item_count":10},"item":{"type":"promo","link":"/news/world-europe-63993283″,"text":"Saying sorry for slavery leaves Dutch divided","media_type":"article","attribution":"news","position":8}},"metadataStripItems":[],"rank":8,"url":"/news/world-europe-63993283″,"service":"news"},{"headline":"'I quit my job rather than go back to the office'","tracking":{"container":"cps_mostRead","label":"'I quit my job rather than go back to the office'","url":"/news/business-63944632″,"source":"news","metadata":{"PAR":"cps_mostRead::1″,"CHD":"promo::9″,"EXT":0},"group":{"name":"CPS Most Read","type":"promo group","item_count":10},"item":{"type":"promo","link":"/news/business-63944632″,"text":"'I quit my job rather than go back to the office'","media_type":"article","attribution":"news","position":9}},"metadataStripItems":[],"rank":9,"url":"/news/business-63944632″,"service":"news"},{"headline":"'Polar-bear capital' warms too fast for the bears","tracking":{"container":"cps_mostRead","label":"'Polar-bear capital' warms too fast for the bears","url":"/news/science-environment-63603489″,"source":"news","metadata":{"PAR":"cps_mostRead::1″,"CHD":"promo::10″,"EXT":0},"group":{"name":"CPS Most Read","type":"promo group","item_count":10},"item":{"type":"promo","link":"/news/science-environment-63603489″,"text":"'Polar-bear capital' warms too fast for the bears","media_type":"article","attribution":"news","position":10}},"metadataStripItems":[],"rank":10,"url":"/news/science-environment-63603489″,"service":"news"}],"sectionHeader":"Most Read"},"importance":"SECONDARY","isPersonalised":false,"hasFetcher":true},"service-bar?language=en-GB&product=news":{"name":"service-bar","props":{"product":"news","language":"en-GB"},"data":{"title":"BBC News Services","serviceLinks":[{"text":"On your mobile","url":"https://www.bbc.co.uk/news/10628994″,"type":"devices-and-inputs:smartphone"},{"text":"On smart speakers","url":"https://www.bbc.co.uk/news/help-50068132″,"type":"devices-and-inputs:microphone"},{"text":"Get news alerts","url":"https://www.bbc.co.uk/news/10628323″,"type":"content-types:newsletter"},{"text":"Contact BBC News","url":"https://www.bbc.co.uk/news/20039682″,"type":"participate:email"}]},"importance":"SECONDARY","isPersonalised":false,"hasFetcher":true},"footer-promos?country=us&identifiers=NEWS_PS%2Cnews_ps&language=en-GB":{"name":"footer-promos","props":{"identifiers":"NEWS_PS,news_ps","language":"en-GB","country":"us"},"data":{},"importance":"SECONDARY","isPersonalised":false,"hasFetcher":true},"global-footer?country=us&language=en-GB":{"name":"global-footer","props":{"country":"us","language":"en-GB"},"data":{"accessibilityLinks":[{"label":"Skip to content","url":"#main-heading"},{"label":"Accessibility Help","url":"https://www.bbc.co.uk/accessibility/"}],"signInLabel":"Sign in","accountLabel":"Your account","menuLabel":"Menu","moreLabel":"More","moreMenuLabel":"More menu","closeButtonLabel":"Close menu","disclaimer":{"text":"© 2022 BBC. The BBC is not responsible for the content of external sites.","link":{"url":"https://www.bbc.co.uk/editorialguidelines/guidance/feeds-and-links","text":"Read about our approach to external linking."}},"legalLinks":[{"url":"https://www.bbc.co.uk/usingthebbc/terms","label":"Terms of Use"},{"url":"https://www.bbc.co.uk/aboutthebbc","label":"About the BBC"},{"url":"https://www.bbc.co.uk/usingthebbc/privacy","label":"Privacy Policy"},{"url":"https://www.bbc.co.uk/usingthebbc/cookies","label":"Cookies"},{"url":"https://www.bbc.co.uk/accessibility","label":"Accessibility Help"},{"url":"https://www.bbc.co.uk/iplayer/guidance","label":"Parental Guidance"},{"url":"https://www.bbc.co.uk/contact","label":"Contact the BBC"},{"url":"https://www.bbc.co.uk/bbcnewsletter","label":"Get Personalised Newsletters"},{"url":"https://www.bbc.co.uk/news/help-41670342″,"label":"Why you can trust the BBC"},{"url":"https://www.bbcglobalnews.com/home/","label":"Advertise with us"},{"url":"https://www.bbc.com/usingthebbc/cookies/how-does-the-bbc-use-cookies-for-advertising/","label":"AdChoices / Do Not Sell My Info"}],"homepageLink":{"label":"BBC Homepage","url":"https://www.bbc.com"},"searchLink":{"label":"Search","url":"https://www.bbc.co.uk/search"},"chameleonSearchLink":{"label":"Search BBC","url":"https://www.bbc.co.uk/search"},"navigationLinks":[{"label":"Home","url":"https://www.bbc.com","accent":"#007BC7″},{"label":"News","url":"https://www.bbc.com/news","accent":"#BB1919″},{"label":"Sport","url":"https://www.bbc.com/sport","accent":"#FFD230″},{"label":"Reel","url":"https://www.bbc.com/reel","accent":"#0068FF"},{"label":"Worklife","url":"https://www.bbc.com/worklife","accent":"#0052A1″},{"label":"Travel","url":"https://www.bbc.com/travel","accent":"#589E50″},{"label":"Future","url":"https://www.bbc.com/future","accent":"#002856″},{"label":"Culture","url":"https://www.bbc.com/culture","accent":"#482878″},{"label":"Music","url":"https://www.bbc.com/culture/music"},{"label":"TV","url":"https://www.bbc.co.uk/schedules/p00fzl9m"},{"label":"Weather","url":"https://www.bbc.com/weather","accent":"#88CCEE"},{"label":"Sounds","url":"https://www.bbc.co.uk/sounds","accent":"#FF4900″}],"chameleonNavigationLinks":[{"label":"Home","url":"https://www.bbc.com"},{"label":"News","url":"https://www.bbc.com/news","accent":"#EB1212″},{"label":"Sport","url":"https://www.bbc.com/sport","accent":"#FFD230″},{"label":"Reel","url":"https://www.bbc.com/reel","accent":"#0068FF"},{"label":"Worklife","url":"https://www.bbc.com/worklife","accent":"#0052A1″},{"label":"Travel","url":"https://www.bbc.com/travel","accent":"#589E50″},{"label":"Future","url":"https://www.bbc.com/future","accent":"#002856″},{"label":"Culture","url":"https://www.bbc.com/culture","accent":"#482878″},{"label":"Music","url":"https://www.bbc.com/culture/music"},{"label":"TV","url":"https://www.bbc.co.uk/schedules/p00fzl9m"},{"label":"Weather","url":"https://www.bbc.com/weather","accent":"#149EDC"},{"label":"Sounds","url":"https://www.bbc.co.uk/sounds","accent":"#FA6400″}]},"importance":"PRIMARY","isPersonalised":false,"hasFetcher":true}},"paths":[{"path":"/news/:id","routeHasCustomCsp":false},{"path":"/bitesize/guides/:id/revision/:page","allowClientSideLink":true},{"path":"/bitesize/preview/guides/:id/revision/:page","allowClientSideLink":true},{"path":"/bitesize/guides/:id/:chapter","allowClientSideLink":true},{"path":"/bitesize/preview/guides/:id/:chapter","allowClientSideLink":true}],"page":{"metadata":{"title":"BBC","description":"BBC Page"},"featureToggles":{"apps-news-abl-article-recommendations":false,"global-container-polling":false,"sfv-machine-recommendations":false,"sfv-survey-banner":false,"sfv-common-article-format":false,"sfv-tipo-curations":false,"enableElectionBanner":false,"sfv-toucan":false,"enableDotcomAds":false,"enableComscoreMmx":true},"entry":{"pageContent":{"header":[{"layout":{"name":"FULL","props":{}},"containers":[{"name":"consent-banner","importance":"TERTIARY","hasFetcher":true,"landmark":{"element":"header"},"props":[]}]},{"layout":{"name":"FULL","props":{}},"containers":[{"name":"chameleon-global-navigation","importance":"PRIMARY","hasFetcher":true,"landmark":{"element":"header"},"props":[{"__typename":"LiteralProp","name":"showServiceIdentifiers","value":false},{"__typename":"StoreReader","lookup":"page.destination","name":"currentPageAnalyticsDestination","store":"analytics"}],"levers":{"brandPalette":"defaultLightV2″,"corePalette":"lightV2″,"fontPalette":"sansSimple"},"fetchParams":[{"__typename":"RequestContext","name":"country","lookup":"country"},{"__typename":"RequestContext","name":"language","lookup":"language"},{"__typename":"RouteParam","name":"service","lookup":"service"},{"__typename":"LiteralProp","name":"service"}]}]},{"layout":{"name":"FULL","props":{}},"containers":[{"name":"product-navigation","importance":"SECONDARY","hasFetcher":true,"levers":{"brandPalette":"newsLightV2″,"corePalette":"lightV2″,"fontPalette":"mixedInformative"},"props":[{"__typename":"RequestContext","name":"country","lookup":"country"},{"__typename":"LiteralProp","name":"product","value":"news"},{"__typename":"StoreReader","name":"assetUri","lookup":"assetUri","store":"product-navigation"},{"__typename":"StoreReader","name":"sectionName","lookup":"sectionName","store":"product-navigation"},{"__typename":"LiteralProp","name":"showProductNavigation","value":true}]}]}],"main":[{"layout":{"name":"FULL","props":{}},"containers":[{"name":"dotcom-ad","importance":"TERTIARY","hasFetcher":false,"props":[{"__typename":"LiteralProp","name":"slot","value":"interstitial"},{"__typename":"FeatureToggle","name":"enableDotcomAds","lookup":"enableDotcomAds"},{"__typename":"FeatureToggle","name":"allowAdvertising","lookup":"allowAdvertising"}]}]},{"layout":{"name":"FULL","props":{}},"containers":[{"name":"dotcom-ad","importance":"SECONDARY","hasFetcher":false,"props":[{"__typename":"LiteralProp","name":"slot","value":"leaderboard"},{"__typename":"FeatureToggle","name":"enableDotcomAds","lookup":"enableDotcomAds"},{"__typename":"FeatureToggle","name":"allowAdvertising","lookup":"allowAdvertising"}]}]},{"layout":{"name":"FULL","props":{}},"containers":[{"name":"dotcom-ad","importance":"TERTIARY","hasFetcher":false,"props":[{"__typename":"LiteralProp","name":"slot","value":"sponsor"},{"__typename":"FeatureToggle","name":"enableDotcomAds","lookup":"enableDotcomAds"},{"__typename":"FeatureToggle","name":"allowAdvertising","lookup":"allowAdvertising"}]}]},{"layout":{"name":"FULL","props":{}},"containers":[{"name":"dotcom-ad","importance":"TERTIARY","hasFetcher":false,"props":[{"__typename":"LiteralProp","name":"slot","value":"piano-header"},{"__typename":"FeatureToggle","name":"enableDotcomAds","lookup":"enableDotcomAds"},{"__typename":"FeatureToggle","name":"allowAdvertising","lookup":"allowAdvertising"}]}]},{"layout":{"name":"SIDEBAR","props":{"width":"compact","containersInMain":3}},"containers":[{"name":"article","importance":"PRIMARY","hasFetcher":true,"props":[{"__typename":"LiteralProp","name":"analyticsDataSource","value":"CPS"},{"__typename":"LiteralProp","name":"uri","value":"/news/business-your-money-64021412″},{"__typename":"LiteralProp","name":"service","value":"news"},{"__typename":"LiteralProp","name":"leftAligned","value":true},{"__typename":"LiteralProp","name":"isUk","value":false},{"__typename":"RequestContext","name":"language","lookup":"language"},{"__typename":"RequestContext","name":"host","lookup":"host"},{"__typename":"RequestContext","name":"env","lookup":"env"},{"__typename":"StoreReader","name":"currentPageAnalyticsDestination","lookup":"page.destination","store":"analytics"},{"__typename":"StoreReader","name":"experienceComposition","lookup":"page.additionalProperties.experience_composition","store":"analytics"},{"__typename":"LiteralProp","name":"isAdvertisingEnabled","value":false}]},{"name":"dotcom-ad","importance":"TERTIARY","hasFetcher":false,"props":[{"__typename":"LiteralProp","name":"slot","value":"mpu-main"},{"__typename":"FeatureToggle","name":"enableDotcomAds","lookup":"enableDotcomAds"},{"__typename":"FeatureToggle","name":"allowAdvertising","lookup":"allowAdvertising"}]},{"name":"dotcom-ad","importance":"TERTIARY","hasFetcher":false,"props":[{"__typename":"LiteralProp","name":"slot","value":"content-rec"},{"__typename":"FeatureToggle","name":"enableDotcomAds","lookup":"enableDotcomAds"},{"__typename":"FeatureToggle","name":"allowAdvertising","lookup":"allowAdvertising"}]},{"name":"onward-journeys","importance":"SECONDARY","isPersonalised":false,"hasFetcher":true,"props":[{"__typename":"LiteralProp","name":"analyticsDataSource","value":"CPS"},{"__typename":"LiteralProp","name":"columnsByBreakpoint","value":{"base":1,"medium":3,"large":1}},{"__typename":"LiteralProp","name":"dataType","value":"contentSummaries"},{"__typename":"LiteralProp","name":"isUk","value":false},{"__typename":"LiteralProp","name":"id","value":"topStories"},{"__typename":"LiteralProp","name":"limit","value":3},{"__typename":"LiteralProp","name":"promoSize","value":"small"},{"__typename":"LiteralProp","name":"region","value":"us"},{"__typename":"LiteralProp","name":"sectionHeader","value":{"text":"Top Stories"}},{"__typename":"LiteralProp","name":"service","value":"news"},{"__typename":"LiteralProp","name":"showTimestamp","value":true},{"__typename":"LiteralProp","name":"urn","value":"urn:bbc:cps:curie:asset:fe1db322-b0c1-4558-801e-eaad4c10b042″},{"__typename":"FeatureToggle","name":"enableDotcomAds","lookup":"enableDotcomAds"},{"__typename":"RequestContext","name":"country","lookup":"country"},{"__typename":"RequestContext","name":"language","lookup":"language"}]},{"name":"onward-journeys","importance":"SECONDARY","isPersonalised":false,"hasFetcher":true,"props":[{"__typename":"LiteralProp","name":"analyticsDataSource","value":"CPS"},{"__typename":"LiteralProp","name":"columnsByBreakpoint","value":{"base":2,"medium":3,"large":1}},{"__typename":"LiteralProp","name":"dataType","value":"onwardJourneys"},{"__typename":"LiteralProp","name":"isUk","value":false},{"__typename":"LiteralProp","name":"id","value":"features"},{"__typename":"LiteralProp","name":"insertAdSlotAtIndex","value":3},{"__typename":"LiteralProp","name":"limit","value":9},{"__typename":"LiteralProp","name":"region","value":"us"},{"__typename":"LiteralProp","name":"section","value":"/news/business"},{"__typename":"LiteralProp","name":"sectionHeader","value":{"text":"Features"}},{"__typename":"LiteralProp","name":"service","value":"news"},{"__typename":"LiteralProp","name":"showImage","value":true},{"__typename":"LiteralProp","name":"showLoadingState","value":false},{"__typename":"FeatureToggle","name":"enableDotcomAds","lookup":"enableDotcomAds"},{"__typename":"RequestContext","name":"country","lookup":"country"},{"__typename":"RequestContext","name":"language","lookup":"language"}]},{"name":"onward-journeys","importance":"SECONDARY","isPersonalised":false,"hasFetcher":true,"props":[{"__typename":"LiteralProp","name":"analyticsDataSource","value":"CPS"},{"__typename":"LiteralProp","name":"columnsByBreakpoint","value":{"base":2,"medium":3,"large":1}},{"__typename":"LiteralProp","name":"dataType","value":"contentSummaries"},{"__typename":"LiteralProp","name":"isUk","value":false},{"__typename":"LiteralProp","name":"id","value":"elsewhere"},{"__typename":"LiteralProp","name":"limit","value":4},{"__typename":"LiteralProp","name":"region","value":"us"},{"__typename":"LiteralProp","name":"sectionHeader","value":{"text":"Elsewhere on the BBC"}},{"__typename":"LiteralProp","name":"service","value":"news"},{"__typename":"LiteralProp","name":"showDescription","value":true},{"__typename":"LiteralProp","name":"showImage","value":true},{"__typename":"LiteralProp","name":"showLoadingState","value":false},{"__typename":"LiteralProp","name":"urn","value":"urn:bbc:cps:curie:asset:6b29b3bc-3068-4fa0-88aa-86174f0b5249″},{"__typename":"FeatureToggle","name":"enableDotcomAds","lookup":"enableDotcomAds"},{"__typename":"RequestContext","name":"country","lookup":"country"},{"__typename":"RequestContext","name":"language","lookup":"language"}]},{"name":"onward-journeys","importance":"SECONDARY","isPersonalised":false,"hasFetcher":true,"props":[{"__typename":"LiteralProp","name":"analyticsDataSource","value":"CPS"},{"__typename":"LiteralProp","name":"columnsByBreakpoint","value":{"medium":2,"large":1}},{"__typename":"LiteralProp","name":"dataType","value":"onwardJourneys"},{"__typename":"LiteralProp","name":"edition","value":"us"},{"__typename":"LiteralProp","name":"expiresInMs","value":3600000},{"__typename":"LiteralProp","name":"isUk","value":false},{"__typename":"LiteralProp","name":"id","value":"mostRead"},{"__typename":"LiteralProp","name":"isRanking","value":true},{"__typename":"LiteralProp","name":"sectionHeader","value":{"text":"Most Read"}},{"__typename":"LiteralProp","name":"service","value":"news"},{"__typename":"FeatureToggle","name":"enableDotcomAds","lookup":"enableDotcomAds"},{"__typename":"RequestContext","name":"language","lookup":"language"}]},{"name":"dotcom-ad","importance":"TERTIARY","hasFetcher":false,"props":[{"__typename":"LiteralProp","name":"slot","value":"mpu_bottom"},{"__typename":"FeatureToggle","name":"enableDotcomAds","lookup":"enableDotcomAds"},{"__typename":"FeatureToggle","name":"allowAdvertising","lookup":"allowAdvertising"}]},{"name":"dotcom-ad","importance":"TERTIARY","hasFetcher":false,"props":[{"__typename":"LiteralProp","name":"slot","value":"adsense"},{"__typename":"FeatureToggle","name":"enableDotcomAds","lookup":"enableDotcomAds"},{"__typename":"FeatureToggle","name":"allowAdvertising","lookup":"allowAdvertising"}]}]},{"layout":{"name":"FULL","props":{}},"containers":[{"name":"dotcom-ad","importance":"TERTIARY","hasFetcher":false,"props":[{"__typename":"LiteralProp","name":"slot","value":"piano-footer"},{"__typename":"FeatureToggle","name":"enableDotcomAds","lookup":"enableDotcomAds"},{"__typename":"FeatureToggle","name":"allowAdvertising","lookup":"allowAdvertising"}]}]},{"layout":{"name":"FULL","props":{}},"containers":[{"name":"sign-in-prompt","importance":"TERTIARY","hasFetcher":false,"landmark":{"element":"main"},"props":[{"__typename":"RequestContext","name":"env","lookup":"env"},{"__typename":"StoreReader","name":"signInPrompt","lookup":"signInPrompt","store":"bbcAccount"},{"__typename":"StoreReader","name":"pageType","lookup":"pageType","store":"bbcAccount"},{"__typename":"LiteralProp","name":"useExperimentCountingLogic","value":false},{"__typename":"StoreWriter","name":"setSignInPrompt","lookup":"signInPrompt","store":"bbcAccount"}]}]}],"footer":[{"layout":{"name":"FULL","props":{}},"containers":[{"name":"service-bar","importance":"SECONDARY","hasFetcher":true,"props":[{"__typename":"LiteralProp","name":"product","value":"news"},{"__typename":"RequestContext","name":"language","lookup":"language"}]},{"name":"footer-promos","importance":"SECONDARY","hasFetcher":true,"props":[{"__typename":"LiteralProp","name":"identifiers","value":"NEWS_PS,news_ps"},{"__typename":"RequestContext","name":"language","lookup":"language"},{"__typename":"LiteralProp","name":"country","value":"us"}]}]},{"layout":{"name":"FULL","props":{}},"containers":[{"name":"global-footer","importance":"PRIMARY","hasFetcher":true,"landmark":{"element":"footer"},"props":[],"fetchParams":[{"__typename":"RequestContext","name":"country","lookup":"country"},{"__typename":"RequestContext","name":"language","lookup":"language"},{"__typename":"RouteParam","name":"service","lookup":"service"},{"__typename":"LiteralProp","name":"service"}]}]}]},"pageLayout":null,"useV2Layout":false,"pageContentV2″:{"zones":[]},"levers":{"brandPalette":"newsLightV2″,"corePalette":"lightV2″,"fontPalette":"mixedInformative"},"stores":[{"name":"analytics","type":"InMemory","initialState":{"props":[{"__typename":"LiteralProp","name":"page","value":{"contentId":"urn:bbc:cps:curie:asset:fb29e22d-7c73-48c4-ae45-5f0aa7a6a2cd","name":"news.business.story.64021412.page","destination":"NEWS_GNL","producer":"NEWS","section":"business","contentType":"article","language":"en","additionalProperties":{"app_name":"news","experience_composition":["long-form"],"custom_var_1″:"2022-12-18T21:15:01.000Z","custom_var_2″:"2022-12-19T12:04:29.000Z","custom_var_3″:"Twitter~Business~Companies~Elon+Musk","custom_var_4″:"20b7b622-c5a1-42c3-a4ea-9154acf72eb7~2f2db234-3c2d-40a4-b4ac-eea661faadd0~9f52c5bc-73a7-47c8-a6b5-e70eafbf6716~bc0b91dc-0475-486a-95c5-3f47194dd1eb"}}},{"__typename":"LiteralProp","name":"sections","value":["News","News – business","News – STY","News – business – STY","News – news-category"]},{"__typename":"LiteralProp","name":"authors","value":"By Michael Race & Zoe Kleinman"}]}},{"name":"userLocationData","type":"InMemory","initialState":{"props":[{"__typename":"LiteralProp","name":"userLocationData","value":{}}]}},{"name":"article","type":"InMemory","initialState":{"props":[{"__typename":"LiteralProp","name":"metadata","value":{"id":"urn:bbc:ares::asset:news/business-your-money-64021412″,"assetId":"64021412″,"curie":"http://www.bbc.co.uk/asset/fb29e22d-7c73-48c4-ae45-5f0aa7a6a2cd","locators":{"canonicalUrl":"https://www.bbc.co.uk/news/business-your-money-64021412″},"seoHeadline":"Elon Musk: Twitter users vote in favour of boss resigning","promoHeadline":{"blocks":[{"type":"text","model":{"blocks":[{"type":"paragraph","model":{"text":"Twitter users vote in favour of Musk stepping down","blocks":[{"type":"fragment","model":{"text":"Twitter users vote in favour of Musk stepping down","attributes":[]}}]}}]}}]},"indexImage":{"blocks":[{"type":"altText","model":{"blocks":[{"type":"text","model":{"blocks":[{"type":"fragment","model":{"text":"Elon Musk","attributes":[]}}]}}]}},{"type":"rawImage","model":{"height":549,"width":976,"locator":"7B1B/production/_128051513_elon_musk_getty.jpg","originCode":"cpsprodpb","copyrightHolder":"."}}],"alt":"Elon Musk","originalSrc":"https://c.files.bbci.co.uk/7B1B/production/_128051513_elon_musk_getty.jpg","iChefRecipe":"https://ichef.bbci.co.uk/news/$recipe/branded_news/7B1B/production/_128051513_elon_musk_getty.jpg","width":976,"height":549,"isEditorialImage":true,"src":"https://ichef.bbci.co.uk/news/1024/branded_news/7B1B/production/_128051513_elon_musk_getty.jpg"},"type":"STY","options":{"isIgorSeoTagsEnabled":false,"includeComments":true,"allowRightHandSide":true,"isFactCheck":false,"allowDateStamp":true,"suitableForSyndication":true,"hasNewsTracker":false,"allowRelatedStoriesBox":true,"isKeyContent":false,"allowHeadline":true,"allowAdvertising":true,"hasContentWarning":false,"isBreakingNews":false,"allowPrintingSharingLinks":true},"languageCode":"en-gb","assetUri":"/news/business-your-money-64021412″,"description":"Some 57.5% of users voted \"yes\" when Elon Musk asked them if he should quit as Twitter's chief executive.","lastUpdated":1671455471438,"firstPublished":1671398101000,"lastPublished":1671451469000,"analytics":{"page":{"name":"news.business.story.64021412.page","contentId":"urn:bbc:cps:curie:asset:fb29e22d-7c73-48c4-ae45-5f0aa7a6a2cd","section":"business","producer":"NEWS","additionalProperties":{"custom_var_1″:"2022-12-18T21:15:01.000Z","custom_var_2″:"2022-12-19T12:04:29.000Z","custom_var_3″:"Twitter~Business~Companies~Elon+Musk","custom_var_4″:"20b7b622-c5a1-42c3-a4ea-9154acf72eb7~2f2db234-3c2d-40a4-b4ac-eea661faadd0~9f52c5bc-73a7-47c8-a6b5-e70eafbf6716~bc0b91dc-0475-486a-95c5-3f47194dd1eb"}}},"site":{"name":"BBC News","uri":"/news"},"consumableInPlace":false,"consumableOnRedButton":true,"consumableOnlyOnRedButton":false,"home":"http://www.bbc.co.uk/ontologies/passport/home/News","urn":"urn:bbc:cps:curie:asset:fb29e22d-7c73-48c4-ae45-5f0aa7a6a2cd","section":{"name":"Business","uri":"/news/business"},"host":"www.bbc.co.uk","canonical":"https://www.bbc.co.uk/news/business-your-money-64021412″,"title":{"full":"Elon Musk: Twitter users vote in favour of boss resigning – BBC News","short":"Elon Musk: Twitter users vote in favour of boss resigning"},"contributor":{"title":"By Michael Race & Zoe Kleinman","subtitle":"Business reporter & Technology editor, BBC News"},"social":{"facebook":{"admins":"100004154058350″,"app_id":"1609039196070050″,"pages":"1143803202301544,317278538359186,1392506827668140,742734325867560,185246968166196,156060587793370,137920769558355,193435954068976,21263239760,156400551056385,929399697073756,154344434967,228735667216,80758950658,260212261199,294662213128,1086451581439054,283348121682053,295830058648,239931389545417,304314573046,310719525611571,647687225371774,1159932557403143,286567251709437,1731770190373618,125309456546,163571453661989,285361880228,512423982152360,238003846549831,176663550714,260967092113,118450564909230,100978706649892,15286229625,122103087870579,120655094632228,102814153147070,124715648647,153132638110668,150467675018739″,"url":"https://www.facebook.com/bbcnews"},"twitter":{"card":"summary_large_image","user":"@BBCNews"}},"schemaOrg":{"logo":"https://static.files.bbci.co.uk/ws/simorgh-assets/public/news/images/metadata/poster-1024×576.png","noBylinesPolicy":"http://www.bbc.co.uk/news/help-41670342#authorexpertise","publishingPrinciples":"http://www.bbc.co.uk/news/help-41670342″,"type":"ReportageNewsArticle","publisher":"NewsMediaOrganization"},"microsoft":{"tileColor":"#bb1919″,"tileImage":"BBC News"}}},{"__typename":"LiteralProp","name":"topics","value":[{"title":"Companies","url":"/news/topics/c0repyjnd84t","isEvent":false},{"title":"Elon Musk","url":"/news/topics/c302m85q53mt","isEvent":false},{"title":"Twitter","url":"/news/topics/cmj34zmwx51t","isEvent":false}]}]}},{"name":"include-script-tags","type":"InMemory","initialState":{"props":[{"__typename":"LiteralProp","name":"scriptTags","value":[{"defer":"true","src":"https://platform.twitter.com/widgets.js"}]}]}},{"name":"product-navigation","type":"InMemory","initialState":{"props":[{"__typename":"LiteralProp","name":"assetUri","value":"/news/business"},{"__typename":"LiteralProp","name":"sectionName","value":"Business"}]}},{"name":"bbcAccount","type":"InMemory","initialState":{"props":[{"__typename":"LiteralProp","name":"signInPrompt","value":{"show":false,"userOrigin":null,"ptrt":null}},{"__typename":"LiteralProp","name":"pageType","value":"content"}]}}],"headers":{"content-return-type":"STY"}},"addons":[{"name":"analytics","importance":"TERTIARY","props":[{"__typename":"StoreReader","name":"page","lookup":"page","store":"analytics"},{"__typename":"StoreReader","name":"title","lookup":"title","store":"analytics"},{"__typename":"StoreReader","name":"sections","lookup":"sections","store":"analytics"},{"__typename":"StoreReader","name":"type","lookup":"type","store":"analytics"},{"__typename":"StoreReader","name":"isUkCombined","lookup":"userLocationData.isUkCombined","store":"userLocationData"},{"__typename":"StoreReader","name":"skipLocationCheck","lookup":"userLocationData.error","store":"userLocationData"},{"__typename":"StoreReader","name":"authors","lookup":"authors","store":"analytics"}]},{"name":"international-redirect","importance":"TERTIARY","props":[{"__typename":"StoreWriter","name":"setUserLocationData","lookup":"userLocationData","store":"userLocationData"},{"__typename":"RequestContext","name":"env","lookup":"env"},{"__typename":"RequestContext","name":"country","lookup":"country"},{"__typename":"Cookie","name":"countryOverride","lookup":"international_redirect_country_override"}]},{"name":"document-metadata","importance":"PRIMARY","props":[{"__typename":"LiteralProp","name":"title","value":"Elon Musk: Twitter users vote in favour of boss resigning – BBC News"},{"__typename":"LiteralProp","name":"description","value":"Some 57.5% of users voted \"yes\" when Elon Musk asked them if he should quit as Twitter's chief executive."},{"__typename":"LiteralProp","name":"linkTags","value":[{"rel":"canonical","href":"https://www.bbc.co.uk/news/business-your-money-64021412″},{"rel":"amphtml","href":"https://www.bbc.co.uk/news/business-your-money-64021412.amp"},{"rel":"alternate","hrefLang":"en-gb","href":"https://www.bbc.co.uk/news/business-your-money-64021412″},{"rel":"alternate","hrefLang":"en","href":"https://www.bbc.com/news/business-your-money-64021412″}]},{"__typename":"LiteralProp","name":"metaTags","value":[{"name":"application-name","content":"BBC News"},{"name":"mobile-web-app-capable","content":"yes"},{"name":"msapplication-TileImage","content":"BBC News"},{"name":"msapplication-TileColor","content":"#bb1919″},{"name":"cleartype","http-equiv":"cleartype","content":"on"}]},{"__typename":"LiteralProp","name":"openGraph","value":{"article:author":"https://www.facebook.com/bbcnews","fb:admins":"100004154058350″,"fb:app_id":"1609039196070050″,"fb:pages":"1143803202301544,317278538359186,1392506827668140,742734325867560,185246968166196,156060587793370,137920769558355,193435954068976,21263239760,156400551056385,929399697073756,154344434967,228735667216,80758950658,260212261199,294662213128,1086451581439054,283348121682053,295830058648,239931389545417,304314573046,310719525611571,647687225371774,1159932557403143,286567251709437,1731770190373618,125309456546,163571453661989,285361880228,512423982152360,238003846549831,176663550714,260967092113,118450564909230,100978706649892,15286229625,122103087870579,120655094632228,102814153147070,124715648647,153132638110668,150467675018739″,"og:description":"Some 57.5% of users voted \"yes\" when Elon Musk asked them if he should quit as Twitter's chief executive.","og:image":"https://ichef.bbci.co.uk/news/1024/branded_news/7B1B/production/_128051513_elon_musk_getty.jpg","og:image:alt":"Elon Musk","og:locale":"en_GB","og:site_name":"BBC News","og:title":"Elon Musk: Twitter users vote in favour of boss resigning","og:type":"article","og:url":"https://www.bbc.com/news/business-your-money-64021412″,"article:section":"Business"}},{"__typename":"LiteralProp","name":"schemaOrg","value":{"@context":"http://schema.org","@type":"ReportageNewsArticle","url":"https://www.bbc.co.uk/news/business-your-money-64021412″,"publisher":{"@type":"NewsMediaOrganization","name":"BBC News","publishingPrinciples":"http://www.bbc.co.uk/news/help-41670342″,"logo":{"@type":"ImageObject","url":"https://static.files.bbci.co.uk/ws/simorgh-assets/public/news/images/metadata/poster-1024×576.png"}},"datePublished":"2022-12-18T21:15:01.000Z","dateModified":"2022-12-19T12:04:29.000Z","description":"Some 57.5% of users voted \"yes\" when Elon Musk asked them if he should quit as Twitter's chief executive.","headline":"Elon Musk: Twitter users vote in favour of boss resigning","image":{"@type":"ImageObject","width":976,"height":549,"url":"https://ichef.bbci.co.uk/news/1024/branded_news/7B1B/production/_128051513_elon_musk_getty.jpg"},"thumbnailUrl":"https://ichef.bbci.co.uk/news/1024/branded_news/7B1B/production/_128051513_elon_musk_getty.jpg","mainEntityOfPage":"https://www.bbc.co.uk/news/business-your-money-64021412″,"author":{"@type":"Person","name":"By Michael Race & Zoe Kleinman"}}},{"__typename":"LiteralProp","name":"twitterCard","value":{"twitter:card":"summary_large_image","twitter:creator":"@BBCNews","twitter:description":"Some 57.5% of users voted \"yes\" when Elon Musk asked them if he should quit as Twitter's chief executive.","twitter:domain":"www.bbc.co.uk","twitter:image:src":"https://ichef.bbci.co.uk/news/1024/branded_news/7B1B/production/_128051513_elon_musk_getty.jpg","twitter:image:alt":"Elon Musk","twitter:site":"@BBCNews","twitter:title":"Elon Musk: Twitter users vote in favour of boss resigning"}},{"__typename":"LiteralProp","name":"serviceIcons","value":"news"},{"__typename":"TemplateProp","name":"manifestUrl","template":"${staticBaseUrl}/${manifestName}","templateProps":[{"__typename":"ConfigProp","name":"manifestName","lookup":"manifestName"},{"__typename":"ConfigProp","name":"staticBaseUrl","lookup":"staticBaseUrl"}]}]},{"name":"comscore-mmx","importance":"SECONDARY","props":[{"__typename":"FeatureToggle","name":"enableComscoreMmx","lookup":"enableComscoreMmx"},{"__typename":"RequestContext","name":"nonce","lookup":"nonce"}]},{"name":"include-script-tags","importance":"SECONDARY","props":[{"__typename":"RequestContext","name":"nonce","lookup":"nonce"},{"__typename":"StoreReader","name":"scriptTags","lookup":"scriptTags","store":"include-script-tags"}]},{"name":"dotcom","importance":"SECONDARY","props":[{"__typename":"QueryParam","name":"testMode","lookup":"ads-test"},{"__typename":"QueryParam","name":"adsDebug","lookup":"ads-debug"},{"__typename":"FeatureToggle","name":"enableDotcomAds","lookup":"enableDotcomAds"},{"__typename":"FeatureToggle","name":"allowAdvertising","lookup":"allowAdvertising","fallbackValue":false},{"__typename":"RequestContext","name":"nonce","lookup":"nonce"},{"__typename":"RequestContext","name":"env","lookup":"env"},{"__typename":"LiteralProp","name":"adCampaignKeyword"},{"__typename":"StoreReader","name":"topics","lookup":"topics","store":"article"},{"__typename":"StoreReader","name":"metadata","lookup":"metadata","store":"article"}]},{"name":"web-vitals","importance":"TERTIARY","props":[{"__typename":"LiteralProp","name":"reportParams","value":{"pageType":"webcore-article-cps"}}]}],"analytics":{},"path":"/news/business-your-money-64021412″,"routeHasCustomCsp":false},"stores":{"analytics":{"page":{"contentId":"urn:bbc:cps:curie:asset:fb29e22d-7c73-48c4-ae45-5f0aa7a6a2cd","name":"news.business.story.64021412.page","destination":"NEWS_GNL","producer":"NEWS","section":"business","contentType":"article","language":"en","additionalProperties":{"app_name":"news","experience_composition":["long-form"],"custom_var_1″:"2022-12-18T21:15:01.000Z","custom_var_2″:"2022-12-19T12:04:29.000Z","custom_var_3″:"Twitter~Business~Companies~Elon+Musk","custom_var_4″:"20b7b622-c5a1-42c3-a4ea-9154acf72eb7~2f2db234-3c2d-40a4-b4ac-eea661faadd0~9f52c5bc-73a7-47c8-a6b5-e70eafbf6716~bc0b91dc-0475-486a-95c5-3f47194dd1eb"}},"sections":["News","News – business","News – STY","News – business – STY","News – news-category"],"authors":"By Michael Race & Zoe Kleinman"},"userLocationData":{"userLocationData":{}},"article":{"metadata":{"id":"urn:bbc:ares::asset:news/business-your-money-64021412″,"assetId":"64021412″,"curie":"http://www.bbc.co.uk/asset/fb29e22d-7c73-48c4-ae45-5f0aa7a6a2cd","locators":{"canonicalUrl":"https://www.bbc.co.uk/news/business-your-money-64021412″},"seoHeadline":"Elon Musk: Twitter users vote in favour of boss resigning","promoHeadline":{"blocks":[{"type":"text","model":{"blocks":[{"type":"paragraph","model":{"text":"Twitter users vote in favour of Musk stepping down","blocks":[{"type":"fragment","model":{"text":"Twitter users vote in favour of Musk stepping down","attributes":[]}}]}}]}}]},"indexImage":{"blocks":[{"type":"altText","model":{"blocks":[{"type":"text","model":{"blocks":[{"type":"fragment","model":{"text":"Elon Musk","attributes":[]}}]}}]}},{"type":"rawImage","model":{"height":549,"width":976,"locator":"7B1B/production/_128051513_elon_musk_getty.jpg","originCode":"cpsprodpb","copyrightHolder":"."}}],"alt":"Elon Musk","originalSrc":"https://c.files.bbci.co.uk/7B1B/production/_128051513_elon_musk_getty.jpg","iChefRecipe":"https://ichef.bbci.co.uk/news/$recipe/branded_news/7B1B/production/_128051513_elon_musk_getty.jpg","width":976,"height":549,"isEditorialImage":true,"src":"https://ichef.bbci.co.uk/news/1024/branded_news/7B1B/production/_128051513_elon_musk_getty.jpg"},"type":"STY","options":{"isIgorSeoTagsEnabled":false,"includeComments":true,"allowRightHandSide":true,"isFactCheck":false,"allowDateStamp":true,"suitableForSyndication":true,"hasNewsTracker":false,"allowRelatedStoriesBox":true,"isKeyContent":false,"allowHeadline":true,"allowAdvertising":true,"hasContentWarning":false,"isBreakingNews":false,"allowPrintingSharingLinks":true},"languageCode":"en-gb","assetUri":"/news/business-your-money-64021412″,"description":"Some 57.5% of users voted \"yes\" when Elon Musk asked them if he should quit as Twitter's chief executive.","lastUpdated":1671455471438,"firstPublished":1671398101000,"lastPublished":1671451469000,"analytics":{"page":{"name":"news.business.story.64021412.page","contentId":"urn:bbc:cps:curie:asset:fb29e22d-7c73-48c4-ae45-5f0aa7a6a2cd","section":"business","producer":"NEWS","additionalProperties":{"custom_var_1″:"2022-12-18T21:15:01.000Z","custom_var_2″:"2022-12-19T12:04:29.000Z","custom_var_3″:"Twitter~Business~Companies~Elon+Musk","custom_var_4″:"20b7b622-c5a1-42c3-a4ea-9154acf72eb7~2f2db234-3c2d-40a4-b4ac-eea661faadd0~9f52c5bc-73a7-47c8-a6b5-e70eafbf6716~bc0b91dc-0475-486a-95c5-3f47194dd1eb"}}},"site":{"name":"BBC News","uri":"/news"},"consumableInPlace":false,"consumableOnRedButton":true,"consumableOnlyOnRedButton":false,"home":"http://www.bbc.co.uk/ontologies/passport/home/News","urn":"urn:bbc:cps:curie:asset:fb29e22d-7c73-48c4-ae45-5f0aa7a6a2cd","section":{"name":"Business","uri":"/news/business"},"host":"www.bbc.co.uk","canonical":"https://www.bbc.co.uk/news/business-your-money-64021412″,"title":{"full":"Elon Musk: Twitter users vote in favour of boss resigning – BBC News","short":"Elon Musk: Twitter users vote in favour of boss resigning"},"contributor":{"title":"By Michael Race & Zoe Kleinman","subtitle":"Business reporter & Technology editor, BBC News"},"social":{"facebook":{"admins":"100004154058350″,"app_id":"1609039196070050″,"pages":"1143803202301544,317278538359186,1392506827668140,742734325867560,185246968166196,156060587793370,137920769558355,193435954068976,21263239760,156400551056385,929399697073756,154344434967,228735667216,80758950658,260212261199,294662213128,1086451581439054,283348121682053,295830058648,239931389545417,304314573046,310719525611571,647687225371774,1159932557403143,286567251709437,1731770190373618,125309456546,163571453661989,285361880228,512423982152360,238003846549831,176663550714,260967092113,118450564909230,100978706649892,15286229625,122103087870579,120655094632228,102814153147070,124715648647,153132638110668,150467675018739″,"url":"https://www.facebook.com/bbcnews"},"twitter":{"card":"summary_large_image","user":"@BBCNews"}},"schemaOrg":{"logo":"https://static.files.bbci.co.uk/ws/simorgh-assets/public/news/images/metadata/poster-1024×576.png","noBylinesPolicy":"http://www.bbc.co.uk/news/help-41670342#authorexpertise","publishingPrinciples":"http://www.bbc.co.uk/news/help-41670342″,"type":"ReportageNewsArticle","publisher":"NewsMediaOrganization"},"microsoft":{"tileColor":"#bb1919″,"tileImage":"BBC News"}},"topics":[{"title":"Companies","url":"/news/topics/c0repyjnd84t","isEvent":false},{"title":"Elon Musk","url":"/news/topics/c302m85q53mt","isEvent":false},{"title":"Twitter","url":"/news/topics/cmj34zmwx51t","isEvent":false}]},"include-script-tags":{"scriptTags":[{"defer":"true","src":"https://platform.twitter.com/widgets.js"}]},"product-navigation":{"assetUri":"/news/business","sectionName":"Business"},"bbcAccount":{"signInPrompt":{"show":false,"userOrigin":null,"ptrt":null},"pageType":"content"}},"route":"/news/:id"}";