For a long time, "western-imported goods", representing the high-end quality, have been well-sold and popular in the Chinese market. However, as oriental glamour finds its way among customers overseas, the world quietly came to realize: times have changed. With the rise of China's strength, "made-in-China" goods are gradually becoming recognized as "first-choice" and "preferred" options nowadays.
China's economy developed rapidly after the reform and opening up, but until 1994, its trade gap was still struggling to strike a balance, with the import and export volume just exceeded 100 billion yuan. Whereas, in 2020, China's total import and export volume has hit 30 trillion yuan, with a trade surplus of nearly 4 trillion yuan.
Underneath the export volume of nearly 18 trillion yuan is the inspirational story of how Chinese brands gained a reputation by virtue of their high quality and excellent strength. Unlike the massive "Made in China" products in the past, in recent years, the brands of high-quality Chinese domestic products have gained nonnegligible power of influence, bringing a worldwide trend.
No matter where he stands, it's hard for any onlooker to deny the strength China has shown in the international trade market. Starting from insignificance, then growing into a force to be reckoned with, today's Chinese domestic goods have finally grown into world-class brands. Underneath the transformation from "import" to "export", there are too many stories untold, but with these stories going, people's confidence in Chinese domestic goods has been truly established.
Overseas consumers are also gradually shifting from being loyal to domestic products to recognizing and fancying Chinese brands. When the famous Chinese brand Lao Gan Ma is going virus overseas, Weilong spicy dry tofu and Qiaqia fried melon seeds are conquering foodies' hearts all over the world, and Li Ning is shining on the runway of Paris Fashion Week, the release of Huawei P30 series is also triggering a queuing stampede and buying craze in France, Singapore, and other places. In the Internet era, these brands are also frequently seen on western social media… The rise of Chinese domestic goods has finally become a trend.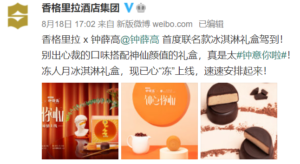 Along with the ongoing quality improvement and brand building, new domestic brands have gained wider recognition, which is unprecedented among not only Chinese consumers, but also foreign consumers. And while many domestic brands are winning great success and boosting sales, many international brands have also cast their sights on them, seeking cooperation. Recently, Shangri-La Hotels and Resorts joined hands
with Zhong Xue Gao, a well-known ice-cream product brand, to carry out a series of in-depth cooperation in product innovation for afternoon tea, moon cake gift box, and other aspects. As a cutting-edge brand in the Chinese ice cream industry in recent years, Zhong Xue Gao has been widely praised by Shangri-La Hotels and Resorts for its series of ice cream products with exquisite ingredients and unique taste.
Such cross-over corporations made no stranger to customers nowadays, which also means that many new domestic brands have not only gained a large number of fans in virtue of their high quality but also attracted the sight of a number of international brands which are in great enthusiasm to cooperate, hoping to create a trendy, high-quality brand image by joint design and various means.
In fact, by focusing on products, choosing strategic markets, positioning globally, and developing appropriate localization strategies, new Chinese domestic goods have gradually found the key to the door of overseas markets. Targeted strategies make brands and products that are popular at home, also successfully replicated to a wider range. Learning from its sailing-abroad peers such as HEYTEA, Nayuki, Yili, and Meng Niu Dairy, Zhong Xue Gao is also winning more and more recognition with its all-out efforts in every detail.
From a great importer who endures present hardships to revive, to a country eager to create more "great light of domestic goods", China has quickly established self-confidence after opening its door to the outside world. However, the establishment of a brand is not only about sales volume, but in the real sense of "going global", enterprises must have a solid influence overseas as well. According to the data from "2020 Top 50 Chinese Brands Going Abroad" jointly released by the world's largest communication group WPP and Google, the overall brand power of Chinese brands going abroad in 2020 is growing rapidly, including not only traditional giants such as Huawei, Lenovo, and Haier, but also new elites such as Xiaomi, DJI, and SHEIN.
As is shown in reports, the influence of Chinese brands is gradually improving, and they are also gradually appearing on a bigger and bigger international stage, which is undoubtedly consistent with the perception of Chinese consumers. In this process, self-confidence in domestic goods, as an epitome of China's self-confidence of nation, brings China further to the world stage. Once upon a time, imported products were popular among Chinese people, and now, Chinese domestic goods are becoming popular imported goods for other countries. With their sailing abroad, high-quality products are taken and spread to the five continents and four seas.