CLAYTON COUNTY, Ga. – Clayton County's commissioners voted to remove District 3 Commissioner Felicia Franklin from her role as vice chairwoman at a special-called meeting Monday afternoon.
"It's a sad day for Clayton County," said the commissioner's chairman, Jeff Turner, after the historic vote. "I never expected or wanted to take this action on any commissioner."
Morrow police said the commissioner passed out on the ground outside the 404 Sports Bar and Grill on the night of Sept. 29, then tried to attack EMTs who responded to help her.
She later claimed on social media that she was drugged at the bar.
  (Morrow Police Department)
However, investigators said those claims were unfounded in a review of video footage, and a toxicology report revealed five alcoholic drinks and weed in her system.
"I think she's receiving preferential treatment," said Carol Yancy, a Clayton County resident who spoke in favor of Franklin's removal as vice chair. "If that would've been me or anyone else that's a non-elected official, they would've arrested us."
Franklin did not show up to the meeting and did not respond when FOX 5 asked for comment.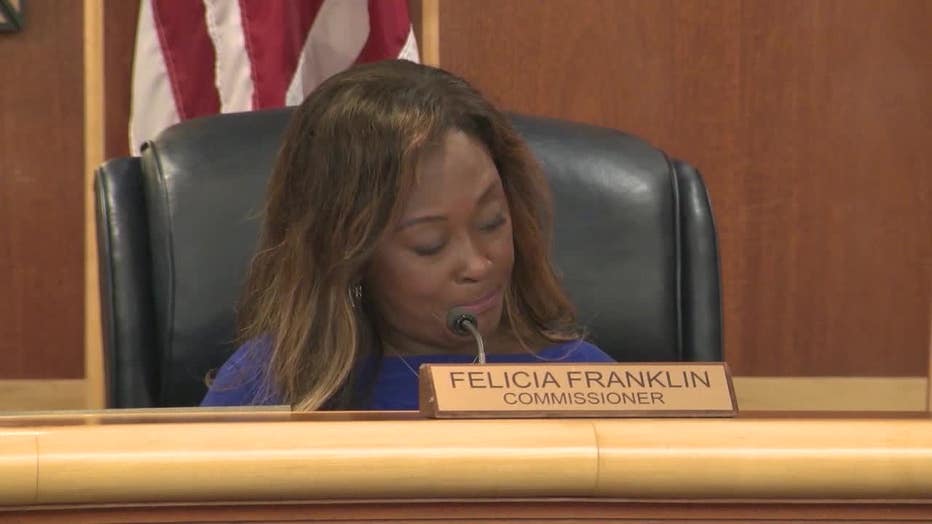 Clayton County District 3 Commissioner Felicia Franklin (FOX 5)
Instead, she remained defiant on Facebook.
"Today two of my políticas[sic] opponents are holding a special called meeting to replace me as Vice Chair of the board with another commissioner. My time as Vice Chair was up for expiration at the end of this year, 12/31/2023… Therefore there is no need to haggle with them over this," Franklin posted. "This move by them, will free up more of my time a month early so that I can fully commit to becoming elected to the Chairman's seat so that we can finally move our county forward."
All of her counterparts on the commission voted in favor of the sanctions, which also included taking away her ability to appoint people to committees and make zoning recommendations.
After the meeting, several people went to the 404 Sports Bar and Grill to show their support.
"She's now caused this man to lose business because she claimed that the date rape drug was in her," said Gwen Gooden, one of her constituents.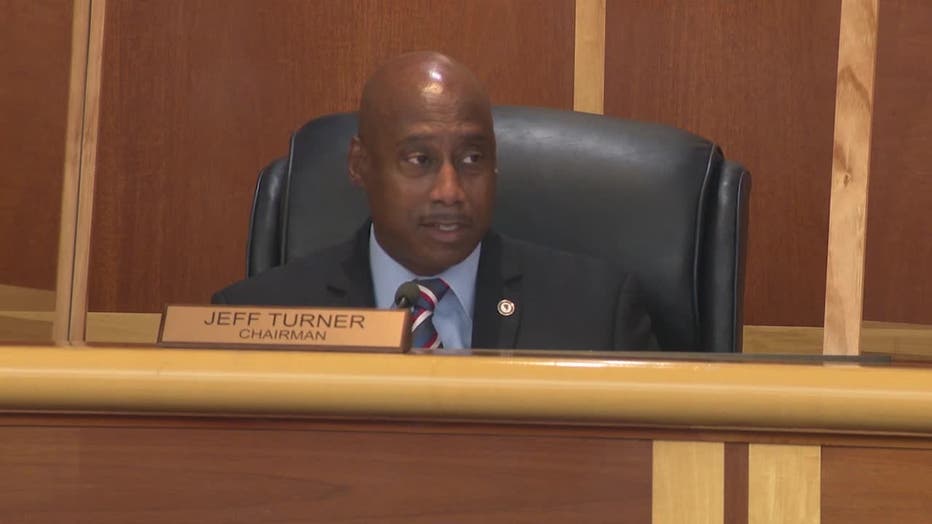 Clayton County Commission Chair Jeff Turner (FOX 5)
She called on Gov. Brian Kemp to step in and remove her from the commission altogether.
"Just like we got him to get rid of our infamous sheriff [Victor Hill], she needs to go too," Gooden said. "Because that's the only way we will get rid of her because the board will not."
Under state law, the governor can only remove a local elected official if they have been indicted by a grand jury and a special commission recommends it.
The commissioners plan to appoint a new vice chairperson at the next meeting.