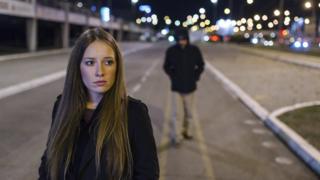 Women and girls across the UK face "relentless" harassment on the street and not enough is being done to stop it, MPs say.
The politicians making up the Women and Equalities Committee looked into the issue for nine months and found the amount of harassment meant it became "normalised" for girls growing up.
The MPs are now calling for the government to take action to tackle it.
The Home Office said the issue was a "key priority".
The committee heard evidence that street harassment was widespread, from being shouted at and cat-called through to sexual assaults.
They also heard it took place in a number of public spaces – on transport, in bars and clubs, through online spaces, at universities, in parks and on the street.
Committee chairwoman Maria Miller said: "It can make women and girls scared and stressed, avoid certain routes home at night or certain train carriages, wear headphones while out running.
"Women feel the onus is put on them to avoid 'risky' situations – all of this keeps women and girls unequal."
The report concluded that social attitudes underpinned sexual harassment, and the normalisation of it contributed to a "wider negative cultural effect on society".
And while the government has pledged to eliminate sexual harassment of women and girls by 2030, the committee said there was "no evidence of any programme to achieve this".
Next steps
The report outlined seven key recommendations to tackle street harassment:
Force train and bus operators to take tougher action against sexual harassment and block the viewing of pornography on public transport
Ban all non-consensual sharing of intimate images
Publish a new "Violence Against Women and Girls" strategy
Create a public campaign to change attitudes
Take an evidence-based approach to addressing the harms of pornography, along the lines of road safety or anti-smoking campaigns
Tougher laws to ensure pub landlords take action on sexual harassment – and make local authorities consult women's groups before licensing strip clubs
Make it a legal obligation for universities to have policies outlawing sexual harassment
Ms Miller said: "Sexual harassment in public places… is the most common form of violence against women and girls and the damage is far-reaching, and yet most of it goes unreported.
"The #MeToo movement shows that we must confront some deeply uncomfortable truths about our society and the attitudes some men hold."
The Home Office said it had pledged £100m in funding until 2020 to help local services combat violence against women and girls.
And it said it was working on an updated "Violence Against Women and Girls" strategy.
A Home Office spokeswoman said: "Unwelcome advances that intimidate, degrade or humiliate women and girls are an abuse of power and unlawful. Whether in the home, the workplace or in public, sexual harassment is unacceptable.
"The government has made protecting women and girls from all forms of violence, and supporting victims and survivors a key priority."
She said the Home Office would consider the report's recommendations before publishing a full response.
---
Have you been affected by any of the issues raised here? Have you experienced street harassment? You can get in touch by emailing [email protected]
You can also contact us in the following ways:
Tweet: @BBC_HaveYourSay
WhatsApp: +44 7555 173285
Text an SMS or MMS to 61124 (UK) or +44 7624 800 100 (international)
Please read our terms & conditions