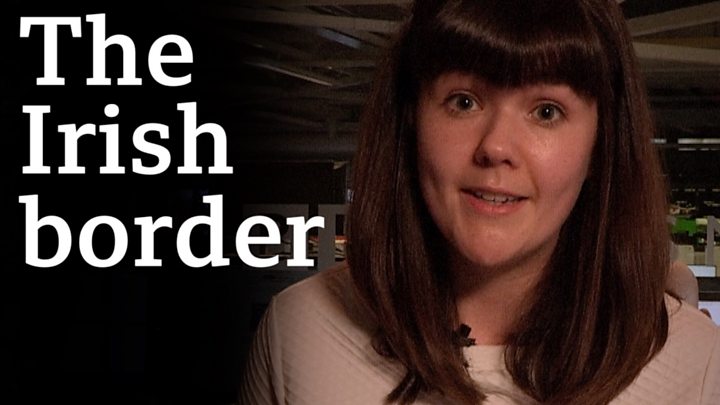 The EU is "ready to improve" its offer on the Irish border, Michel Barnier has said as he warned the "moment of truth" was nearing for Brexit negotiations.
The UK and EU both want to avoid a hard border – meaning any physical infrastructure like cameras or guard posts – but can't agree on how.
The EU's negotiator has now shifted his tone, saying he is ready to offer new proposals to help break the deadlock.
It comes as Theresa May tries to win support for her plans from EU leaders.
The UK prime minister will use a dinner in Salzburg on Wednesday to sell her strategy – the so-called Chequers plan – for future co-operation with the EU to the bloc's 27 other leaders.
It's my Brexit deal or no deal, May says
Q&A: The Irish border Brexit backstop
Why is the Irish border an issue?
After Brexit, the 310 mile border between Northern Ireland and the Republic of Ireland will become the UK's border with the EU.
At the moment, thousands of people cross it every day for both work and pleasure – as do goods, like food and medicines, being delivered across the two countries.
As part of the EU single market and customs union, these products do not need to be checked for customs and standards, but when the UK leaves these two arrangements, this all changes.
Nobody wants a hard border for the checks – in fact the 1998 Good Friday agreement, which helped bring peace to Northern Ireland, got rid of security checks as part of the deal, and police in Northern Ireland have warned reinstating them could make crossings targets for violence.
But there is no agreement between the UK and EU, or between Leavers and Remainers, about the answer.
Mrs May has insisted there needs to be "friction-free movement of goods", with no customs or regulatory checks, between Northern Ireland and the Republic, in order to avoid a hard border there.
Six months to go
There is just over six months to go before the UK is due to leave the EU on 29 March 2019.
Negotiations are at a critical stage, with both sides hoping for an agreement on the terms of the UK's withdrawal and future trade relations by the start of November at the latest.
Speaking on Tuesday, Mr Barnier said the talks were in the "home straight" but there were still significant areas of disagreement – such as on the role of the European Court of Justice in enforcing the withdrawal agreement and intellectual property issues, including geographical protections for food and drink.
"October is the key point in time – it is the moment of truth," he added. "A lot of issues, including the Irish issue, will I hope have made significant progress and hopefully will have been resolved."
Has the EU shifted position on Ireland?
That remains to be seen although the tone certainly seems to have changed. The BBC's Europe Editor, Katya Adler said Mr Barnier's comments could be interpreted as a "concerted effort" by EU leaders to try and help Theresa May ahead of Wednesday's talks
"They want a Brexit deal this Autumn, so with words and with gestures they'll try to help her. But this is still not about compromising their principles or red lines," she said.
The EU is still insisting on its own "legally operationally backstop" – what it describes as an insurance policy to prevent the return of physical infrastructure on the border in the event no other solution can be found.
But Mr Barnier is now saying he is "ready to improve" his initial proposals to address UK concerns and, in his words, "de-dramatise" the issue.
In February, Brussels put forward plans which would see Northern Ireland stay aligned with the EU in key areas, effectively staying in the customs union and single market and not needing those border checks.
The UK insisted this was unacceptable as it would split Northern Ireland off from the rest of the UK.
Mr Barnier is now saying that the backstop should focus on a "set of technical checks and controls" to make sure standards are met and customs are paid, and not be about a sea or land border.
"We are clarifying which goods arriving in Northern Ireland from the rest of the UK would need to be checked and where, when and by whom these checks could be performed," he said. "We can also clarify that most checks can take place away from the border at a company premises or at the markets."
How is the UK likely to respond?
The UK put forward rival backstop proposals in June, which would see the whole of the UK staying in a customs union with the EU after the end of the proposed Brexit transition period in December 2020.
Mr Barnier's latest comments about doing most new checks away from the border are likely to be welcomed by Tory Brexiteers, who don't like the idea of a backstop and believe that a solution can be found by using "established" technology and "modifying" existing customs arrangements.
However, Mr Barnier still refers to additional physical checks being necessary, due to the UK's decision to leave the single market and the customs union.
This still apparently leaves him at odds with Mrs May, who has warned that any system of physical checks, even if done remotely, would constitute a border,
She told the BBC on Monday "you don't solve the issue of no hard border by having a hard border 20km inside Ireland".
Can deal be done in time?
The UK is hopeful of progress at the two-day gathering in Salzburg – which is an informal meeting to discuss migration and other challenges facing the EU rather than a formal summit.
Unconfirmed reports have suggested key figures such as Germany's Angela Merkel and France's Emmanuel Macron are keen to reach some form of agreement that can be signed off at an one-off summit in November.
Mrs May is resisting domestic pressure to rethink her strategy from Tory MPs who are concerned that it would leave the UK too closely tied to the EU and unable to fully exploit global trading opportunities.
The prime minister has insisted her plan – agreed at her country's residence in July – respects the result of the 2016 Brexit vote while protecting British businesses dependent on trade with the EU.
But she needs to convince those who are concerned that the UK's different proposals for trade in goods and services would undermine and fragment the single market.